Perfect Roasted Garlic Mashed Potatoes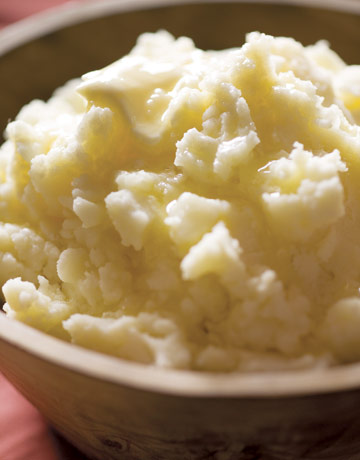 I seriously LOVE mashed potatoes. IF they are done right. None of this "keeping the skin on with a smidge of butter and regular milk" crap. If you're going to make them, please, please, PLEASE make them right. So that with each bite your eyes roll back in your head and your tummy screams, "comfort." (Hey, it better, since the next time you put on your cute-jeans, it'll scream "why did you eat so many potatoes!?")
Hubby's Note: Bless my wife's heart. I am lactose intolerant, and I can't stand potatoes. Though I'm convinced this is due to my Irish ancestors eating only potatoes for years. This dish is my kryptonite. I would rather take meals and bath duty for my two girls for a month than eat these potatoes. But every person she's ever served it to actually levitates from the table while they eat it. I've got dents in the ceiling to prove it. So…I guess they're pretty amazing.
Ingredients:
2 heads garlic
7 russet potatoes, peeled and cubed
1/2 cup whipping cream
1 stick butter
1/2 teaspoon salt
1/4 teaspoon ground black pepper
1/2 package of cream cheese
Directions
Preheat oven to 350 degrees F .
Cut tops off of garlic. Place garlic heads on enough foil to wrap over loosely. Drizzle tops of garlic with olive oil and crack some pepper and salt over them as well. Cover and bake 45 minutes or until the garlic heads feel soft.
Bring a large pot of lightly salted water to boil. Add potatoes, and cook until tender. Drain.
Place roasted garlic, milk, cream cheese, and butter into the pot with the potatoes. Season with salt and pepper. Beat to desired consistency with a hand held mixer. Take a big ol' spoonful and taste them. If they need more: butter, cream cheese, salt, pepper, cream…add them to your taste. I know your eyes will be a-rollin'!
Comments