Happy New Year!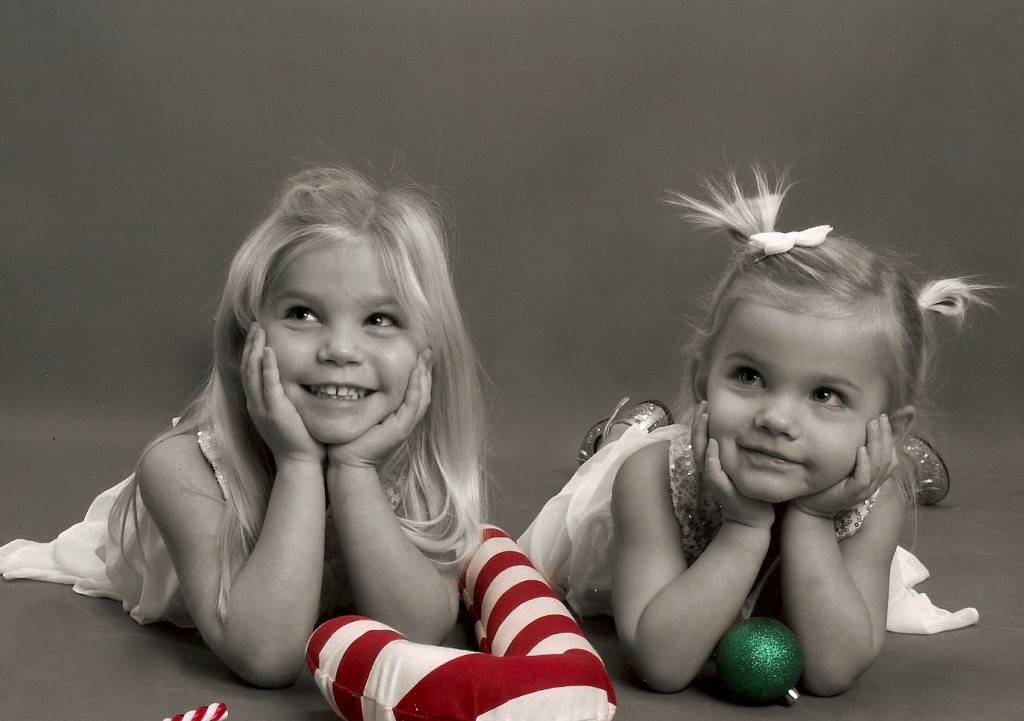 Let's be honest. The holidays are a time of complete and utter chaos. Between shopping, parties, school parties, shopping, cooking, winter break, family, shopping and regular life – it's a lose your mind time of year. But it's the best time of year (especially for shopping 😉 ). And as a result, I had to ride the amazing wave of holiday life and let Mommy Bistro take a nap for a few weeks. But I've missed her. And I've missed YOU! I'm back with a recap of my life from the last few weeks, some resolutions, and some questions for the new year. 
Let's start with our Christmaseseses. This year we had a wonderful time celebrating Christmas THREE times. We had to be very, very clear to Pixie cause she was getting damn confused and couldn't figure out when Santa was actually going to bless her tree with presents.
First, there was "Early Christmas" which we celebrated with Hubby's family. His sister went back to Ohio to celebrate with her hubby-to-be's family. His brother spent Christmas with his brand new wife and her family. So a week before Christmas, we had "Early Christmas" complete with a big ass ham and all the fixins! We opened presents, played games, watched movies – all of the Gesell Family traditions from growing up.
The following weekend we celebrated Christmas Eve and Christmas morning; just the four of us. Being Eastern European, I grew up celebrating Christmas Eve as our major holiday. And since I wasn't going to see my family on Christmas Eve, I had to keep the tradition going. And I cooked my tail off. Hubby grilled a turkey, I made my Red Onion Stuffing/Dressing, Mashed Potatoes, Brussel Sprouts and some garlic knots. It was delicious and special and wonderful but halfway through dinner, I found tears streaming down my face at the sadness of not seeing my family on Christmas Eve. In 32 years, I've never missed a Christmas with them. Growing up is at once beautiful, in the traditions and experiences you create with your own family…and at the same time it's sad and sorrowful as you say goodbye to memories and traditions that you created with your own parents and family growing up. It's bitter sweet. But not the chocolate kind.
So after a good sob on Hubby's shoulder and some hugs from my girls, we tore open some presents from us to the girls, played some games, put out carrots and cookies for the reindeer and Santa and tucked our girls into bed. After they fell asleep (much more easily than I had anticipated) we opened presents from each other, cuddled on the couch and watched a movie with a bottle of Tobin James Refosco.
CHRISTMAS MORNING!!!!! I think by this point Pixie was so completely and totally confused, she woke up and made no mention of Santa, Christmas, or Audrey our sneaky little elf (of the shelf nature) who is quite the little scheme-ster. Buggies was still sleeping so we brought Pixie into our bed and let her watch a show. And another. And by show #3, Hubby and I were climbing the walls sick of waiting! It was Christmas morning! PRESENTS! SANTA! BUGGIES! WAKE UPPPP!!!!! So I came into the kitchen and very noisily made our coffee cake and finally, FINALLY, that little 2 1/2 year old of mine (who knows how to press every last button I have) woke up. We told them, "Girls! Santa came! RUN! Go Look!!!" And we finally saw that sparkle light up in their eyes as they tore down the hall, poured open their stockings and moved onto the presents. We drank coffee, helped with new toys and marveled as the wonder of Christmas danced through our living room. Late afternoon, my in-laws came over for some Turkey Milanese and a game of Cornhole. It was a wonderful day.
And then it was on to the grand finale, "Happy New Year Christmas!!!!" We went up to my parent's house on December 30th to celebrate our Christmas with them. Which again, to keep the confusion down to a minimum, we aptly named, "Happy New Year Christmas." We had my dad's out of this world Prime Rib with creamed spinach and garlic mashed potatoes. And topped the evening off with my family's traditional Christmas dessert, Aranygaluska (dough balls rolled in walnuts and sugar, baked as a cake and served with a vanilla bean sauce). Finally, the next night was New Year's Eve! We spent the day at the park, feeding ducks, wine tasting at Triassic Vineyards, eating and most definitely drinking. For dinner I made a pecan/hazelnut/cashew crusted halibut with a lemon aioli and brussel sprouts tossed with crispy pork belly and garlic. We rang in the New Year at 9 PM with Buggies, Pixie and a bottle of champagne (for us of course!) and again at midnight (with another bottle of bubbly!) and apparently again at 1:30 AM with another bottle of bubbly (because two bottles apparently wasn't enough…)
So there you have it. Three Christmases. One New Year's. I haven't even mentioned our quick family getaway to Big Bear or the double false alarms my best friend had going into labor or the 600 cookies I baked for my brother-in-law's production company.
If I haven't lost you yet (I reallyreallyreallyreally hope you are all still out there!!!) here are some of the recipes headed your way!
Crazy Easy Pot Roast
Finger Lickin' Fried Chicken
Nick's Prime Rib
Szegedi Family Aranygaluska
Nut Crusted Halibut – (I'm sitting here cracking up… wait till you hear how this one got it's name!)
Brussel Sprouts with Crispy Pork Belly
Garlic Knots
Huntington Chicken
Six Cup Salt Crusted Pork
Thai Red Curry with Chicken
My current resolutions are to start eating healthier (but comfort food is just so damn good), drink less (which will be a challenge since my best pal just had a baby TODAY and has been talking vodka for a month or so), read more (ha!), go to The Hunger Games premier (who's got a hook-up for me!!), and BLOG!
My one question for you is: What do you want to see more of? Desserts? Quick Dinners? Cocktails? Giveaways? Give me a one word answer and I'll send you a present. Cause it's a New Year people. Let's make it a great one. Well, that is before the world comes to an end, right?
Thanks for understanding my absence, friends.
Hugs!
Mommy B!
Comments