Crock-Pot Roast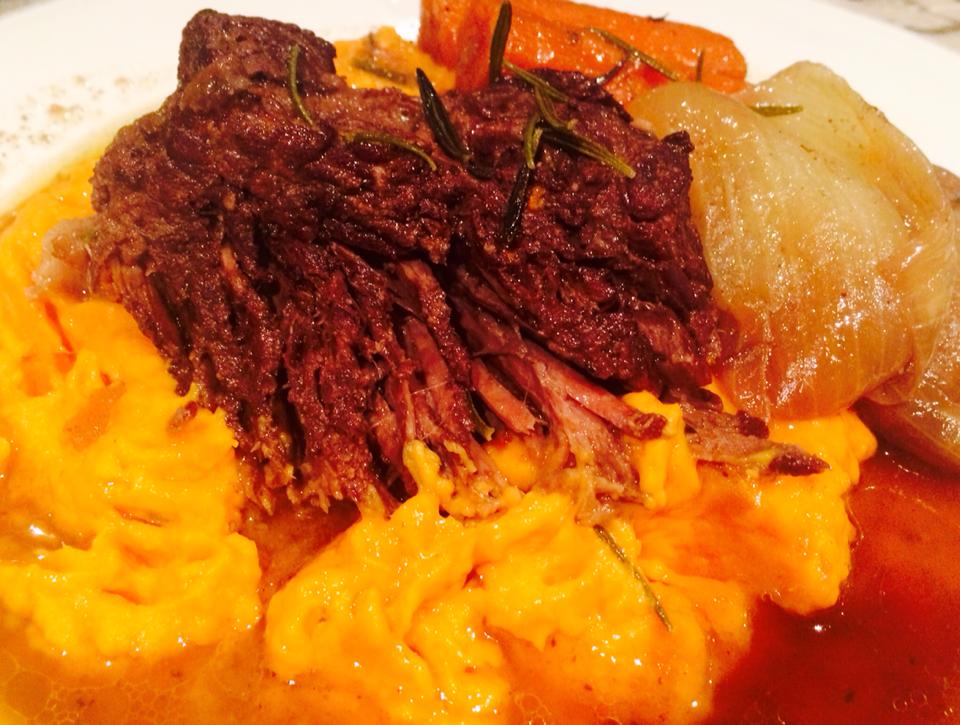 OHMYGODIMADEIT!!!!
Forty-Eight glorious minutes until the kids are off for NINE DAYS!! Thank you, thank you, thank you for these precious lazy mornings, a much needed/deserved break, and quality time to spend together.
As you all know things have been less than smooth these last few months and I've been counting down the minutes to Thanksgiving Break. Truthfully, I'm not sure who is more excited; Buggies or myself. She's been having a less than stellar adjustment to this whole 'five days a week we wake up at the crack of dawn for school' stuff.
We've also been having – dare I say it? – FALL WEATHER. I know, I know, the rest of the country is under 48 feet of snow and they curse our California names one by one as they shovel their cars out with frostbitten fingers. But we've actually had RAIN! Not tons of it, but actual water fell from the sky. Marvelous stuff, people.
As I was taking a good friend home from school the other day she was talking about getting her pot roast into the crockpot for dinner. It sounded so cozy; like fleece sweats and a fireplace. So, the next day I had to have it!
As Buggies put it, "This tastes as delicious as a pumpkin roasting in a fire."
I'm with ya' kid!
Adapted from the Pioneer Woman
Ingredients
1 whole (4 To 5 Pounds) Chuck Roast
2 Tablespoons Olive Oil
2 whole Onions
6 whole Carrots, peeled
Salt To Taste
Pepper To Taste
Garlic Powder
1 cup Red Wine
2 Cups Beef Stock
3 cloves garlic, minced
3 sprigs Fresh Thyme
3 sprigs Fresh Rosemary
Directions
Generously salt, garlic powder and pepper your chuck roast.
Heat a large Dutch oven over medium-high heat. Then add 2 to 3 tablespoons of olive oil.
Cut the onions into quarters and cut the carrots into 2-inch slices. When the oil in the pot is very hot (but not smoking), add in the onions, browning them on one side and then the other. Remove the onions to a plate.
Throw the carrots into the same very hot pan and toss them until slightly browned.
If needed, add a bit more olive oil to the very hot pan. Place the meat in the pan and sear it for 1-2 minutes on all sides until it is nice and brown all over. Remove the roast to your crockpot.
With the burner still on high, add the red wine to deglaze the pan. After about two minutes, add the beef broth and garlic. When the bottom of the pan is sufficiently deglazed, pour the red wine/beef broth mixture over your roast into the crockpot. The liquid should cover the meat 1/2-3/4. Add in the onion and the carrots, as well as 3 or 4 sprigs of fresh rosemary and about 3 sprigs of fresh thyme (You want the sprigs to be in the liquid, not resting on top of the meat/veggies).
Put the lid on, then set your crockpot for about 5 hours. Serve with Mashed potatoes or Mashed Sweet Potatoes
Comments