Pumpkin Bread Pudding with Vanilla Custard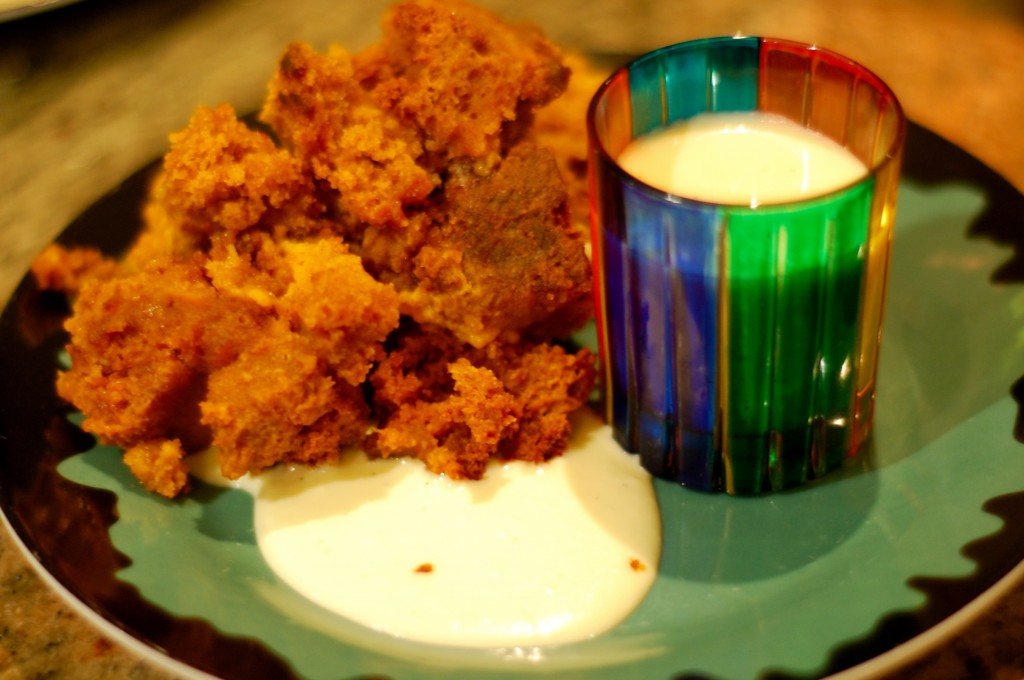 I'm gonna level with you peeps. Thanksgiving is MY holiday. Yes indeed, somewhere between 13-16 people show up at my house every year for Thanksgiving. And I Love. Every. Minute. Of. It. When I released my blog to the public, I told you a fabulous story of my Thanksgiving disaster trying to deep fry a turkey. In case you missed it, you can read it here . Each year I love to serve some authentic family recipes from both sides of my family. Brown bag apple pie is a must from my side as well as garlic stuffed ham or a pork roast. And from Ryan's side there is L.C.'s Cranberry salad (recipe to come!), Peanut Butter Pie and whole black olives. Because I make myself crazy with trying new recipes every year, I've:
A) gotten smart and I test run recipes
and
B) decided to circulate the best recipes in and out over the years. This keeps things fresh and new so I get a lot of "ahhh's and ooohhhhh's". It's like finding an old shirt in the bottom of your drawer that you forgot you had. "Hey, look at my new shirt!"
Since you've been following the blog, you know we had quite the crew out here for "the wedding." Well, the night before the final members of our East Coast Crew left, I gave this recipe a test run. I know desserts are a hit when my sister-in-law who is NOT a sweets fan says, "This is the best thing EVER. I need more."
Oh – I almost forgot! I will be releasing a TON of recipes this month in honor of MY holiday. This week I think it might be pumpkin overload! Please read this recipe allll theee waaaaayyyy thrrrouuggghhhh before going shopping. I had to break it down into sections and I don't want anyone to get confused!
Hubby's Note: I'm going to weigh 500 lbs by New Year's day. It's not a fear I have. It's a fact, I've accepted. Can't write any more. I have to go hit the gym.
Ingredients
2 cups heavy cream
1 cup whole milk
1 vanilla bean, seeds scraped
6 large egg yolks
1/2 cup granulated sugar
3 tablespoons pure maple syrup
1 cup pure canned pumpkin puree
2 tablespoons bourbon
Pumpkin Bread, toasted and cubed, recipe follows
Vanilla Bean Custard, recipe follows
Freshly whipped cream
Directions
Preheat the oven to 350 degrees. Make pumpkin bread (recipe is listed below). When your bread is in the oven, make the Vanilla Bean Custard. Once the bread is cooled, start on the following steps.
From the ingredients listed above, combine the cream, milk, vanilla bean and seeds in a small saucepan over medium heat and bring to a simmer.
Whisk together the egg yolks, sugar, maple syrup, and pumpkin puree in a large bowl. Slowly whisk in the hot cream mixture until combined, remove the vanilla pod, and whisk in the bourbon. Strain the custard into a clean bowl.
Scatter the pumpkin bread cubes in a buttered 9 by 13-inch glass (or corning-ware) baking dish. Pour the custard over the bread, pressing down on the bread to totally submerge it in the custard. Let sit for 5 minutes to allow the bread to soak up some of the custard.
Place the pan in a larger roasting pan and pour hot tap water into the roasting pan until it comes half way up the sides of the glass dish. Bake until the sides are slightly puffed and the center jiggles slightly, about 1 hour.
Remove from the oven and water bath and cool on a baking rack for at least 30 minutes before serving.
Spoon some of the Vanilla Bean Custard onto a plate and top with some of the bread pudding. I also served it with a shot glass of custard so you could drizzle more on top as needed. This amazing dish is best served warm.
Pumpkin Bread
1/2 cup (1 stick) unsalted butter, melted, plus more for pan
2 1/2 cups all-purpose flour, (spooned and leveled)
2 teaspoons baking soda
1/2 teaspoon salt
1 tablespoon pumpkin-pie spice
2 large eggs
1 1/2 cups sugar
1 can (15 ounces) solid-pack pumpkin puree
Directions
Preheat oven to 350 degrees. Butter a 9-inch square baking pan.
In a medium bowl, whisk flour, baking soda, salt, and pumpkin-pie spice. In a large bowl, whisk eggs, sugar, butter, and pumpkin puree until combined. Add dry ingredients to pumpkin mixture, and mix gently until smooth.
Turn batter into prepared pan, and smooth top. Bake until a toothpick inserted in center of cake comes out with just a few moist crumbs attached, 45 to 50 minutes. Cool cake 10 minutes in pan, then turn out of pan, and cool completely, right side up, on a rack.
Once the bread is cool, slice in half lengthwise, and then slice each half into 1/2-inch cubes. Spread the cubes on a large baking sheet and bake in a 325 degree oven until lightly toasted, turning once, about 20 minutes. Let cool.
Vanilla Bean Custard:
2 cups half-and-half
1/2 vanilla bean, seeds scraped
5 large egg yolks
1/3 cup pure cane sugar
Bring the half-and-half and vanilla bean and seeds to a simmer in a medium saucepan. Whisk together the yolks and sugar in a medium bowl for about 5 minutes. Slowly whisk in the hot half-and-half, return the mixture to the pot, and cook over medium heat, stirring constantly with a wooden spoon, until the mixture coats the back of the spoon. Strain into a bowl and set over an ice bath. Stir until chilled. Cover and refrigerate at least 1 hour before serving.
Comments
Mommy Bistro » Blog Archive » Pumpkin Spice Cake - [...] love this cake. It's the same pumpkin bread recipe that you can find in my Pumpkin Bread Pudding recipe.…