Fried Chicken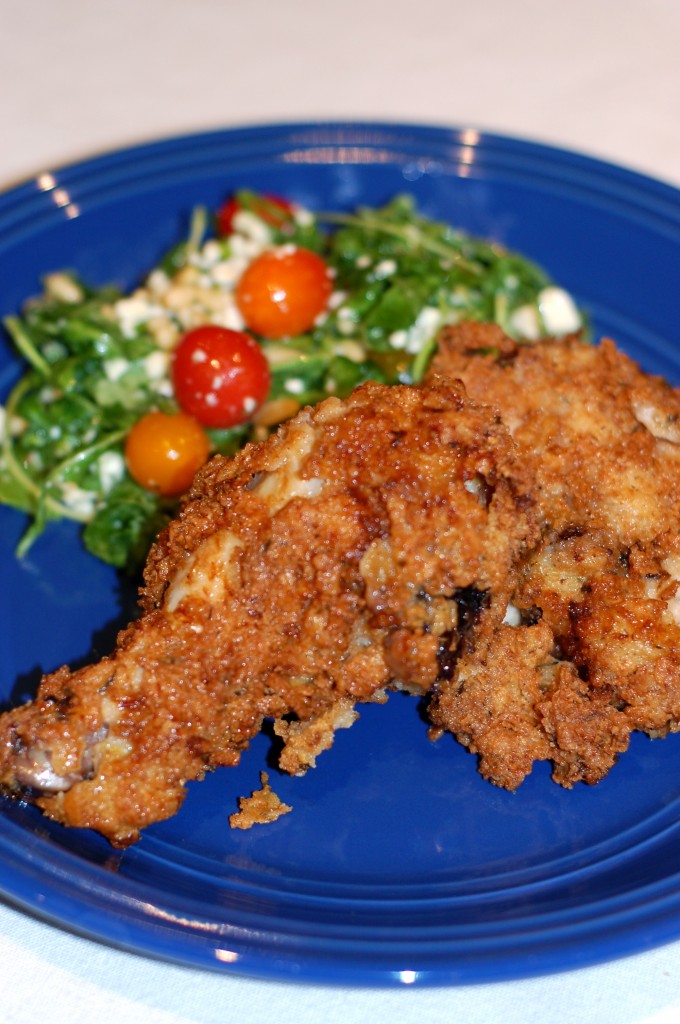 It's January 10, 2012 and here in California it has been between 75-90 degrees for the last two weeks. I'm not gonna lie – it's been really, really nice to have a summer break in the middle of winter. I'm sure some of you are thinking of stabbing the computer with butcher knives reading this as you shovel your driveway for the umteenth time this week. But here's the deal: us Californians are accustomed to nice weather for most of the year. So when it is raining, windy and cold; we are grumpy, short tempered and cold. In addition, studies have shown that 90% of California drivers are incapable of driving in any weather other than bright and sunny. Seriously, most of us just can't do it. We freak out. Of course now that I've put it out in the universe that our weather has been nice, it is going to start raining immediately. Quick, knock on wood! (Hubby?)
After a very busy morning of playing with some friends at the park, Buggies is napping (YAY!) and Pixie is busy on her LeapPad. Which gives me a few minutes to write a blog post, catch up on Facebook and pay some bills (YUCK.) I've been eating pretty healthy for the last few weeks after having a super indulgent no calorie counting last quarter of 2011. Which means of course all I have been thinking about is things like this Fried Chicken, onion rings and Oreos. Which by the way, who made Oreos so damn good? They are ONLY allowed in my house when I am pregnant. For both of my pregnancies, I loved Oreos. I would grab a stack (yes…a stack) and sit down with a glass of milk at night and I would dunk and eat those perfect little round cookies. And guess what? I didn't even care for a SECOND about the calories I was devouring. Cause here's the deal, when you're pregnant – there are no holds barred with food. I would take a dude out if they stood between me and the front of the line at In-n-Out. So imagine what I would do if someone stood between me and my Oreos. Pregnancy hunger is unlike any force in the world. Do not mess with it.
But now I'm dieting (and not pregnant). And yesterday I started 108 days of yoga. Straight through people. Yoga from January 9th till April 27th. It's going to be a long haul but I expect (see: demand) great results (for Pete's Sake!). Don't worry though. It's not all salads and smoothies here at at the homestead. I need to keep cooking. Tonight we are having Mango Chicken Salads but I'll really be dreaming that I'm having this fried chicken. Make it people. It's ridiculously easy and ridiculously yummy. You can totally do this on a weeknight. Just make sure to throw the chicken in buttermilk the night before.
Hubby's note: Wow. That was a seriously long post. Every wife should have a blog. It saves husbands about 40% less venting from their wives. It's glorious. Love you, honey! As for this chicken…not much to say. I mean who doesn't like fried chicken? Who doesn't like ANYTHING fried? And this Fried Chicken could give that Sanders guy a run for his money. If you need me, I'll be over here on my yoga mat in Fried Chicken Pose.
Ingredients:
3 cups flour
2 tablespoons Lawry's seasoned salt
2 tablespoons garlic powder
2 teaspoons thyme
2 teaspoons parsley
1 teaspoon onion powder
1 teaspoon hot Hungarian paprika
1 teaspoon black pepper
1 quart buttermilk plus 1/4 cup buttermilk
Fryer chicken (we usually use drumsticks and thighs only)
Directions:
In a large bowl, add the chicken with 1 quart of buttermilk. Refrigerate overnight. When ready to fry, remove chicken from bowl and let sit on counter for 30 minutes.
Preheat oven to 350. In a very large bowl, stir together the flour, seasoned salt, garlic powder, pepper, thyme, parsley, paprika and onion powder. Pour the remaining buttermilk into the flour and use a fork to mix until little lumps form throughout. You may need to add a little regular milk if it looks too dry.
Heat 1 1/2 inches of oil in a deep skillet or dutch oven over medium high heat. Working in batches, thoroughly coat each piece of chicken piece with the flour mixture, pressing to adhere the breading. Add the chicken to the oil 3-4 pieces at a time. Cover pan and fry 3-5 minutes, checking to make sure chicken isn't getting too brown. Turn, cover and cook additional 3-5 minutes more. Monitor temperature of oil to make sure chicken doesn't burn.
Place chicken on a rimmed baking sheet and continue frying rest of chicken. When done, bake the chicken for 15-18 minutes, until the chicken is cooked through. I served this with a salad but a large dollop of mashed potatoes sounds so good right now.
Pin It

Comments