Bourbon Chicken with Caramelized Shallots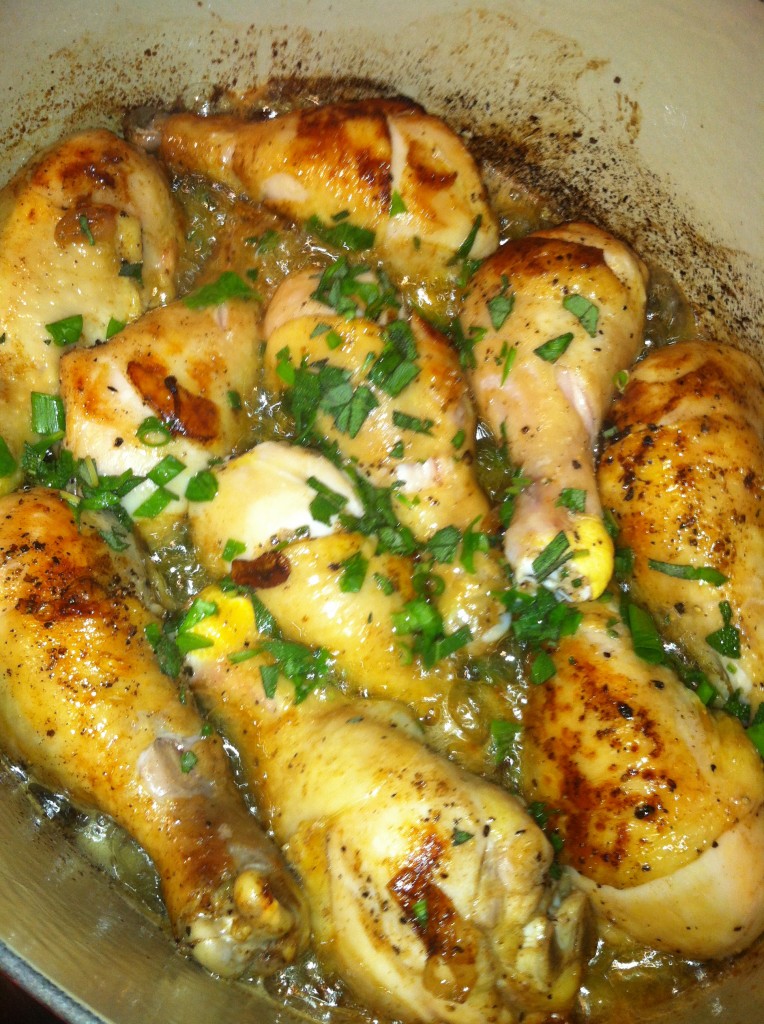 Sometimes I forget how to be an adult. I forget how to talk about life, love, and fears outside of them being associated directly with my children. You see, the moment Pixie was born my life changed forever. She consumed all of my heart with that first kiss I planted on her soft baby cheek. The weeks after her birth were filled with fears of her well being and the pressure of knowing that I would shape her life with every choice I made. The love I had for this little tiny person grew exponentially with each passing day.
I lost a part of me when Pixie was born and it took me a long while to figure out who I was, as a mother. Who I was, in society. Where did I fit in now? No longer could we hop in the car and take off for the weekend. There were no more late nights working, after work cocktails with colleagues, or taking trips with little to no planning involved.
Weeks turned into a year and my sweet baby girl was walking, talking and shining her light for the world. I loved being a mother. So much so that by the time Pixie blew her candles out on her 1st birthday, I was six weeks pregnant with Buggies.
The thoughts and fears that came from having a baby started to come back to me. Worries of SIDS, development, genetic disorders; they all haunted me for the next eight months. Then the thoughts of love and the second child hit me hard. How could I possibly love another little baby as much as I loved Pixie? How could my heart possibly have enough room to expand anymore?
Three weeks before my due date on a gloomy morning at the beginning of June, my little bug decided on her terms (of course) that she was done incubating and was coming OUT. I checked myself into the hospital and waited patiently for the hubby to make his 1 1/2 hour commute back from Santa Monica to be there when she was born. To make things more calming, there was a woman in full blown labor in the hallway screaming as if they were ripping her in half. I somewhat forcefully told the nurses to give her an emergency c-section before mine, to which they readily agreed. A short while later the hubby arrived, the family crowded the waiting room, and Buggies barged into the world all pink and feisty (only one of these adjectives has changed since then).
That first kiss on her cheek was just as precious and perfect as the one I gave Pixie. I loved her red little cheekies, her auburn looking hair and even that darned pink bow they K.Y.'d to her head. But in the back of my mind, my sweet Pixie kept popping up. Was she ok? Were our friends and family spoiling her to the ends of the earth with extra stories and extra cuddling? Did she miss me? Because a part of my heart was sad just as another part of it started to blossom in its love for Buggies.
And I realized that another piece of me was gone.
Once back home, I struggled again to find my place. I was lost in a sea of diapers, feedings, baby food, Gymboree, exhaustion, a homestead and a husband. I had a newborn and a 19 month old toddler. A few months later, we started to get into the swing of things. And again, weeks turned into months and my determined Buggies was walking, talking and making herself KNOWN.
Here we are. Baby #2, birthday #1. Camera ready, tears welling in my eyes, we sang happy birthday to my bug who could care less about her cupcake and was much more excited about the marzipan bees and ladybugs I had handmade until midnight the night before to place on top of the cupcakes (YESSSS!!!!).
I felt like I had finally found a time to sit down and figure out who I was. A woman? A mother? A wife?
And I found that I am all of those things. Somedays equally divided, other days only a mother. When my children were born and I lost those pieces of me, I felt so lost.
But watching them grow,
learn,
discover,
love,
laugh,
live,
and fear, I realized those lost pieces of me had a new home. Within my children. Those pieces blossom each day and shine through my little creatures who amaze me everyday with their personalities, imaginations and intelligence.
Present day. Pixie is 4 3/4 (according to her) and Buggies is fwee (read: three!) And I still love being a mother.
Each day I find something new and unseen that had eluded me before that exact moment. Something that makes me stop and stare at these daughters of mine and wonder with excitement what is to come in the future for them.
And when I stop and stare at them, I can see parts of me and my heart shining through them.
Who wants to make chicken? Ha! Oh boy. Grab a glass of wine for yourself and get cooking.
Hubby's Note: It's um……getting awfully dusty in here. I'm gonna go outside for a minute…
Ingredients
12 chicken drumsticks
2 tablespoons olive oil
2 tablespoons butter
1 whole yellow onion, diced
1-1/2 cup whiskey (I use Makers Mark)
6 cloves garlic, peeled and roughly chopped
1 cup shallots, diced
1/4 cup fresh sage, chopped
Directions
Heat oil and butter in a dutch oven over medium-high heat. Place chicken drumsticks, six at a time, in the pot, skin side down. Brown both sides, then remove to a plate and repeat until all chicken is browned.
Add onions, shallots and garlic to pan and stir, cooking for 5-6 minutes until onions and shallots start to caramelize. Pour whiskey into the pot. Please be very careful because the pan contents can light on fire if you are using a gas range. Stir and scrape the bottom of the pan, allowing whiskey to reduce for a few minutes. Turn pan down to a simmer. Return the chicken to the pot and continue to cook uncovered turning occasionally for 20-25 minutes.
Serve chicken over Roasted Garlic Mashed Potatoes. Sprinkle sage over the top.
Comments
Mommy Bistro » Blog Archive » Harvest Salad - [...] After setting up the candy buffet, I went home to cook up 100 servings of Bourbon Chicken and Roasted…