The Yummiest Gravy in the World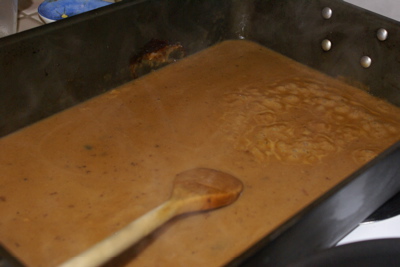 This is the gravy featured in my Turkey Milanese. It is also my favorite part of Thanksgiving. I am "that" person, who smothers everything with gravy and then sops it up with my mother-in-law's incredible Sally Lunn rolls.
I promise this is the BEST GRAVY (HANDS DOWN) ever made on the planet. Trust me. I've done the research and the taste testing and there in nothing better than this gravy. Hence its name. WOW your entire family, this Thanksgiving, with this recipe!
Hubby's Note: Um…yeah. I'm gonna go ahead and agree with the wife on this one. This gravy is ridonculous. This gravy is good on everything. And I do mean everything (wink, wink, nod, nod). I highly recommend making paninis with the leftover turkey after thanksgiving (if you know me you know that everything tastes better in panini form; I've even been known to add yams and dressing) and using this gravy as a dip. Calorically, it is an absolute disaster. But taste-tically, (not to be confused with testiclely) this gravy is a masterpiece.
Ingredients
1 stick unsalted butter
1 1/2 cups chopped yellow onion
1/4 cup flour
1 teaspoon kosher salt
1/2 teaspoon freshly ground black pepper
Defatted turkey drippings or chicken stock to make 2 cups, heated (see below)
1 tablespoon Cognac or Brandy or Scotch (whatever good stuff you've got lying around)
1 tablespoon white wine
1 tablespoon heavy cream, optional
Directions
Before I start on the directions of this recipe…I have to tell you from my own mistakes…. If you like to salt your turkey – your defatted turkey drippings will be way to salty for this recipe. So, I suggest you bust out two cups of chicken stock or Better than Bouillon (whatever you have in the house) instead. Now for the directions:
In a large saute pan, cook the butter and onions over medium-low heat for 12 to 15 minutes, until the onions are lightly browned. Take your time with this part. It really makes the gravy amazing.
Sprinkle the flour into the pan and then whisk it in. Then add the salt and pepper. Cook for 2 to 3 minutes. Add the hot chicken stock mixture and Cognac, and cook uncovered for 4 to 5 minutes until thickened. Add the wine and cream if that sounds yummy. Season, to taste, and serve.
Comments
Mommy Bistro » Blog Archive » Turkey Birds Nests - [...] or make my gravy recipe and let them dip their bites into the gravy. You can find my gravy…