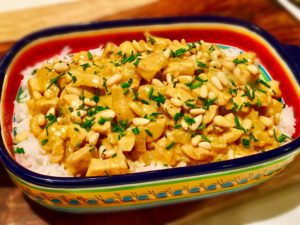 I love to plan our meals for the week. My 2017 goal is to make/try one new recipe a week and depending on the success (or failure) of the recipe, post it here for you to enjoy. Most of my inspiration comes from reading magazines. My favorites are Bon Appetit and Sunset. I don't have a lot of time to myself but each month I get giddy when I see one of the magazines in my mailbox. I also use recipe books I've saved over the years, things I made forever ago and wrote out on a recipe card, and of course cookbooks. Some weeks inspiration is abundant and I get excited about my ideas. Other weeks I'm uninspired and get frustrated with any book I open.
A few weeks ago, I opened an old recipe binder filled with recipe cards I wrote when we were newly married and found the recipe for Chicken Papadoris. I used to make it weekly and it was a total favorite of the hubby and I. Immediately, I squealed with excitement at the idea of surprising him by making it! I was excited for the girls to try it and for the nostalgic smell of this dish simmering in my kitchen. Both girls LOVED it and it brought back memories of the hubby and I eating by candlelight, drinking two buck Chuck because it was all we could afford and talking about our day.
The curry flavor is not heavy in case curry isn't your thing. Give it try and let me know what you think!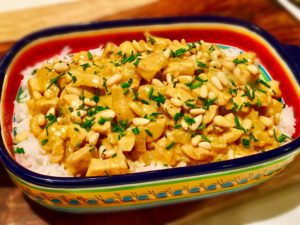 Chicken Papadoris
2017-02-01 18:58:24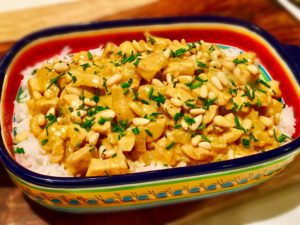 Serves 6
Ingredients
1/4 cup pine nuts
1/4 butter
2 pounds boneless skinless chicken breast, cut into bite size pieces
1 brown onion, chopped
4 cloves garlic, minced
2 tablespoons soy sauce
1-2 cans unsweetened coconut milk
2 teaspoons paprika
1/2 teaspoon ground cumin
1 1/2 teaspoons curry powder
2 teaspoons curry powder
2 teaspoons corn starch
1/4 cup cold water
2 cups jasmine rice, cooked
Instructions
Heat a large skillet over medium-high heat. Add pine nuts and cook stirring frequently until evenly toasted. Remove pine nuts and set aside.
Add butter to the skillet and melt over medium heat. Stir in chicken and cook for 10 minutes or until no pink is showing and juices run clear. Pour off any juices.
Add onion and garlic and cook until tender. Stir in half of the pine nuts, soy sauce and coconut milk. Season with paprika, cumin and curry powder.
In a small cup, mix water and cornstarch. Add to skillet and stir until a thick gravy forms. Serve over white rice. Sprinkle remaining pine nuts on top and serve!
Adapted from All Recipes
Mommy Bistro http://www.mommybistro.com/