Sweet Potato Casserole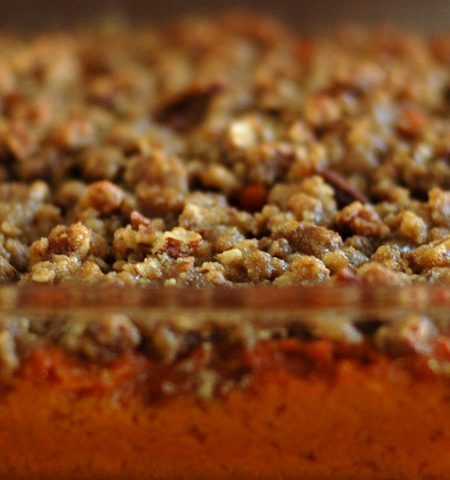 Being raised Hungarian, we never ever had sweet potato anything. I honestly feel that the sweet potato has made a comeback in the last few years. And for darn good reason. This little potato (sweet) is great as a fry, as a side dish on Thanksgiving, broiled on the grill, and really any other way you cook it. And with a hubby who is not a fan of regular potatoes (WHAT!?) we eat a lot of the Russet's cousin, sweet. For our first Thanksgiving together, the hubby and I had to split time between our two families houses. My mother-in-law asked me to bring a sweet potato side dish. It was my first attempt ever at working with sweet potatoes and it was an instant hit and has been on my table ever since. And alas…..here it is.
Hubby's note: Hubby like Sweet Potato. A lot. Hubby like brown sugar and nuts. A lot. Hubby big fan of butter and vanilla. That why hubby like Sweet Potato Casserole in hubby belly. Hubby approve!
Casserole Ingredients:
8-10 sweet potatoes
1 1/2 cups sugar
4 teaspoons vanilla
4 eggs
1 cup unsalted butter (melted)
Topping Ingredients:
4 cups chopped pecans
1 cup unsalted butter (melted)
3 cups light brown sugar
1 cup all purpose flour
Casserole:
Wash sweet potatoes and place in a large pot filled with cold water. Bring water to a simmer and cook sweet potatoes for an hour. When cooked, drain water and let potatoes cool. Remove skin of sweet potatoes and place into a large mixing bowl. Whipe sweet potatoes for 2 minutes. Measure out sugar and vanilla and add to mixer. Mix for 3 minutes. Then add eggs. Mix for 2 minutes. Then add butter. Mix for 4 minutes. Sit down, and check e-mail/facebook and take a sip of wine. (yes – it's thanksgiving, you should have a cocktail in hand already). Pour the sweet potatoes into a large casserole dish. Preheat oven to 375.
Topping:
Chop pecans into 1/4 pieces and put into a bowl. Add melted butter to the bowl. Add brown sugar and flour. Mix well and set aside.
The End:
Bake sweet potatoes for 30 minutes or until the top browns. Then pull it out of the oven and spoon the topping evenly over the sweet potatoes. Bake for another 30 minutes or until the top is golden brown.
Serve with delicious Thanksgiving turkey. Be sure to check out my mashed potatoes and best gravy!
Comments