Turkey Milanese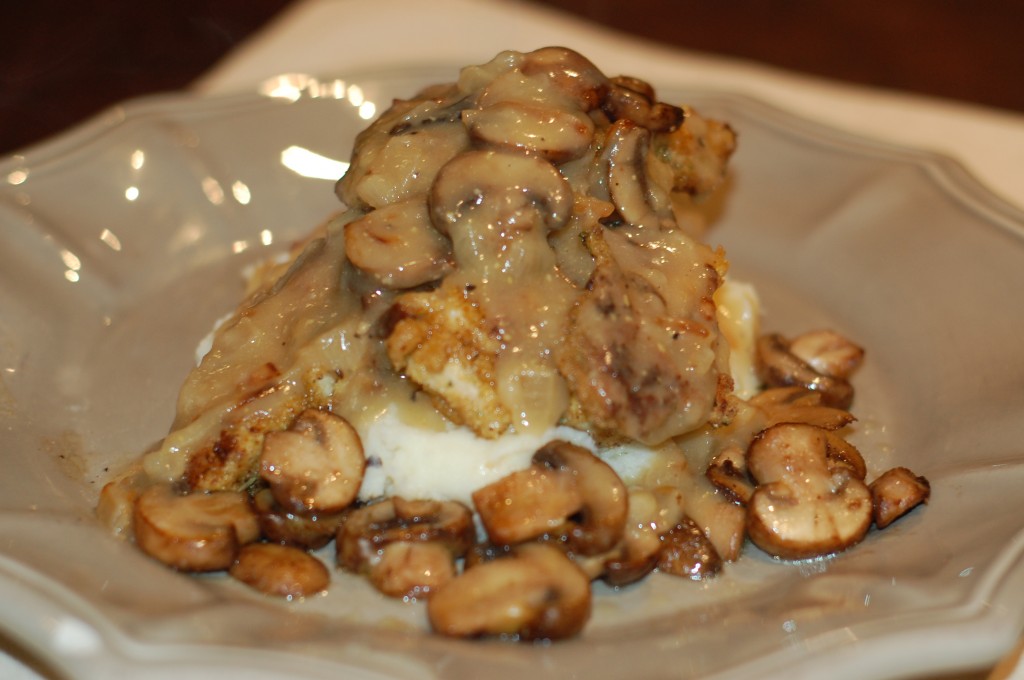 I host Thanksgiving at my house every year. I LOVE thanksgiving. The whole family gathered around the table cooing and cawing over the amazing feast before them. And we make it a family affair in the preparation too. I prepare most of it, and the family enjoys it. 🙂 No, most of the ladies bring dishes. But because I host it, I've widdled away all of the nonsense with new recipes and have instead centered our meal around the traditional comfort foods…with a twist. Last year for Thanksgiving, my local grocery store was giving away a free turkey for every $100.00 I spent. I have two kids and a husband. Needless to say, I wound up with 3 turkeys this year. So, we cooked up the final turkey a few weeks after the holiday and I made a few different turkey recipes in lieu of the classic Oven Baked Turkey. Among them, a turkey-salad for Ryan to take to work. But my absolute favorite leftover turkey recipe is Turkey Milanese.
Hubby's note: Did I mention I've gained weight? This is one of the reasons. But SOOOOO worth it. There's only so many leftover turkey sandwiches I can stand.
Ingredients
2 tablespoons olive oil
1 pound cremini mushrooms, thinly sliced (or whatever mushrooms you love)
Leftover turkey gravy (make sure you check out the recipe for the yummiest gravy in the world!)
Dry white wine (make sure you pour yourself a glass)
Leftover turkey breast, cut crosswise into 1/2-inch thick slices
1 cup all-purpose flour
Salt and freshly ground black pepper
2 large eggs
2 tablespoons water
1 1/2 cups dry bread crumbs (I use Italian or roasted garlic flavored ones)
EVOO
Directions
Heat the oil in a large saute pan over high heat. Add the mushrooms and cook until golden brown and liquid has evaporated. Add 1 cup of turkey gravy and enough wine just to dilute slightly. Cook until heated through. Keep warm over low heat.
Place the flour on a large plate and season with salt and pepper. Whisk together the eggs and 1 tablespoon of water in a bowl. Place the bread crumbs on a plate.
Dredge the sliced breast in the flour, tap off excess then dip in the egg wash letting any excess drip off and then dredge in the bread crumbs. Heat 1/4 cup of EVOO in a medium high sided saute pan until it just begins to shimmer. Place in the oil and cook until just golden brown on both sides. Remove from pan and place on a plate lined with paper towels.
Warm up some leftover mashed potatoes, top with the turkey and then spoon that mushroom gravy right on top. Enjoy my friends. This one's for the file.
Comments
Mommy Bistro » Blog Archive » Happy New Year! - [...] wonder of Christmas danced through our living room. Late afternoon, my in-laws came over for some Turkey Milanese and…
Mommy Bistro » Blog Archive » Bacon Crisps - […] few days later we had friends over for my FAVORITE leftover turkey recipe, Turkey Milanese, and I made these…