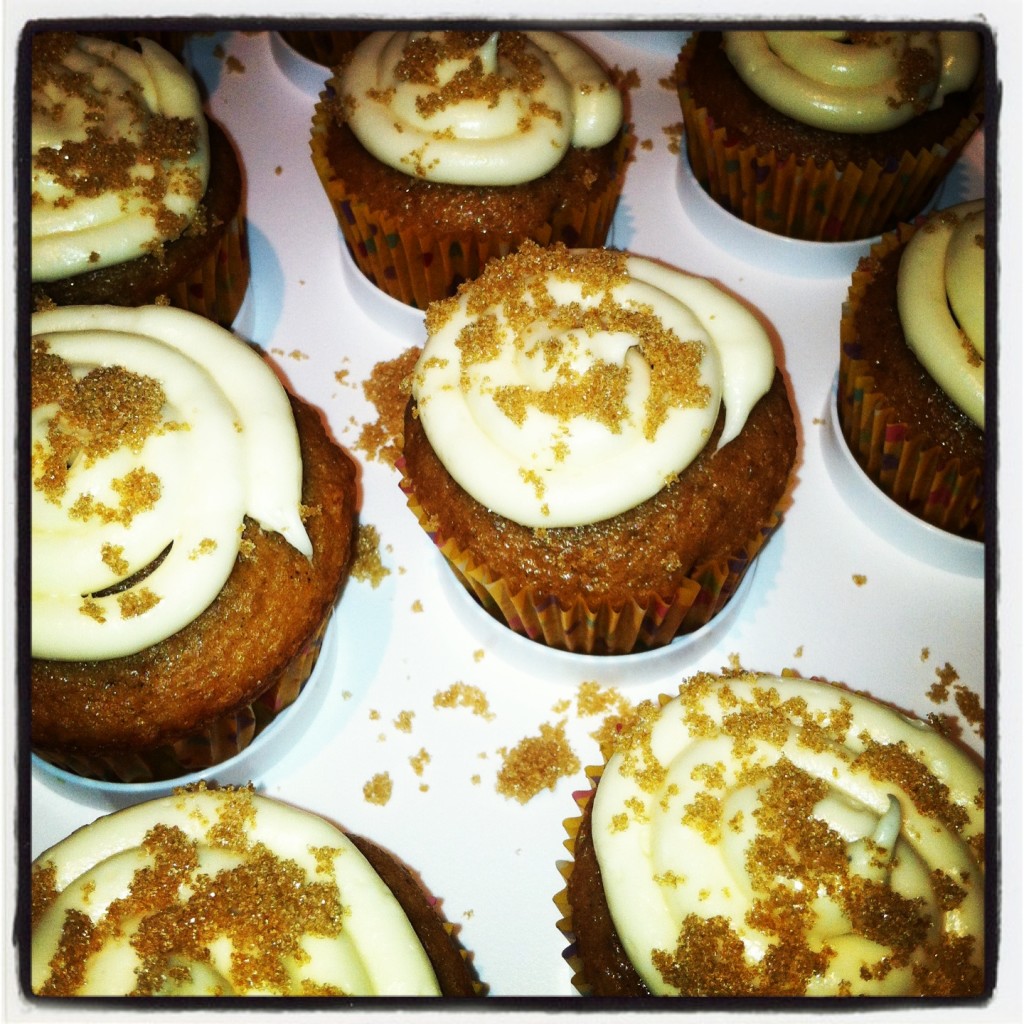 It was only a few weeks into the school year when it was my turn to prepare a special breakfast treat for the teachers. I wanted it to be something special. Something that started their day with a smile and a delicious treat.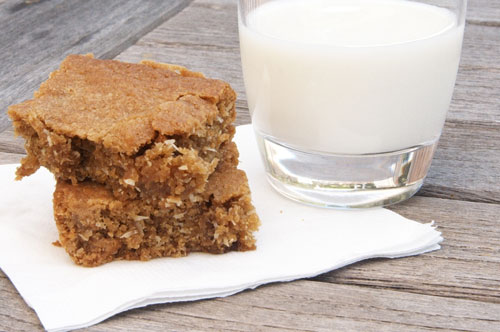 I'm blonde by choice. And so are these brownies. You're probably thinking…coconut and peanut butter? Not so sure about this one Jess….try it and fall in love with a blonde.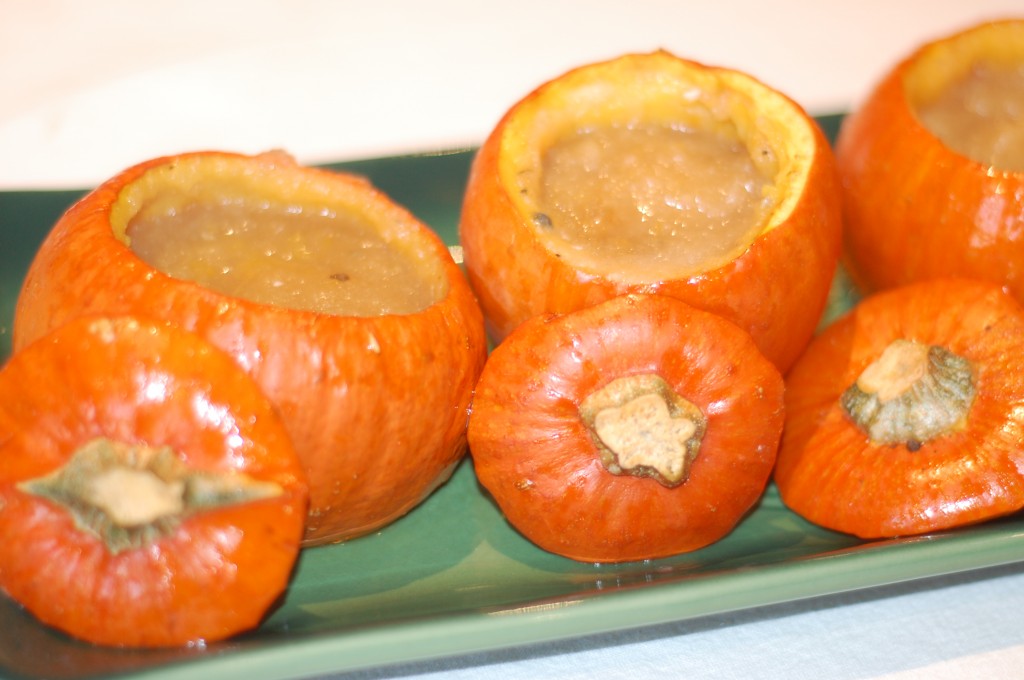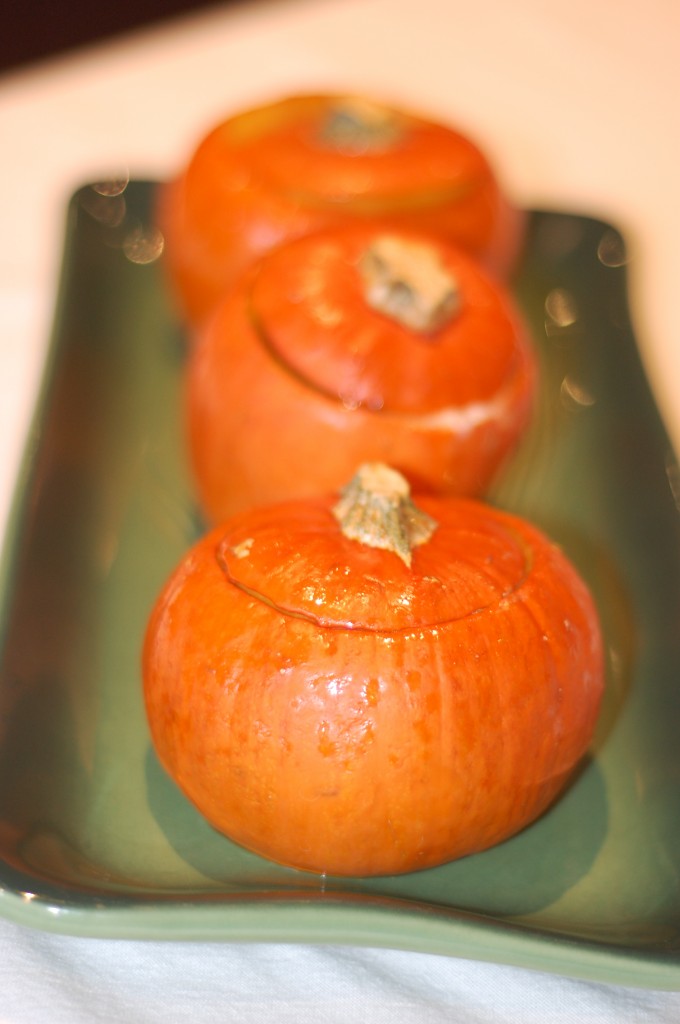 I just spent the day helping my dear friend make an absolutely killer display of sweets for her son's preschool Thanksgiving feast. We made ridiculously adorable cupcakes (honestly – I spent three hours decorating each one of these fine little guys), pilgrim hat cookies, popcorn balls, fruit kabobs for a chocolate fountain; the list goes on (as will the sugar coma when 24 little three year olds get their grubby little hands on these treats). Needless to say, I'm kind of beat. But I've been thinking about posting this recipe all day because it just oozes Thanksgiving. I mean really, applesauce served in a pumpkin that's slow roasted in the oven? Fuhgetaboutit.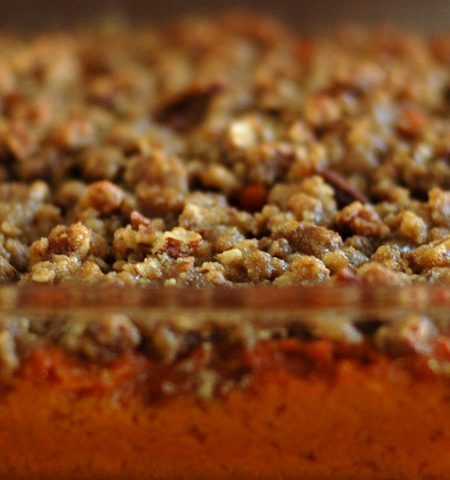 Being raised Hungarian, we never ever had sweet potato anything. I honestly feel that the sweet potato has made a comeback in the last few years. And for darn good reason. This little potato (sweet) is great as a fry, as a side dish on Thanksgiving, broiled on the grill, and really any other way you cook it. And with a hubby who is not a fan of regular potatoes (WHAT!?) we eat a lot of the Russet's cousin, sweet. For our first Thanksgiving together, the hubby and I had to split time between our two families houses. My mother-in-law asked me to bring a sweet potato side dish. It was my first attempt ever at working with sweet potatoes and it was an instant hit and has been on my table ever since. And alas…..here it is.
Hubby's note: Hubby like Sweet Potato. A lot. Hubby like brown sugar and nuts. A lot. Hubby big fan of butter and vanilla. That why hubby like Sweet Potato Casserole in hubby belly. Hubby approve!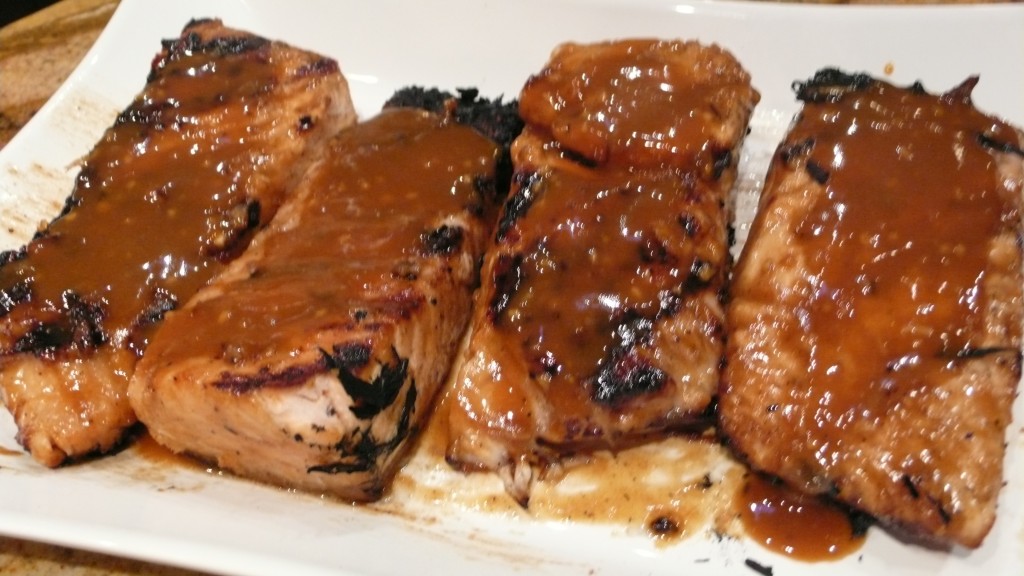 We recently spent some time in Oregon with really amazing friends. It was a much needed Mommy and Daddy getaway. As well as a much needed catching up with friends and enjoying time together getaway. After a weekend of relaxing, touring the cities and wine tasting; I insisted on making our friends dinner. Not to mention their kitchen is made of the things I dream about. I found a few empty drawers and actually contemplated trying to fit myself inside of them to just live in this kitchen. I know that sounds weird, right? Trust me. This kitchen makes my heart swoon and my knees buckle.
The Pacific Northwest is known for their amazingly fresh killer seafood so I chose to make a Brown Sugar Mustard Glazed Salmon. Our tour guides led us to this fantastic local store that I would call a cross between Whole Foods and Bristol Farms. But here's the kicker – it only sells local items from Oregon. How freaking cool is that? It of course had other staples that you could find at any high end grocery store. But if there was a local Oregonian product – that would be the first one on the shelves.
Alongside this salmon, I made cilantro corn and my mango salad. Since it was a side dish, I just left out the chicken and pumped up the avocado and mango. It turned out quite delish, so here we go!
Hubby's Note: This salmon needs to be grilled. My wife prepares it and I grill it. I recommend two things to help this process. First, I recommend Grill Grates. Go to Amazon.com to find them. I found them courtesy of Craig Goldwyn at Amazingribs.com. Second, any time you're grilling you MUST have a timer and a thermometer. Fish is one of the rare cases, where i don't use a thermometer. I only use a timer. Specifically the Weber Grilling app, "On The Grill". I love this app. Use it all the time. It's got a timer as well as temperatures to look for. Both the USDA and the Chef's temps. For a 1 inch filet of Salmon, i went ten minutes, flipping once. It was perfect. So healthy, and so good.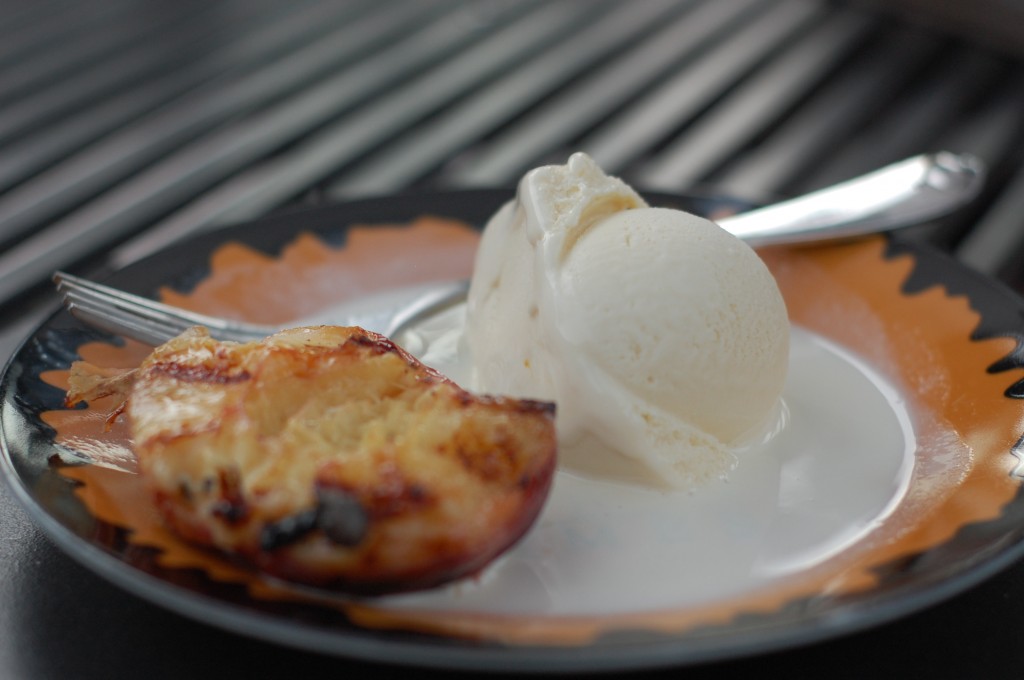 Grilled fruit is such a light and delicious dessert. It gives you that satisfying sweetness you need at the end of a meal (or at least us girls need it) without going crazy on calories or heaviness. And here's the bonus! You can give this to kids and they don't realize they are actually eating something healthy. Shhh…..don't tell them! It's our secret. When I made this last, our good friends and my parents were over for Cuban Garlic Chicken. My dad's nectarine turned out the prettiest for a picture so the poor guy had to wait, staring at it longingly, while I paparazzied his poor dessert.
PS…Serve this with Tobin James Charisma.
PSS….Love ya!
Hubby's Note: Tobin James is our favorite winery. The Charisma my wife is referring to is a sweet dessert wine they offer. It works really well with the dish. But a nice port or late harvest Zinfandel would go really well too. As for the Grilled Nectarines…mmmmmmmmmmmmmmmmmmmmmmmmm. Is there anything better than something hot and succulent served with cold vanilla ice cream? Actually, yes, there is. There's a lot that's better. But it's still REALLY good. BTW honey, PSS? Post Super Script? Post Spaghetti Script? And I hope it was directed at me.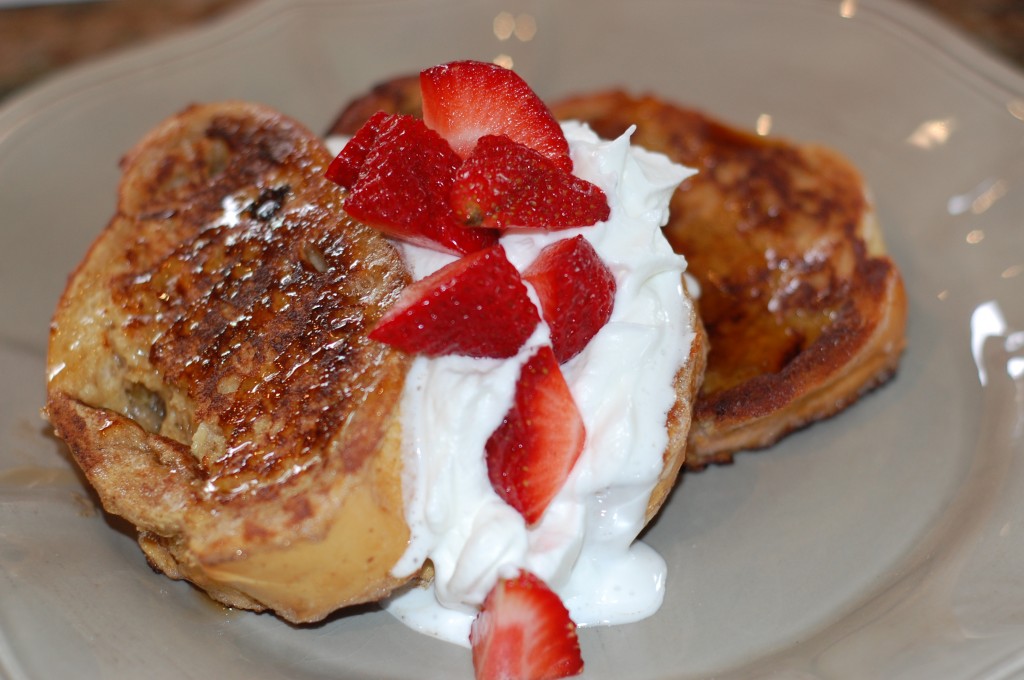 I had a girls night out on Saturday night and Ryan had a boys night in here at the house. I came home early Sunday morning feeling great. Ryan? Not so much…. His brother was here as well so I decided to whip up some french toast to help absorb the um….beer/tequila/scotch left in their tummies.
This is by far the best french toast I have ever had. It's crunchy and sweet and sinful all at the same time. Enjoy!
Hubby's note: I used to be in good shape. Then my wife became an amazing cook and started making ridiculous things like this French Toast. Once the smell of this French Toast wafts though the house, I'm done. Throw some bacon on the side and I might as well sink into a food coma right there. So good.