Roasted Artichoke and Asparagus Pasta Salad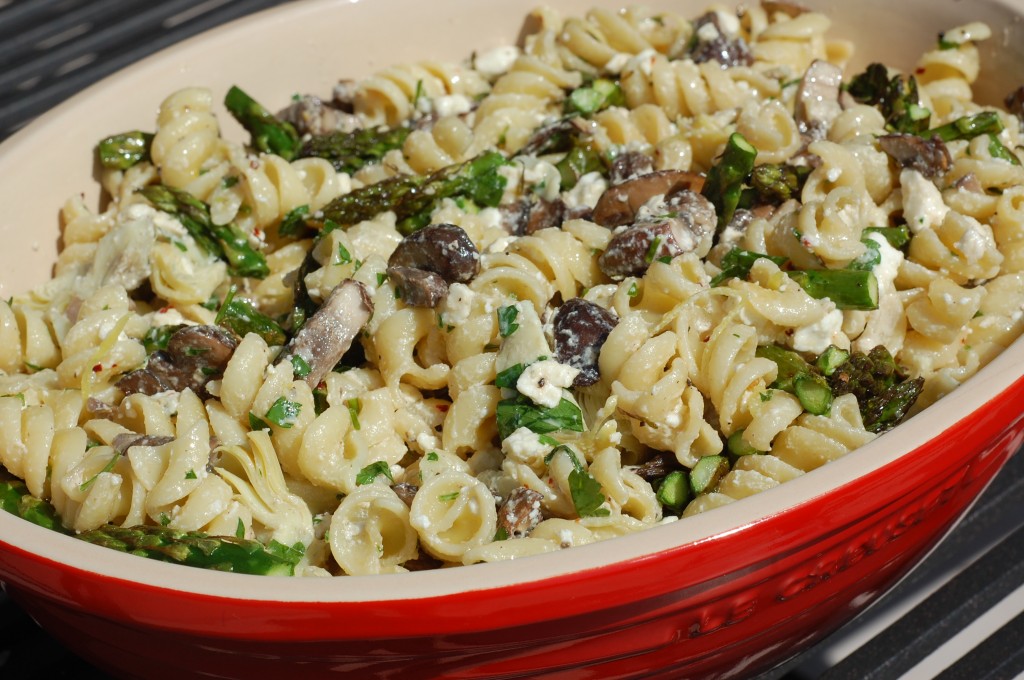 Recently, Mixologist Molly had her bridal shower. It was such a perfect day! The breeze was floating through, the sun was hot and the vodka lemonade punch was delish. As was the champagne. I promised to bring my pasta salad and crack cookies. But I felt my pasta salad needed a change. A face lift. Some botox if you will. It needed to be younger, fresher and lighter. Wait. I forget. Am I talking about myself or food?
Sigh….
I was craving asparagus and mushrooms and with that, a new recipe was born. This pasta salad kicks my old pasta salad's ass.

Ingredients
1 pound bowtie pasta
1 pound asparagus, ends trimmed
1 can quartered artichoke hearts
1 packed cremini or bella mushrooms, roughly chopped
Olive oil, for drizzling
Kosher salt and freshly ground black pepper
2 shallot, finely chopped
2 clove garlic, finely chopped
4 teaspoons Dijon mustard
Zest and juice of 1-1/2 lemons
1/2 teaspoon crushed red pepper flakes
8 tablespoons olive oil
Kosher salt and freshly ground black pepper
1/4 cup thinly sliced fresh chives
1 (4-ounce) container crumbled goat, feta or gorgonzola cheese…you pick
Directions
Preheat the oven to 400 degrees F.
Add pasta to a large pot of boiling salted water and cook until al dente. Drain in a colander and let cool.
Meanwhile, slice asparagus on the bias into 1/2-inch pieces. Place the asparagus and mushrooms on a cookie sheet and drizzle with olive oil, and season with salt and pepper. Place in oven and roast for 10-15 minutes, until slightly tender. Remove and let cool.
In a small bowl, combine shallot, garlic, mustard, lemon zest, lemon juice, and red pepper flakes. Whisk in olive oil and season with salt and pepper. Add chives.
Add pasta, roasted asparagus, mushrooms and artichokes to a large bowl. Drizzle with dressing and toss. Add the cheese, toss and serve!
Comments
Mommy Bistro » Blog Archive » Farro and Arugula Salad - […] Ingredients: 2 cups arugula 1 cup farro, cooked 1 avocado, diced 1/2 cup red onion, diced 1/2 cup feta…