Angry Mac N' Cheese – Vegas Style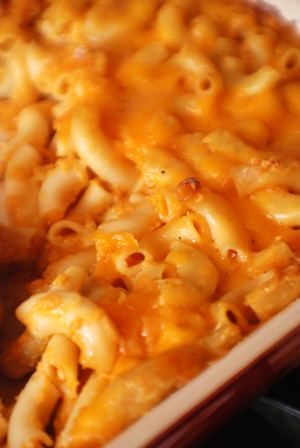 Forgive me cooking gods, it has been weeks since my last post.
See, this little thing called "life" caught up with me. And by "life" I mean this: I was sick. The girls were sick. I was sick again. Sprinkle in two bachelorette parties in Vegas and three bridal showers and you can see why I honestly haven't had a moment to catch up on sleep, laundry, bills, sleep, grocery shopping, health, sleep and immunity.
Here is a recap of the fun I've had (on the bachelorette parties, of course).
Bachelorette Party #1
Bride to be: My sister-in-law
Location: The Cosmopolitan Hotel on the Vegas Strip, Baby!
We were there for three days and were blessed with beautiful weather, great friends, great food and a really great time. Friday, after my plane landed, I had my cabby stop at a liquor store where I bought a box of booze before checking into the hotel. Yep, that's how this mommy of two ROLLS. In the afternoon, we drank and buffeted and drank and gambled. Saturday after sleeping in (yay sleep!) we headed down to the pool to be poked and prodded by unwelcome hands (at least for me. I mean really, does ANYONE know what personal space is anymore???) But the sun was shining, my skin was tanning, I had a mojito in one hand and US Weekly in the other. What more could one ask for? Later that afternoon we got all gussied up and had a cocktail party in one of the suites for the bride-to-be followed by an amazing dinner at DOCG and then we headed to the Rio. Why you ask? For Chippendales of course. I thought, "Okay, it's going to be cheesy. But it will be fun. I mean 200 girls all on bachelorette parties have to be a good time, right?" Um. Ahem. Yeah…..So…..How do I say this? I'm just gonna blurt it out. Several of the Chippendales were ridiculously delicious. Like, "Can someone turn the air on here???" I know! Can you believe it? We had a blast. And even took a picture with the boys after the show.
Then, we were off to PURE nightclub at Caesar's where we danced and partied the night away. The bride-to be (adorned with a "Future Mrs. Roy" sash and flashing penis shotglass) was given all of the free drinks and shots any bride to be could ask for. We partied until the wee hours of the morning, caught a few hours of shut-eye before we jumped on planes back to LA. Which of course, four people missed. But eventually, everyone was safe and sound at home and I was on a detox diet for my next bachelorette, in two short weeks.
Bachelorette Party #2
Bride to Be: My kick-ass Ironwoman best friend since preschool
Location: Take a guess…. The Cosmopolitan Hotel in Vegas, Baby!
Okay, so this trip I knew was going to hurt. I was honestly scared of what the outcome could be. I'm not joking. There was a strong possibility that it was going to be just like the movie, The Hangover. That I would come home with a shaved head or a pierced tongue or heaven forbid a tattoo across my face. Our last trip together with this crew resulted in two girls getting tattoos (wearing nothing but bikinis) in a super shady section of Vegas and then they HITCHHIKED back to the strip. So yeah, this was gonna be bad. Friday we arrived and started out gambling and drinking. We just cycled between those two activities until we had to get ready for dinner. The theme for the night was LBD's and the bride was in all white. We ate delicious tapas at Jaleo. The food was incredible. Except the chicken bites were served in a shoe. Not so sure about that one. And the waiter insisted I try this drink that he swore "he could drink all day." Which turned out to taste like a newborn's dirty diaper. After dinner we were off to Bond, the DJ lounge inside our hotel. And the night went downhill fast. It started with gummy bear shots. Which the bride's mom loved because she just wanted the gummy bear. Which of course resulted in her having about 8 of these shots. We drank and danced and had a blast. But then it was 2 AM. And my mommy exhaustion kicked in. We went back to the room to delve into a snacking frenzy before downing some B12 and melatonin and passing the hell out. The next morning, we dragged our butts down to the Wicked Spoon buffet (in our jammies!) where they had ANGRY mac'n'cheese. I kid you not. This shit was angry. And delicious. I would have eaten 20 orders of this stuff but thought better of it. They had "religion-changing" Eggs Benedict (praise HOD) and about a million other things including endless champagne refills. After brunch, we went to the chandelier bar and continued to drink. All Day. In my jammies. It gets blurry there for awhile….After a nap and a shower it was night #2. Starting off with a lingerie party for the bride, a mustache extravaganza, and mojitos. Back to the chandelier bar for drinks and some granny panty fun, followed by a wild and crazy night at club Marquee. It was a "fight between our group and some other girls, spilled drinks, loss of memory, a sorting hat, sunglasses, glowstick glasses, failure to stand-up, laying down on the dance floor, blacking out, getting kicked out of the club" kind of night. And it was awesome. APPARENTLY it ended with my Molly and I having truffle tater tots and a ham and cheese sandwich at some diner that I didn't even know existed at our hotel. And then the next morning it was back to that ANGRY mac'n'cheese. And then I must have been on some sort of cruise ship or something because the ground was swaying back and forth way too much. It was touch'n'go at the airport. And on the flight. And the bus back to the fly-away. And for the rest of the day, and into the night.
So now I am safe and sound at home. Somewhat caught up on sleep and hydration. And preparing for our trip to Cabo that happens in less than two weeks!
In honor of Vegas, delicious food and life changing buffets, I give you a new recipe.
Hubby's Note: um…I don't even know where to start. So, I won't. That's a lot to process.
ANGRY Mac N'Cheese
Ingredients
2 cups elbow pasta, cooked until almost al dente
8 ounces Cheddar, 1/2 cubed, 1/2 shredded
8 ounces Colby cheese, cubed
8 ounces Monterey pepper jack cheese, cubed
2 teaspoons all-purpose flour
1/2 teaspoons salt
1/2 teaspoon freshly ground black pepper
1-2 teaspoons Sriracha (to taste for your heat level)
1/2 teaspoon dry mustard
1/8 teaspoon freshly ground nutmeg
4 tablespoons sour cream
1 large egg, beaten
1 cup heavy cream
1 cup half-and-half
2 tablespoon butter
Directions
Preheat the oven to 350 degrees F. In a large bowl, toss together the pasta with the cheese cubes and pour into the baking dish. In a large bowl, mix together the flour, salt, black pepper, dry mustard, nutmeg. Add the sriracha, sour cream, egg, heavy cream, and half-and-half. Pour over the pasta in a 2 quart casserole dish and cover with the shredded Cheddar. Bake uncovered until the top is just beginning to brown, about 35 minutes.
Comments