Pineapple Infused Tequila Margarita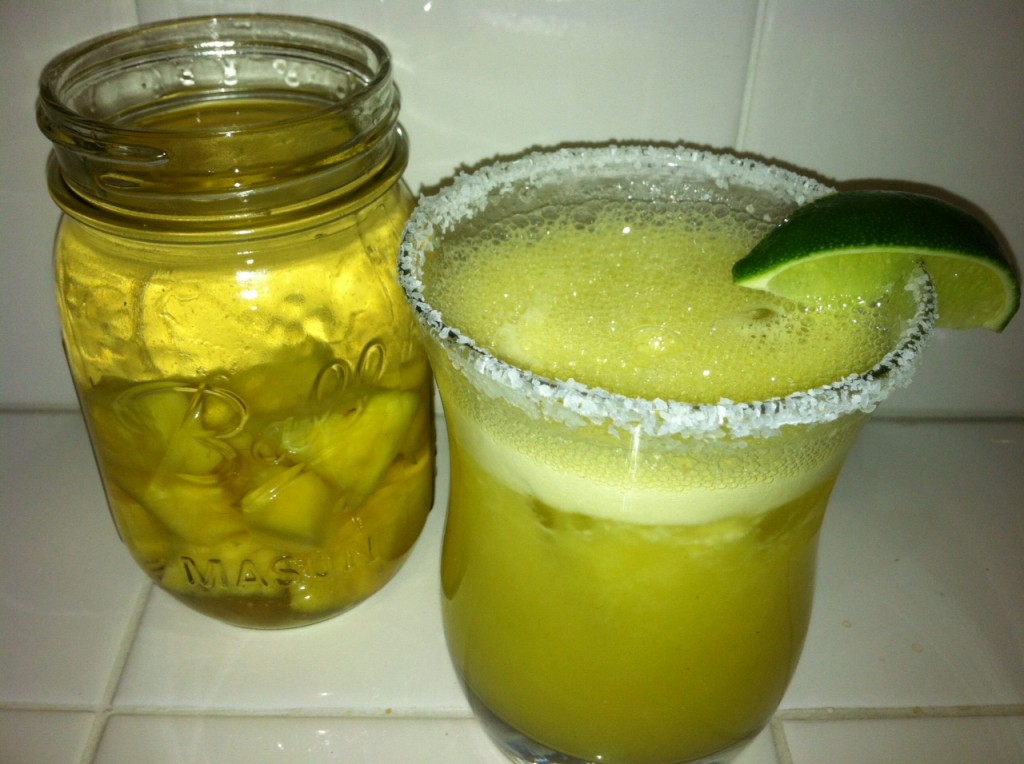 Mixologist Molly and Mommy Bistro are taking a week off, my friends. Yep – you heard it. I am leaving on a jet plane! This will be our first family vacation in almost two years. Yes, we've camped, had mommy/daddy weekends, visited my paretns, etc. But this THIS will be our first family trip since our last time to Cabo in September of 2008. AND! This will be wedding Numero Uno of the three we have this year. My kick-ass girlfriend, Kim, who I've known since preschool is getting married! She's an Ironwoman, a triathlete, a health food guru who literally has pasteurized egg whites in a huge bottle with a pump on top that takes up most of her fridge. I shit you not.
I'm so honored to stand by her side as she says I DO. I am also honored to drink a lot of margaritas and eat a ton of Mexican food for her. The things we do for friends. Molly will be with me which of course means I won't remember any of the trip once she arrives. And once our other BFF, Jessica, arrives. There won't be enough B12 in the world….
I've scheduled some recipes to release while I am gone but you'll have to keep checking the site to see when those sneaky guys are released. Or, make your life easy and subscribe to the Mommy Bistro feed! On the home page, scroll to the bottom. On the right side you will see a little orange box with little half circles in it. Click on it! Sign up! It's the smart thing to do.
And after you've signed up, come back and oogle at this margarita. I want one now.
INFUSED TEQUILA
Whole pineapple chopped
Bottle gold tequila
Add to container and let set in fridge for 3 hours to 3 days.
Mason jars work really well.
MARGARITA
3oz pineapple infused tequila
2oz patron citron
3oz fresh squeezed lime juice
2 tsp sugar
1/2 cup pineapple (from infused tequila)
Blend in blender until smooth. Serve over ice or blend with ice.
Serve with sugared rim with lime and pineapple garnish.
Note: you will have more infused pineapple than tequila. You can supplement regular tequila in the margaritas, if needed. Then just add more tequila to your jar and use it later 🙂
Comments