Farro and Arugula Salad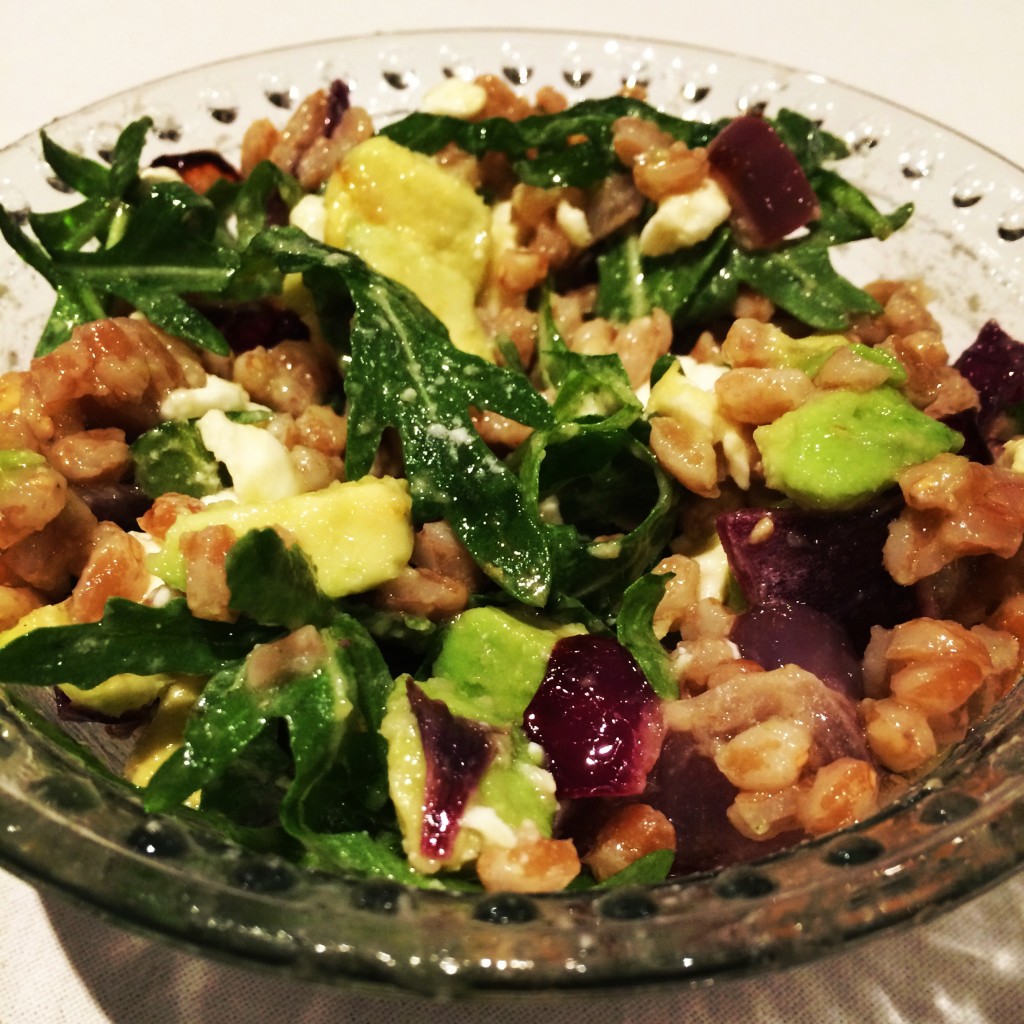 I keep doing this. I fall off the face of the planet and then I come back apologizing for being gone for so long. But here's the deal: My life; my kids, husband, and commitments surrounding them are what comes first. It's not that I don't love sharing my recipes and writing for Mommy Bistro. It's that I was busy playing an epic game of hide-n-go-seek or teaching our daughters how to tie their shoes. It's that I've been busy volunteering for their two schools or taking them to gymnastics and art class.
There are so many things I really want to happen for this site and I really hope that in the next few months, I can make that happen.
Besides playing games and battling my way through the last few months of the school year, I was also in a super crappy car accident and I've been in Physical Therapy for 3 months. Yep, my girls were with me but they are ok (shout out to Britax Car Seats!!) I'm finally starting to feel better and I'm really hoping that I can say adios to PT cause I need my LIFE back.
During my hiatus, I have still been cooking up a storm. And this salad is what makes the world go round. Farro has this nutty flavor to it and it so filling and delicious. Add the peppery crunch of arugula and the zesty lemon vinaigrette and oh my….
I get my farro at Trader Joe's. It is in a blue bag and says "10 minute farro" on it which should actually read "20 minute farro." I boil mine in chicken broth and then fluff with a fork.
Ingredients:
2 cups arugula
1 cup farro, cooked
1 avocado, diced
1/2 cup red onion, diced
1/2 cup feta cheese, crumbled
1/2 cup diced chicken (optional)
Lemon Vinaigrette
Directions:
Like I said, cook the farro to package instructions just add some extra cooking time. Caramelize red onion in a few tablespoons olive oil until they are deep red. Set aside to cool. Add arugula, farro, avocado, red onion, feta cheese and optional chicken to a bowl and toss with lemon vinaigrette. Eat it locked in your car in the garage otherwise the hubby will try to steal it.
Comments