Cubanos Sandwiches with Summer Slaw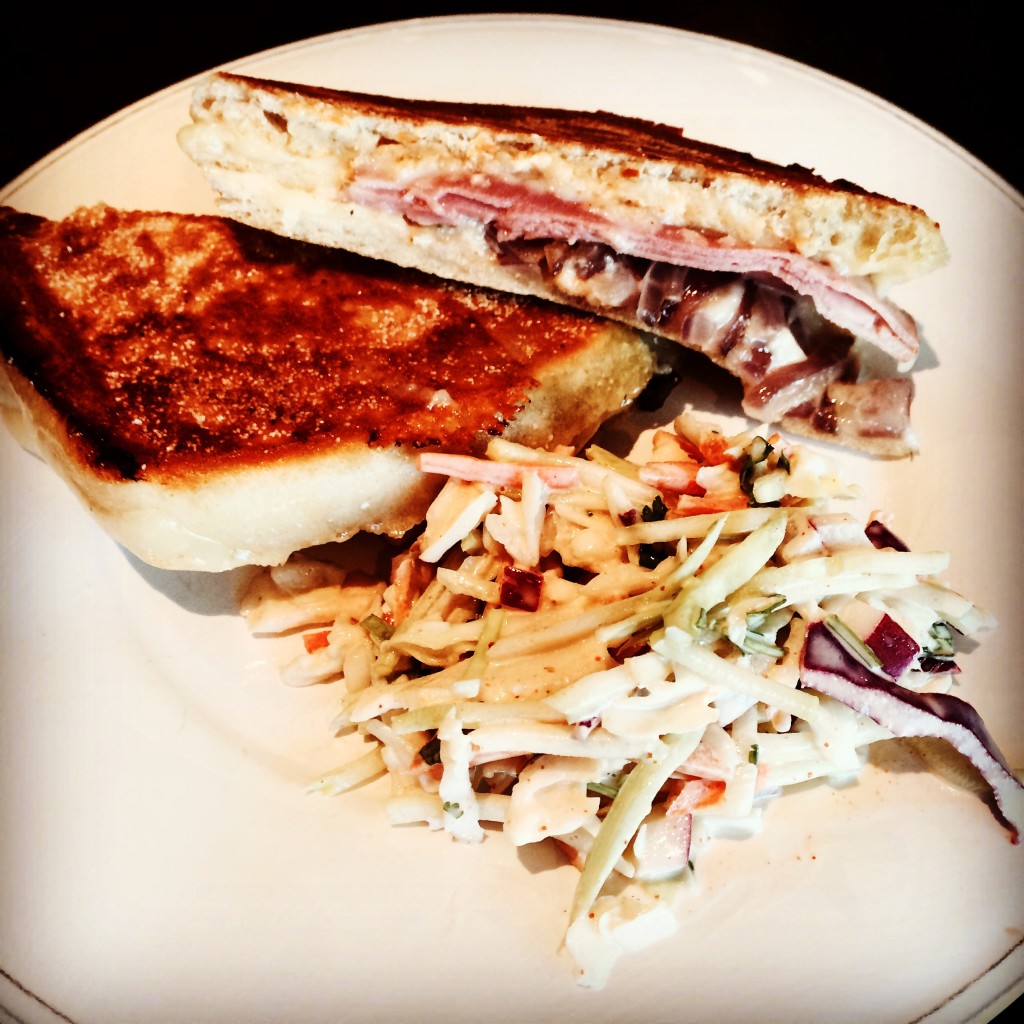 Friday night. Date night. Words that haven't been used in our house for weeks now. We have been loving summer. I love our lazy mornings followed by playing with friends or swimming, gymnastics camp and art camp, fabulous camping weekends, late night game nights and movie nights. It's everything I wanted it to be.

With 27 days of summer remaining, I am cramming all the fun in I can. Including a juice cleanse which I'm hoping helps me rid the extra summer fun weight and less gym time I've had.
I blame these sandwiches for part of the weight gain. We went and saw the movie Chef on date night. It reconfirmed my love for kitchens, restaurants, food trucks and how deeply I really really want these for myself. My ultimate dream is to own my own food truck or awesome hideaway restaurant. Food has been my passion since I was a kid and this movie really pushed me into thoughts of how to make my dream a reality.
There are many variations of this sandwich so I will list all of the ingredients and the different combos from that. The summer slaw recipe is crisp, refreshing and full of flavor. Delicioso!
Ingredients
4 ciabatta rolls, tellera rolls or crusty French sandwich rolls
1/2 pound good quality smoked ham (see your deli counter)
1/2 pound havarti cheese
Claussen sandwich slice deli pickles
Stone ground mustard
Cayenne aioli (2 tablespoons mayo mixed with a pinch of cayenne pepper, to taste)
1 onion, sliced thin and caramelized to a golden brown
Directions:
Slice ciabatta rolls in half. Top with desired toppings. Combos include:
Ciabatta
Stone ground mustard
Ham
Onions
Cheese
pickles
Ciabatta
Cayenne aioli
Ham
Onions
Pickles
Ciabatta
Cayenne aioli
Ham
Cheese
Onions
Summer slaw
Heat two tablespoons oil in a nonstick pan. Add prepared sandwich and either using a cooking press or another heavy pan on top, press sandwich for 3 minutes. Flip sandwich and press other side for another 3 minutes. Cut in half and serve! Only variation is with the slaw on the sandwich. Do not top with slaw before pressing cause warm slaw is soggy and disgusting. Press sandwich with directions above and then when you remove the sandwich from the pan, open it quickly and add 2 large heapings of slaw.
Summer Slaw
Ingredients
1/2 cup mayo
1-2 tablespoons cayenne pepper
Juice of 2 limes
1/2 cup chopped cilantro
1/2 cup chopped red onion
1 cup cabbage mixture
1cup broccoli slaw
Directions
Whisk lime juice, cayenne pepper and mayo together. Let sit 15 minutes. Add remaining ingredients and stir well. Serve either on the side or on top of this sandwich! This slaw is also awesome on top of your favorite fish tacos.
Comments