Brick Sandwich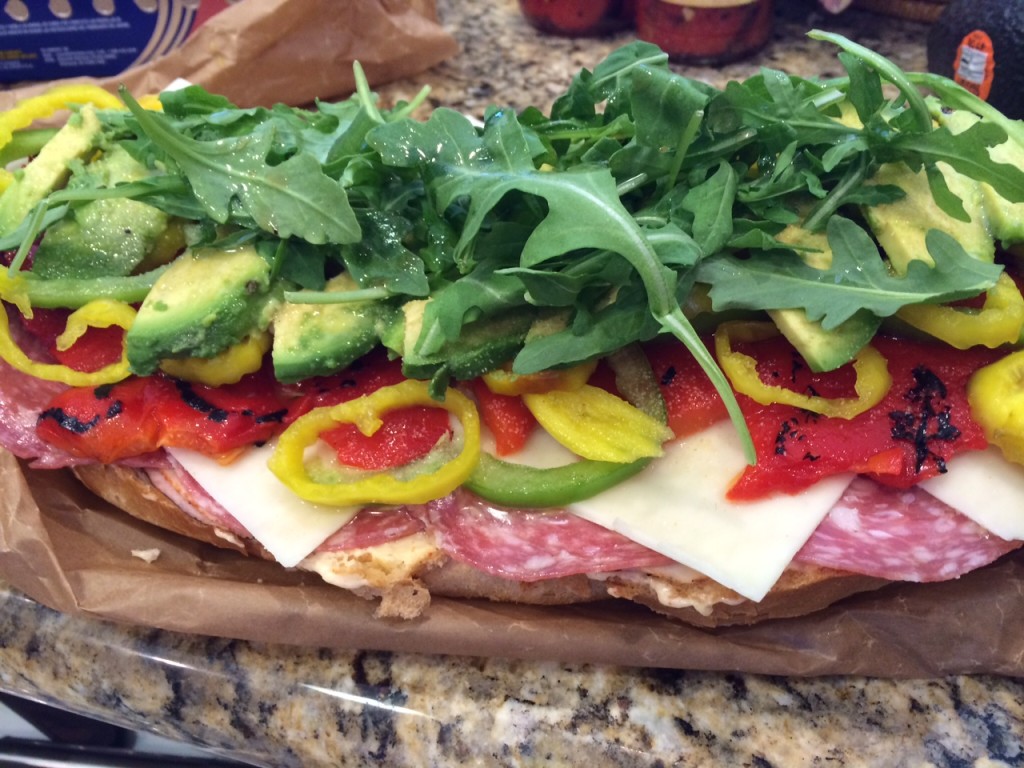 There are so many great activities for free in summer. We personally love the concerts in the park. Some fabulous cover band pouring their heart and soul into the 80's, Chicago and Bon Jovi. Add in the fact that you can pack your own dinner and a couple bottles of wine; what more do you need in life!
We went to see a Frankie Valle cover band. My dear friend told me she was making brick sandwiches. She's an amazing cook so I had no fear I would be in love. Imagine all of the best Italian cold cuts, delicious cheese, some spicy peppers, a zingy mayo and now imagine them pressed into crusty French bread. I'm kind of ashamed about how much I had. But not really.
I recreated it for my mom's birthday weekend and they flew off the cutting board before I could even plate them. Serve with a great chianti and you are set for a perfect picnic, concert in the park or an easy lunch for a crowd.
Ingredients
1 large loaf French bread
Salami, capicola and sopressata
Provolone or havarti cheese
Thinly sliced bell pepper
Pepperonconis
Roasted red peppers
Arugula
Olive oil
Red wine vinegar
Mayo
Dijon mustard
Avocado (optional)
Directions
Cut the loaf in half and spread one side with mayo and the other with mustard. Layer on the meat, cheese, green bell pepper, red bell pepper, pepperonconis, arugula and avocado if you are using it. Sprinkle with salt and pepper and drizzle olive oil and red wine vinegar on top. Place the bread on top and wrap in foil. Place a heavy cutting board on top followed by a stack of cookbooks or a large brick. Let the sandwich sit for 30 minutes. Slice into one inch sandwiches and serve immediately!
Comments