Tuscan White Bean Soup with Crispy Bacon and Fried Sage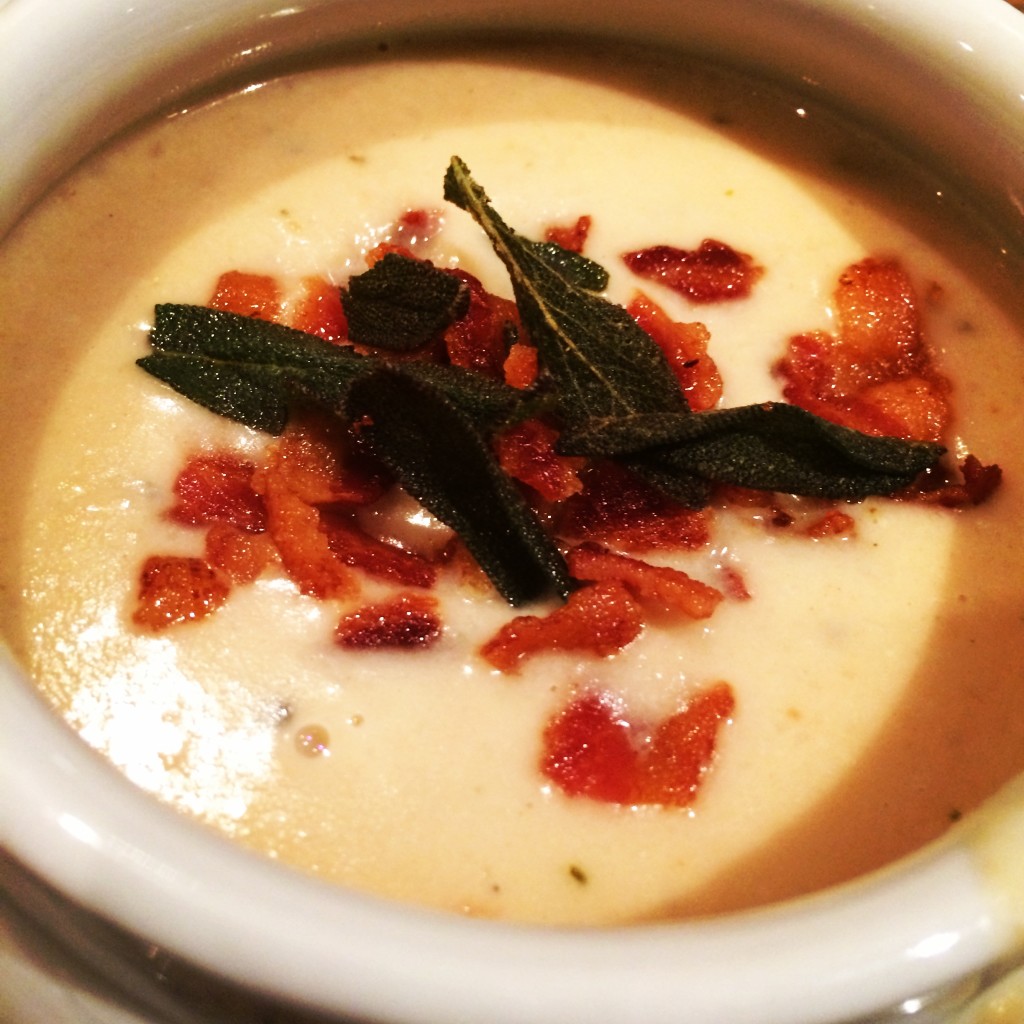 "If we could change ourselves, the tendencies in the world would also change. As a man changes his own nature, so does the attitude of the world change towards him. … We need not wait to see what others do."
Gandhi was one bad ass dude.
This quote has always resonated with me however lately it has lit a fire within me. A fire for change, for creating a brighter better future for our children. For peace within our lands and peace within ourselves. I swear I'm not going all zen on you but don't you sometimes feel like we can do so much better? From parents and educators to advancement in society and embracing change. Our children are the future for this world and I don't feel like we are doing our best to prepare or educate them properly.
This isn't the same world I grew up in. There were no cell phones, my first TV was black and white with a cable box and rabbit ears, and I rode my bike with my friends until dinner. Today, we have cell phones and iPads, answers at the tips of our fingers, and a society where we don't feel safe allowing our children to ride bikes through the neighborhoods. But if we adapt and change the world, if we accept the changes; isn't it possible to give our children the tools to keep our world beautiful? To make our world whole again?
Yes, I am asking for world peace. And I think that it's possible…don't you?
Ingredients
2 tablespoons butter
1 tablespoon olive oil
1/2 cup sweet onion, chopped
4 sage leaves
4 strips of bacon, cooked until crispy
2 (15-ounce) cans cannellini beans, drained and rinsed (Trader Joe's carries these beans…they are also called white kidney beans)
4 cups low-sodium chicken broth
4 cloves garlic
2 sprigs fresh rosemary
1/2 cup cream
1/2 cup parmesan cheese
1/2 teaspoon freshly ground black pepper
1/2 teaspoon salt
Directions
Place a medium, heavy soup pot over medium heat. Add the butter, olive oil, and onion. Cook, stirring occasionally, until the onion is softened. Add the beans and stir to combine. Add the stock and bring the mixture to a simmer. Add the garlic and simmer for about 10 minutes. Pour the soup into a large bowl. Carefully ladle a portion of the soup into a food processor and puree until smooth. You can also use an immersion blender if you have one. Pour the blended soup back into the soup pan. Puree the remaining soup. Once all the soup is blended and back in the soup pan, add the sprigs of rosemary and simmer for 15 minutes. Remove the sprigs of rosemary and add the cream, parmesan, salt and pepper. Keep warm, covered, over very low heat.
Fry the bacon until crisp. Remove to a towel lined plate. Add the sage to the bacon grease and fry for 30 seconds. Remove to a towel lined plate. Spoon the soup into a bowl and top with crispy bacon and fried sage leaves.
Comments