Hungarian Chicken Paprikash & Cucumber Salad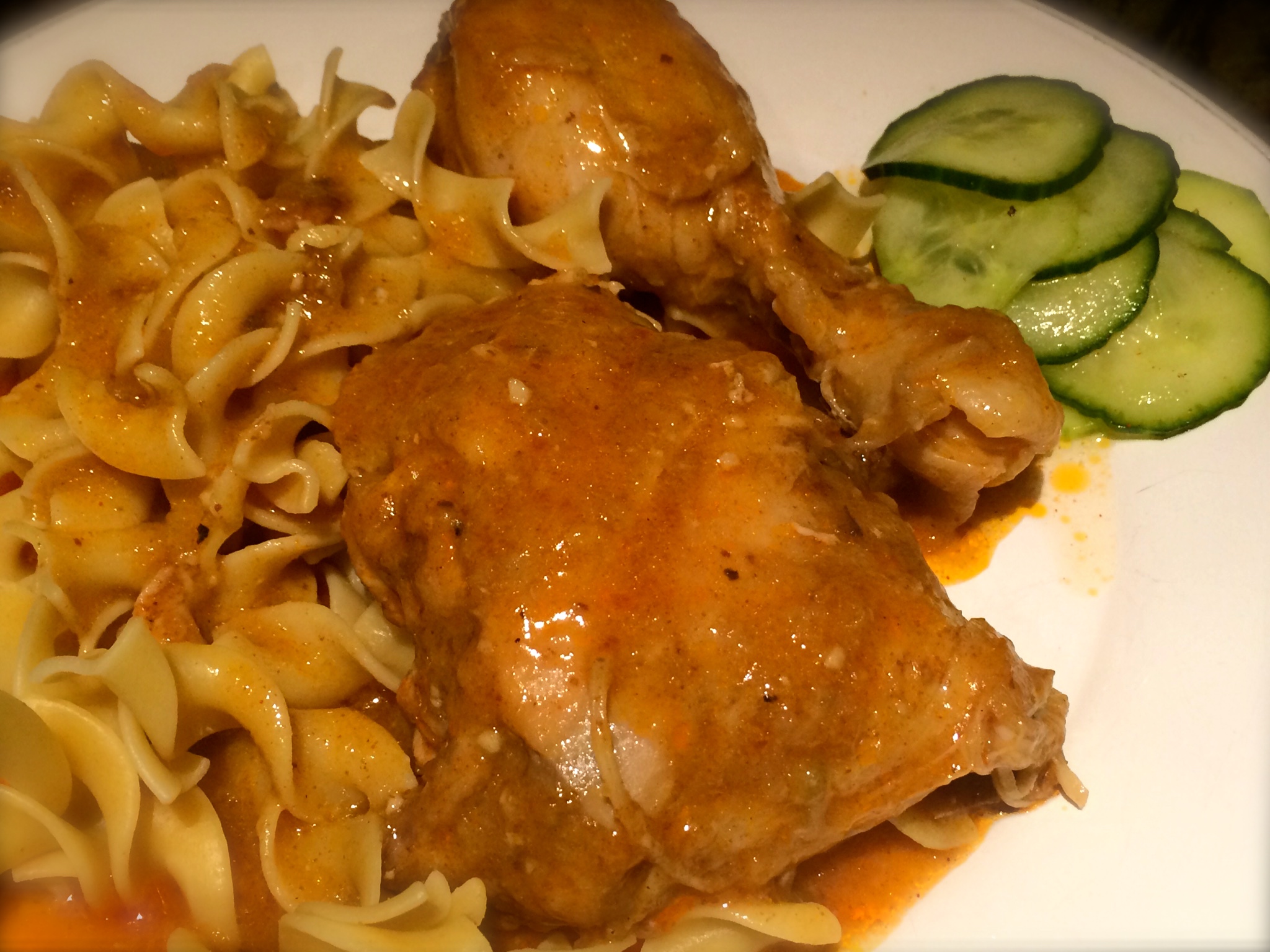 A few years ago I auditioned for Master Chef. What a complete adrenaline rush… I mean seriously…Holy Hell! Every emotion and feeling you can imagine explode inside you all at once. I went back to my roots and created a traditional recipe from Hungary. It is a favorite in our house and probably the most comforting and delicious dish you can imagine. It is best served along with a cucumber salad. Enjoy!
Ingredients
3 tablespoons vegetable oil
1 onion, chopped
2 cloves garlic, minced
1 whole cut up chicken with skin (I like to use thighs and drumsticks)
3 tablespoons paprika (at the store you can buy the Szeged brand)
3 cups chicken stock
ADD LATER TO BROTH:
4 Tbsp flour or wondra (this will thicken up the sauce)
FOR THE CUCUMBER SALAD:
2 cucumbers
1/4 cup vinegar
2 cloves garlic
1/2 cup Water
Paprika, to taste
FOR THE DUMPLINGS:
4 eggs
3 c water
6 c all purpose flour
1 tsp salt
OR! If you are in a pinch for time…egg noodles
Directions
Place the oil and chopped onion and garlic to a heavy bottom dutch oven or pot. Cook over medium/high heat until translucent. Remove onion and garlic mixture to a bowl and set aside. Add the Paprika. Mix it well. Add chicken to the pot and brown on all sides. Add garlic/onion mixture back to pot. then add enough stock to almost cover chicken. Cover and simmer for 25-30 minutes.
FOR THE CUCUMBERS: While the chicken is simmering, wash your cucumber and remove ends. VERY carefully, you can either slice the cucumber paper thin or using a mandolin quickly slice the cucumber into a bowl. Generously salt the cucumbers and let stand for 15 minutes. Wash cucumbers thoroughly off in a colander. Wash out the bowl they were sitting in and add 1/4 cup vinegar, garlic and water. Mix well and add cucumbers back to bowl. Refrigerate until ready to serve. Before serving, sprinkle with paprika.
FOR THE DUMPLINGS: Bring a large pot of water to a boil. In a mixer combine eggs,water and flour and salt. Mix together to form a soupy dough. When water is boiling, scrape the dough into the water a spoonful at a time. This is easier if you dip the spoon onto the boiling water,so the dough will not stick to the spoon. After you scrape the dough into the boiling water, they should cook for about 7 minutes. When they rise to the surface, they are done. Drain and rinse.
Remove chicken to platter and whisk flour into sauce to thicken. Serve dumplings with chicken on top and spoon sauce over everything. Serve cucumber salad in a separate bowl next to the dish.
Comments