Slow Roasted Red Onion "Dressing/Stuffing" with Hot Italian Sausage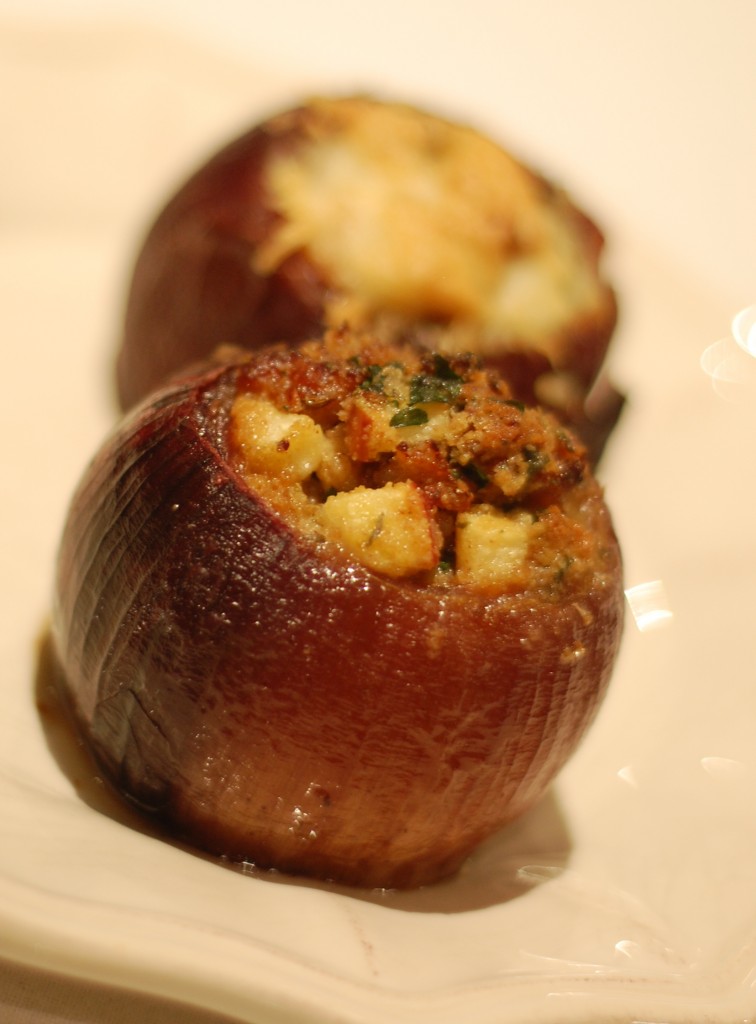 It's 9:45 on Monday night. I'm chilling with a glass of wine working on cleaning up my iphoto "events." Rather than be called "events" I feel they should be called, "homage to your daughters….(and food!)"  Rarely will you see Ry or I in the monthly upload of pictures from our camera. It's usually more like: Buggies, Buggies, Pixie, food, food, Pixie, Pixie, Pixie, Buggies, food, food, food. Granted, neither Buggies or Pixie can use the camera yet (nor can the food) so I guess that lowers our chances right off the bat. Plus, I'd rather look at all three of them over Ry and I anyday. Food included. 😉
Switching tangents…WOW! I can't believe Halloween has come and gone. Pixie turned four. And Thanksgiving is NEXT WEEK? How did that happen? Here I thought I had all the time in the world and instead I realize that 16 people will be banging down my door in a little over a week. I know, I sound like, "Woe is me!" Dismiss that because I love it. I love having all of my family and friends gathered around our table to give thanks for the year we've had; whether successful or not – we always have things to be thankful for. It's been a hard year, a crucial year and a year filled with laughter and love and kindness.
This year I think Ryan is thankful for me making this recipe. It's a brand new one that I test drove with Ryan and let's just say it corners like it's on rails (name that movie!!!). It will definitely be a part of our Thanksgiving menu this year. Did I mention that my new in-law in-laws will be here?? So excited to have them join our pure chaotic family on Thanksgiving. Oh – maybe I confused you? My in-law in-laws would be my brother-in-law's new in-laws! Can't wait for Carol and Mike B to join us for our day of thanks.
BTW – I don't know which term is correct. Stuffing or Dressing. So I'm covering my bases.
Hubby's Note: "So…my best friend's sister's brother's girlfriend heard from this guy who knows this kid who saw Ferris pass out at 31 Flavors last night. I guess it's pretty serious." If Ferris did pass out last night, it wasn't from a lactose overdose. Much more likely, he took one taste of this INSANELY ORGASMICALLY AMAZING dish and he passed out from shear euphoria. Seriously. Sausage + Stuffing in a bowl that is actually an Onion? I need this back in my mouth. NOW!
Ingredients
8 medium red onions (preferably the more wide and flat ones)
Kosher salt
2 tablespoons unsalted butter
1 pound hot Italian sausage
2/3 cup diced apple (I used a red apple my mom brought me from the apple farms in Tehachapi. I think any type will work just fine)
1/2 cup  dried breadcrumbs (I used roasted garlic and herb  -I know, surprise, surprise)
2 tablespoon finely chopped fresh flat-leaf parsley
1 tablespoon finely chopped fresh sage
3/4 cup grated jack cheese
1 egg, whisked (optional)
Directions
Preheat oven to 400 degrees. Slice off tops and bottoms of onions, leaving a 2-inch diameter exposed at the top (See what I mean about needing a wide and flat onion?). Scoop out the inside of each onion (about 3/4 of the way down) using a melon baller or a spoon. Season insides with salt. Transfer onions to a baking dish, and cover with parchment, then foil. Bake until just starting to soften, about 1 hour.
While the onions are baking, melt the butter in a large skillet over medium heat. Crumble sausage into skillet, and cook, stirring, until cooked through. Add apple and cook about 2 minutes.
Drain sausage mixture, reserving juices in a medium bowl. Finely chop sausage mixture, and add to bowl. Let cool. Stir in breadcrumbs, parsley, sage, egg, and jack cheese. Only use the egg if you want a heartier dense type filling. I made it without the egg and it was delicious!
Fill onions with stuffing. Bake until tops are crisp and brown, about 20 minutes.
Comments
Mommy Bistro » Blog Archive » Happy New Year! - [...] Eve, I had to keep the tradition going and I cooked my tail off. Ryan grilled a turkey, I…