Baby Pumpkins with Brown Sugar Applesauce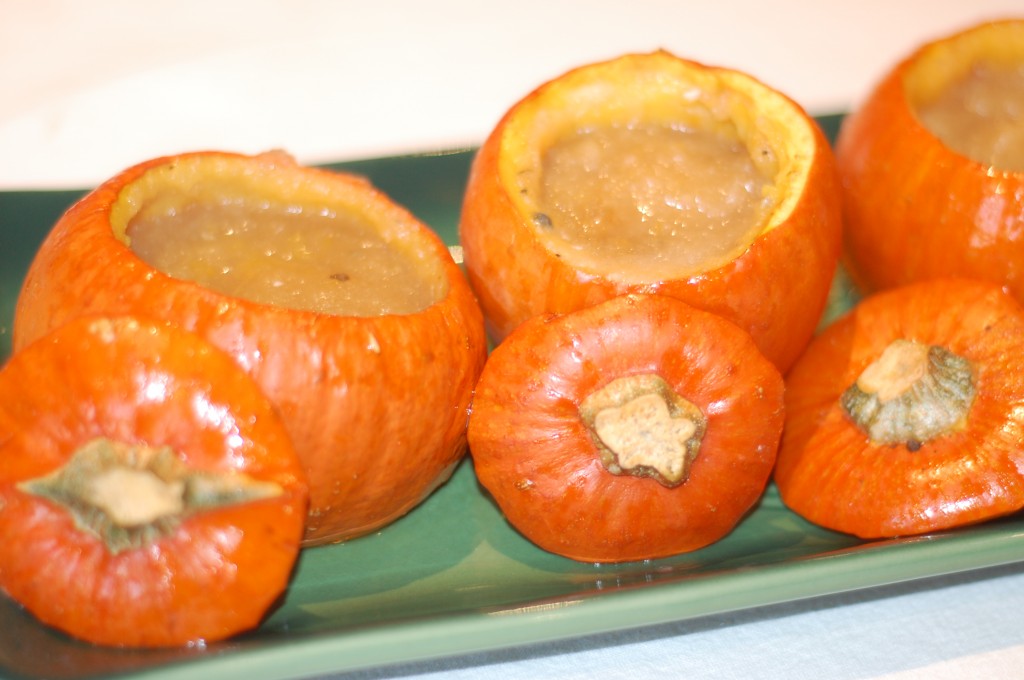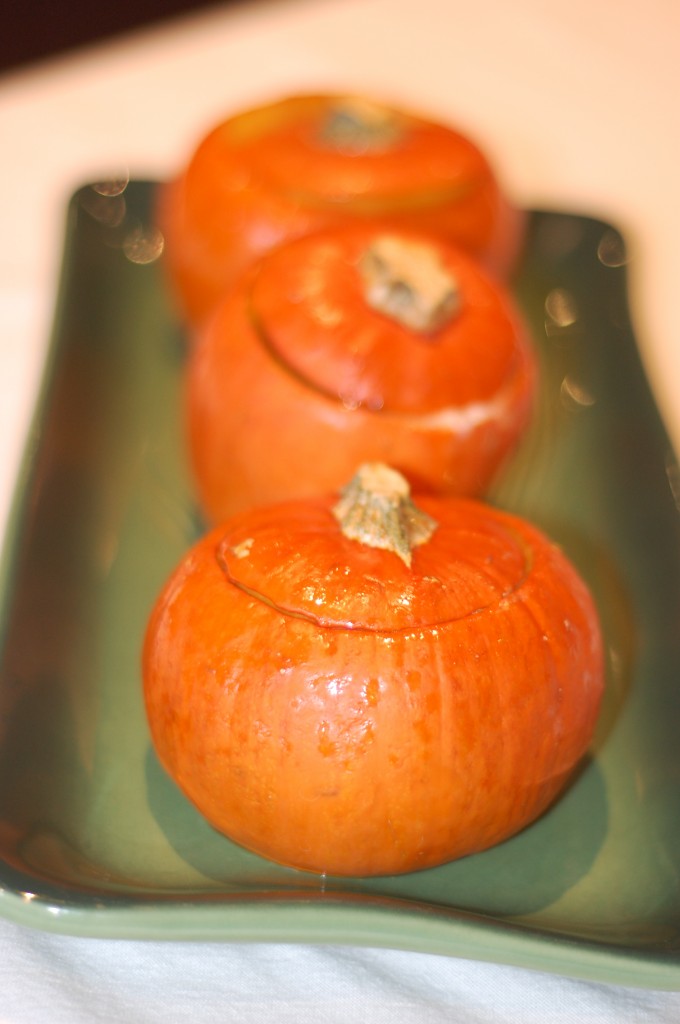 I just spent the day helping my dear friend make an absolutely killer display of sweets for her son's preschool Thanksgiving feast. We made ridiculously adorable cupcakes (honestly – I spent three hours decorating each one of these fine little guys), pilgrim hat cookies, popcorn balls, fruit kabobs for a chocolate fountain; the list goes on (as will the sugar coma when 24 little three year olds get their grubby little hands on these treats). Needless to say, I'm kind of beat. But I've been thinking about posting this recipe all day because it just oozes Thanksgiving. I mean really, applesauce served in a pumpkin that's slow roasted in the oven? Fuhgetaboutit.
Just in case you don't have a Thanksgiving day countdown timer on your phone like my sorry ass does, it's like, next week people. I've gotta start wrapping up all of these Thanksgiving posts so that you have a complete and perfect menu for your day. And… I need to get myself in my kitchen! There are grocery lists to write! Pantries to stock! Tobin James to order! Makers Mark to buy! (before Ryan goes into the fetal position!)
Oh by the way – When I made these pumpkins recently, I served them to Buggies and Pixie with their dinner. Ryan asked them, "Girls, how many little kids in the world do you think are having homemade applesauce roasted in baby pumpkins for dinner?" Without missing a beat and looking at Ryan with the attitude of a thirteen year old, Pixie says, "Two." Um…duh, daddy.
If making homemade applesauce just ain't gonna happen, buy some cinnamon apple sauce from the store. Add a tablespoon of brown sugar and a tablespoon of butter to each pumpkin before baking. Stir it before serving…Your secret is totally safe with me. Serve these as a healthier dessert option, or even as an appetizer. It's applesauce people! It's sort of good for you!
Hubby's note: These things are sooooooo good. They're like little orange canonballs of deliciousness for my ever growing belly. And they're served INSIDE a pumpkin with brown sugar and butter all cooked together and oozing… This dish is Motts meets Strip Club. Talk dirty to me applesauce. Talk dirty.
Ingredients
6 Granny Smith apples
6 sweet red apples, such as McIntosh
1/2 cup light brown sugar, packed
4 tablespoons unsalted butter
2 teaspoons ground cinnamon
1/2 teaspoon ground allspice
1 lemon, juiced
6 mini sugar or tiger pumpkins, tops removed and pumpkins cored
1/2 cup butter cut into equivalent slices
Directions
Preheat the oven to 350 degrees F. Place the juice of the lemon in a large bowl. Peel, quarter, and core the apples and toss them in the juice. Pour the apples and juice into a nonreactive Dutch oven or enameled iron pot. Add the brown sugar, butter, cinnamon, and allspice and cover the pot. Bake for 1 1/2 hours, or until all the apples are soft. Let cool. Blend in a food processor until smooth. Fill each baby pumpkin with applesauce about 3/4 of the way full. Place one slice of butter into the center of each pumpkin. Cover with the top and bake for about 35-45 minutes. You don't want the pumpkins to be too mushy and falling apart so watch those suckers.
Comments