Six Cup Salt Crusted Pork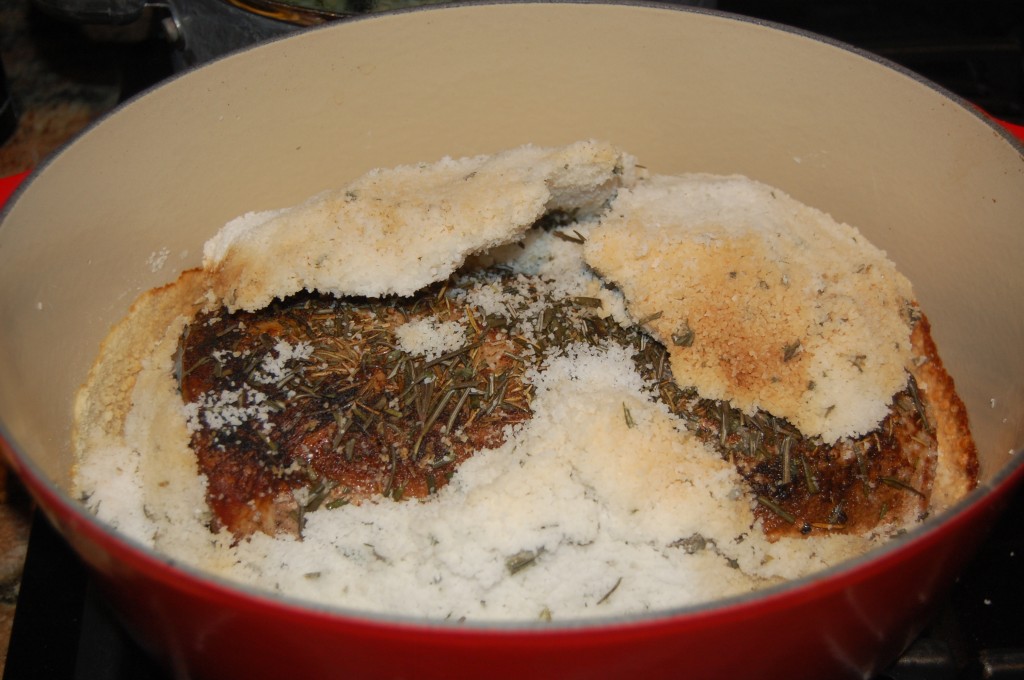 Don't be scared. Don't close your eyes. I promise this recipe is not as crazy as it looks. And I promise it's easy. And the pork isn't salty. And you will love it. And re-pin it. And if you don't know what it means to "Pin It" then we need to talk.
Our friend Jim is an incredible cook and he has talked about making a version of this recipe before. Of course that caught my attention and I knew I had to make this magical pork. A lot of my recipes come from being inspired by other recipes or after doing research and pulling the best parts from several recipes and trying to create my own. Sometimes I fail tragically. But I never give up. I always make it again until I've nailed it. Because I'm a perfectionist. And I don't like to fail. Jim gave me the quick rundown on how he did this delicious salt encrusted pork and after some research, I did my own. Ryan and I were both a bit scared of it. But holy hell! It was the best pork roast I have ever had. Cafe Bizou – eat your damn heart out.
Hubby's note: Yes. I was scared. It's a LOT of salt. But it looks gorgeous when it's cooked, with the salt crust browned and cracking open. WOW! and it tastes amazing! Especially with the Herb Cream Sauce. Soooooo good.
Ingredients:
Big ol' pork roast (Mine was 2 pounds)
6-8 tablespoons fresh rosemary
3 tablespoons olive oil
6 cups coarse salt (Morton sells it in a big blue box. This isn't table salt people. If you use table salt, this dish will be horrible)
2 teaspoons garlic powder
2 teaspoons dried thyme
2 teaspoons Hungarian paprika
2 teaspoons onion powder
2 teaspoons fresh ground black pepper
1 teaspoon dried rosemary
Directions:
Take the pork out and rub all of the delicious seasonings all over it. Let sit for 30 minutes. Heat olive oil in a large dutch oven. If you don't have a Le Creuset yet, get your butt down to the outlet malls and buy yourself one. You will use it all of the time, it is a great investment and every cook deserves one. Ok – make sure your oil is super hot. Not just a slight sizzle you want to sear the hell out of the outside of this pork. Once it is hot, add the pork and let it get a good bark around the entire roast. So, turn it every 3 minutes or so. While the pork is browning, pour all of the salt into a large bowl and add the 8 tablespoons of fresh rosemary plus one cup of water. Mix until the texture is like gritty snow or sand. When the pork is browned, remove it from the pot. Remove the pot from the heat and pour out any remaining oil. Don't wash it out, just get rid of the excess. Put a good 1/2 inch layer of salt on the bottom of your pot and place the pork on top. Then spoon the rest of the salt all around and over the pork until it is totally covered. Roast the pork until the internal temperature reaches 145 degrees. That's about 20-25 minutes per pound. Remove from oven and let stand for 5-10 minutes. Using a sturdy spoon or knife, chip the salt layer away from the pork. You should be able to crack the top and lift off the entire section in one swoop. Use a dry pastry brush to brush away any of the remianing salt and then remove the pork to a cutting board. Slice into medallions that are about 1/4 of an inch thick and and serve with whatever delicious side dish you would like…Mashed potatoes, brussel sprouts, aspargaus, all of the above….
I served mine with mashed potatoes and the herb cream sauce that you can find here.
Comments