Roasted Pork Tenderloin with Parmesan Polenta and an Herb Cream Sauce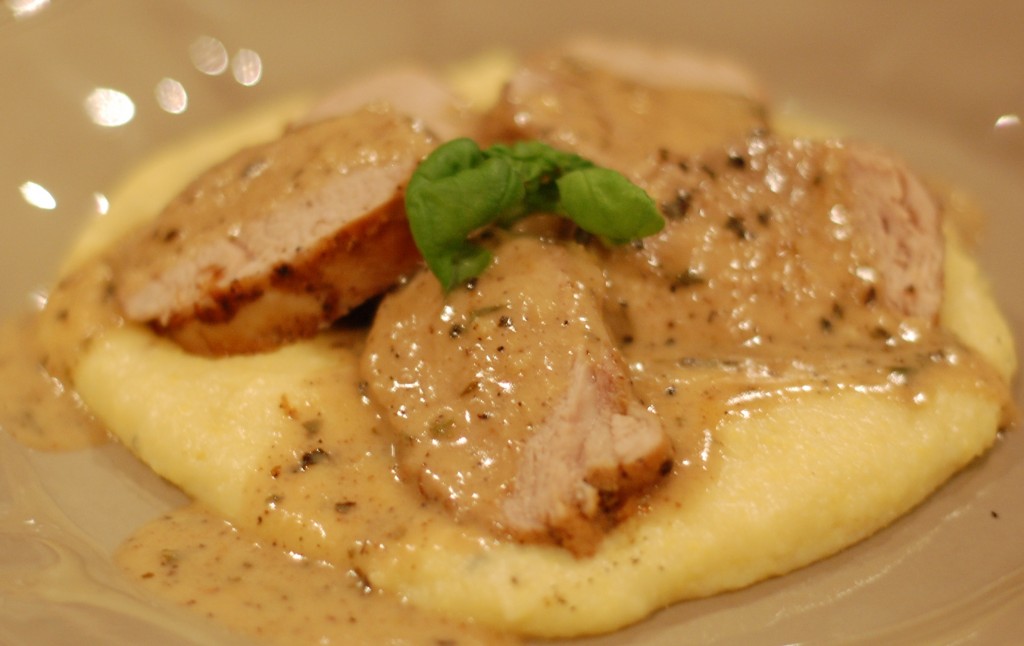 I go through these kicks where I want to literally empty everything in my fridge and freezer and start anew. By that I mean, cook everything we've got. I HATE wasting food – especially produce – so I try to be very conscious of what we have lying around to make. One night I said to Ryan, "Choices are: Potstickers with fried rice, Ramen Pad Thai (I got VERY creative in college) or pork and polenta." He chose the pork and polenta and… alas! A new recipe was born.
Hubby's Note: Herb Cream Sauce! Herb Cream Sauce! I want to bathe in it!
Ingredients
2 tablespoon olive oil
1 1/2 pounds pork tenderloin
2 teaspoons all-purpose flour
1 tablespoon dried basil
1 tablespoon dried parsley
1/2 teaspoon ground black pepper
1/4 cup beef or chicken stock
2/3 cup heavy cream
1/4 cup dry white wine
Directions
Get your oven warming to a nice 350. Heat oil in an oven proof skillet over medium heat. Add pork, and cook until browned, about 2-4 minutes per side. Cover and place in oven for about 30 minutes (you want to cook a tenderloin like this 20 minutes per pound). In another skillet, stir together flour, basil, parsley, pepper, and beef or chicken stock. Whisk in cream, stirring until thick. Stir in wine. Reduce down to a gravy like consistency. Remove pork from oven and let rest for 5 minutes. Then slice into medallions and serve over parmesan polenta and spoon the sauce over it all.
Parmesan Polenta
Ingredients:
1 cup yellow cornmeal
1 teaspoon salt and pepper
3 tablespoons butter
1 cup parmesan cheese (the green can is just fine 😉 )
4 cups water
Directions:
Bring your water to a boil. Add the cornmeal in a thin stream; whisking to avoid clumps. Reduce heat to a simmer and cook for 10 minutes. At the end, stir in the butter and parmesan, season to taste with salt and pepper.
Comments
Mommy Bistro » Blog Archive » Braised Short Ribs - [...] serve this with my parmesan polenta which you can find here. posted under Dinner, [...]
Mommy Bistro » Blog Archive » Six Cup Salt Crusted Pork - [...] served mine with mashed potatoes and the herb cream sauce that you can find here. posted under Dinner,…