Kitchen Sink Crock-pot Soup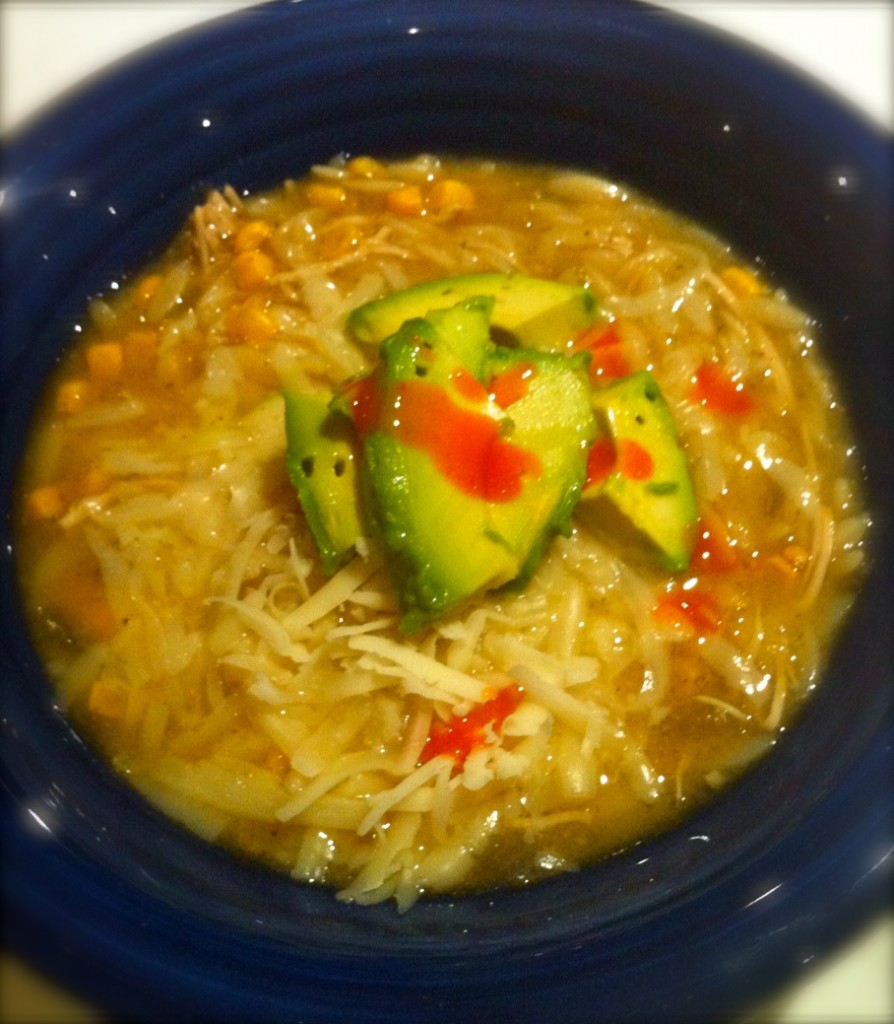 WARNING: The above picture was taken on the hubby's iPhone. My camera was indisposed taking pictures of the newest little angel, Sweet Baby Jane, which let's be honest – is MUCH more important than taking pictures of my soup. Proceed….
Last year we got home from a trip to warm and sunny Cabo San Lucas, only to be welcomed by pouring rain, cold wind and an even colder house. We landed at LAX and the girls and I were still wearing our swimsuits and shorts when Mother Nature turned reality back on with a giant slap to our goose-bumped keesters. We were cold and grumpy and ticked off that we weren't on the beach anymore. Of course, after being gone for a week, our fridge consisted of a jar of pickles, some sticks of butter and coffee creamer. Unless you're pregnant – that ain't dinner. So, I rummaged through our pantry for a bit….
I whipped out my crockpot and picked our Fridge cleaner than a crow on a carcass (poor analogy given the subject matter?). So, since I threw everything in but the Kitchen Sink…you get it. And now, since it is slated to rain in Southern California this weekend for a few days, I'm passing this on to you. I know that we will have a fire going, some wine, some warm slippers on, and this soup to keep us cozy and healthy! Make it people!
Hubby's Note: This is cold and rainy day soup at its absolute best. In fact, that book series "Kitchen Soup for the Soul", was obviously referring to this soup. Though it didn't know it at the time. Throw some Frank's Red Hot Sauce in there…and you've got a heat blanket for your soul. Hubby approved!
Pin It

Ingredients:
5 cups chicken broth
3 whole boneless skinless chicken breasts
1 medium onion. diced
1 can creamed corn
2 cloves garlic, minced
1 small can green chiles, diced
3 tablespoons chopped cilantro (or the frozen cilantro cubes from Trader Joes)
1 cup orzo pasta
Garnish:
Fresh grated Mozzarella
1 avocado diced
Directions
Get ready, this is going to be hard. Throw it all in your crockpot (except for the orzo pasta and garnish) and let it cook on low for 6 hours. After 4 hours, use two forks to shred the chicken. Cover and cook for 2 more hours. About ten minutes before serving, toss in the orzo and give it a stir. Ladle it into some soup bowls, garnish with avocado and mozzarella, dig in! I know, you broke a sweat making this one.
Comments