Braised Short Ribs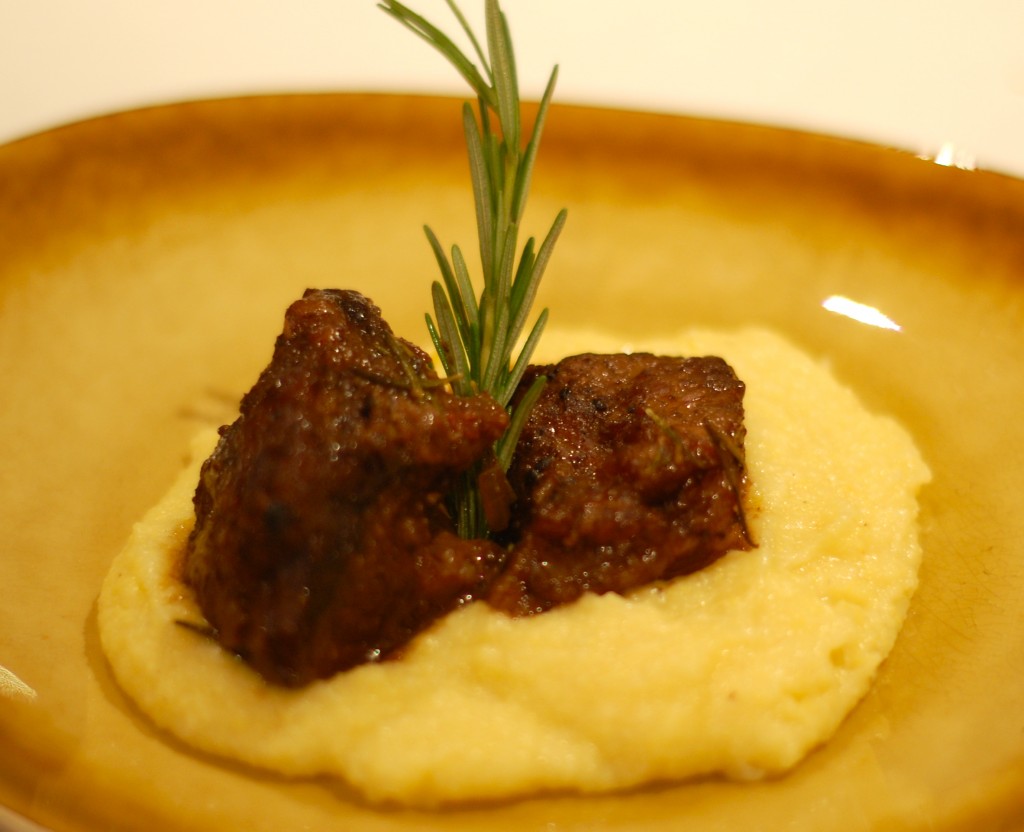 It's windy here. Like, 60 MPH windy. I can handle rain, cold temperatures, blazing heat— but wind? It messes with my sanity. It's a good thing I don't live in a city that the Chumash Indians named after their word for "WINDY". Oh wait, I do. Yep, that's what Simi means. The Valley of the Wind. I've lived here since I was a baby but I swear I don't remember it being this bad growing up. It's seriously getting on my nerves. The "everyday-ponytail-look" shows way too many of my roots. It looks like I haven't been to the salon in a year. But I can't go now. I'm on a very tight hair schedule for the next seven months given the three bachelorettes, three bridal showers and three weddings that I will be a major part of in the next year. You hear me girls, don't you? You gotta plan those hair salon visits accordingly. So yes, the wind makes me stay indoors. Or take the kids to indoor play areas. And it gives me the time to cook these delicious and comforting short ribs. Of course these are also great for rainy and/or snow days. They just make you want to put on cozy socks in front of the fire, let your hair out of that ponytail (yes!) and scarf these bad boys down. Paired with a nice big jammy wine (I suggest the 2008 Tobin James Ballistic Zinfandel), it will be the best meal you make all week. This recipe comes from The Pioneer Woman, Ree Drummond. She rocks. I made some slight changes to her recipe but damn it's good!
Dig in people.
Hubby's Note: The morsels of miraculous meat melt in my mouth more maliciously than M&Ms. Malicious in the sense that they attack and smother my taste buds with no concern for the damage they cause by once again raising the food bar on my taste buds. And…I needed another M word. Did I mention that I LOVE these short ribs? Hubby gives this two snaps up in Z formation.
Ingredients
6-8 Beef Short Ribs
Kosher Salt and Pepper
1/4 cup Flour
6 pieces Pancetta, Diced
2 Tablespoons Olive Oil
1 whole Medium Onion, Diced
3 whole Carrots, Diced
2 whole Shallots, Peeled And Finely Minced
4 cloves garlic, minced
2 cups Red Wine
2 cups Beef Broth (I use Better than Bouillon)
2 sprigs Thyme
2 sprigs Rosemary
Directions
Salt and pepper the ribs, then dredge in the flour. In a large dutch oven, cook pancetta over medium heat until complete crispy. Using a meshed spoon, remove pancetta and set aside. Do not discard grease. Add the olive oil to the pancetta grease, and raise the heat to high. Brown ribs on all sides. Remove ribs and set aside. Turn heat to medium. Add onions, carrots, and shallots to pan and cook for 2 minutes. Pour in wine and scrape bottom of pan to release all the flavorful bits of glory. Bring to a boil and cook 2 minutes.
Add broth, 1 teaspoon kosher salt, and plenty of freshly ground black pepper. Taste and add more salt if needed. Add ribs to the liquid; they should be almost completely submerged. Add thyme and rosemary sprigs (whole) to the liquid.
Put on the lid and place into the oven. Cook at 350 for 2 hours, then reduce heat to 325 and cook for an additional 30 to 45 minutes. Ribs should be fork-tender and falling off the bone. Remove pan from oven and allow to sit for at least 20 minutes, lid on, before serving. At the last minute, skim fat off the top of the liquid. (Can also refrigerate mixture, then remove solid fat from the top.)
Serve 2 ribs on bed of creamy polenta, spooning a little juice over the top.
I serve this with my parmesan polenta which you can find here.
Comments