Chicken Parmigiana Arrabiatta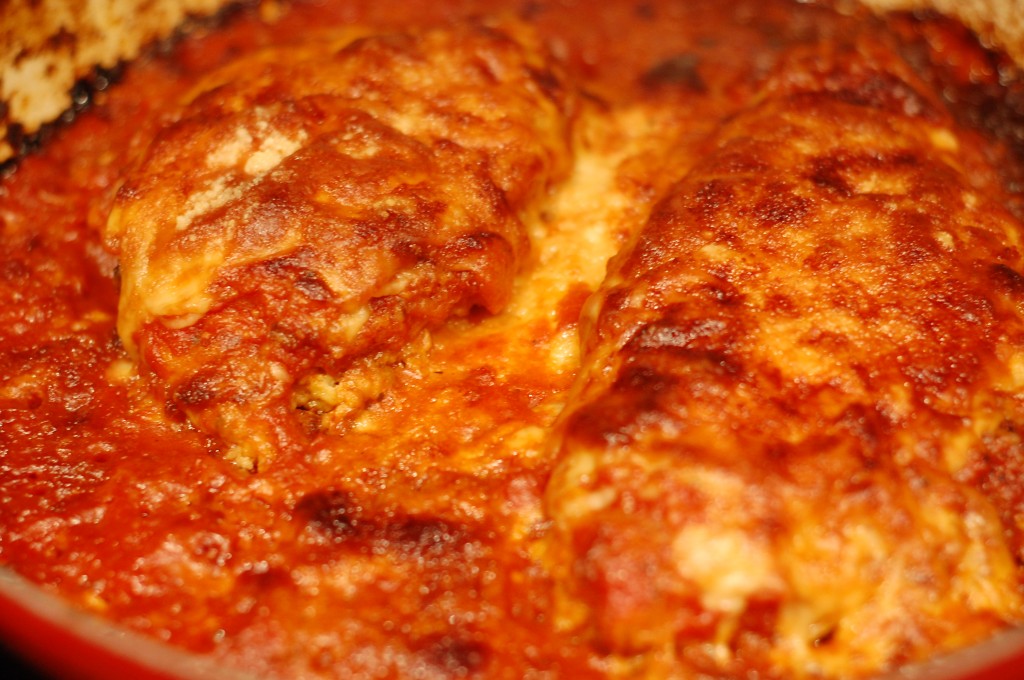 I LOVE Chicken Parmigiana. I know, I know, I've said before that I'm not a fan of chicken breast but seriously? When you bread it, fry it, cover it in delicious arrabiatta sauce and mozzarella; it makes my heart swoon. It's kind of my standby plan when I'm not exactly sure what to do for dinner. It doesn't take much time, it's GREAT for leftovers and my family digs it. Nuff said.
Oh and because we all have busy lives, I've also included a shortcut version with store bought sauce.
Hubby's note: For the record, anything is good when you fry it. Just ask the Chinese. (ducks feet anyone?) I don't share my wife's boredom for chicken. Especially when it's on culinary steroids like this one is. This chicken is REALLY good. I can only guess that "Arrabiatta" is italian for "Kick-Ass". I'm always the envy of my co-workers come lunch time as my delicious leftovers waft through the air. And this dish gets me more glances than usual.
Ingredients
4 Boneless, Skinless Chicken Breasts, Pounded Flat
1/2 cup All-purpose Flour
1 egg beaten with a tablespoon of water
1/2 cup bread crumbs (I use the Italian flavored kind)
Salt And Pepper, to taste
1 stick butter
1 whole Medium Onion, Chopped
4 cloves Garlic, Minced
1 cup red wine
2 cans Tomato sauce
2 Tablespoons Sugar
1/4 cup Chopped Fresh Parsley
1 tablespoon Red Peper Flakes
1 cup Mozzarella Cheese
1/2 cup Parmesan
1 pound Spaghetti
Directions
Preheat oven to 350. Mix flour, salt, and pepper together on a large plate. Dredge flattened chicken breasts in flour mixture. Then dredge in egg mixture and finally the bread crumbs. Set aside. Now, fire up the pot for the spaghetti. Cook spaghetti until al dente. Heat butter in a large oven proof skillet over medium heat. When butter is melted hot, fry chicken breasts until nice and golden brown on each side, about 2 to 3 minutes per side. Remove chicken breasts from the skillet and keep warm. Without cleaning skillet, add onions and garlic and gently stir for 2 minutes. Pour in wine and scrape the bottom of the pan, getting all the flavorful bits off the bottom. Allow wine to cook down until reduced by half. Pour in tomato sauce and stir it up. Add the sugar and more salt and pepper to taste. Simmer for 30 minutes. About 5 minutes from the end of cooking, add chopped parsley and stir. Lay chicken breasts on top of the sauce. Then spoon some over the top and completely cover them in Parmesan and Mozzarella cheeses. Place lid on skillet and place in oven for 25 minutes. Add more cheese to taste. Put the spaghetti on a plate and cover with sauce. Place chicken breast on top and serve immediately.
Now for the easy recipe:
If you are dying for Chicken Parm but don't have time for the sauce, you can cheat by using some store bought sauce. I HIGHLY recommend the Albertson's brand, Culinary Circle Arrabiatta sauce. Buy two jars of it. Make the chicken, then pour the the sauce over it, cover with cheeses and bake. Sprinkle with parsley and serve alongside your spaghetti!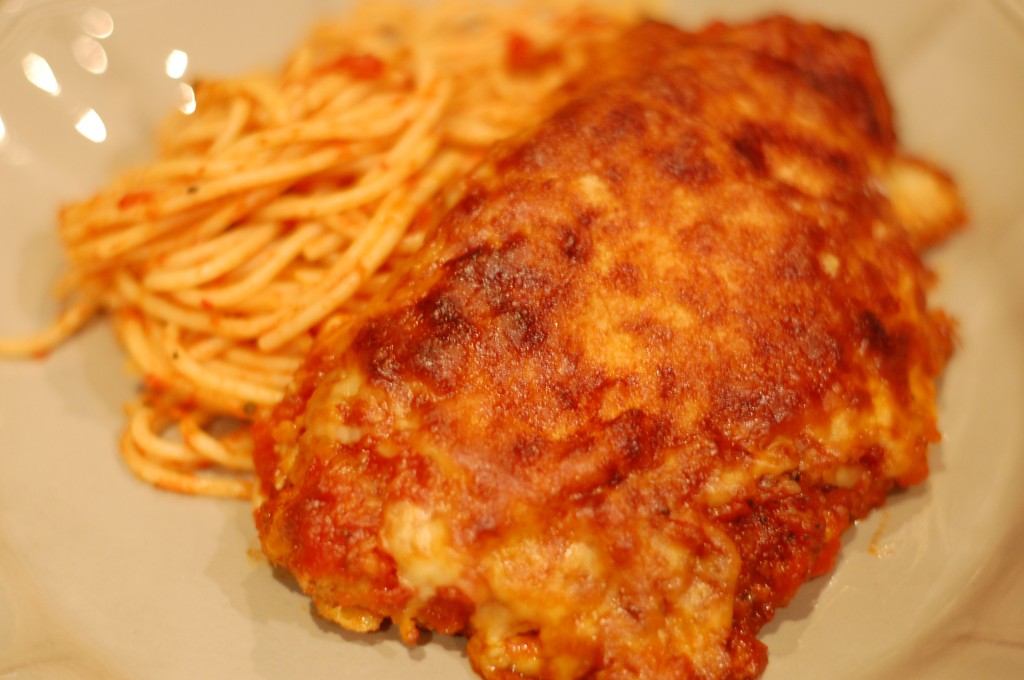 Comments