Thai Red Curry Chicken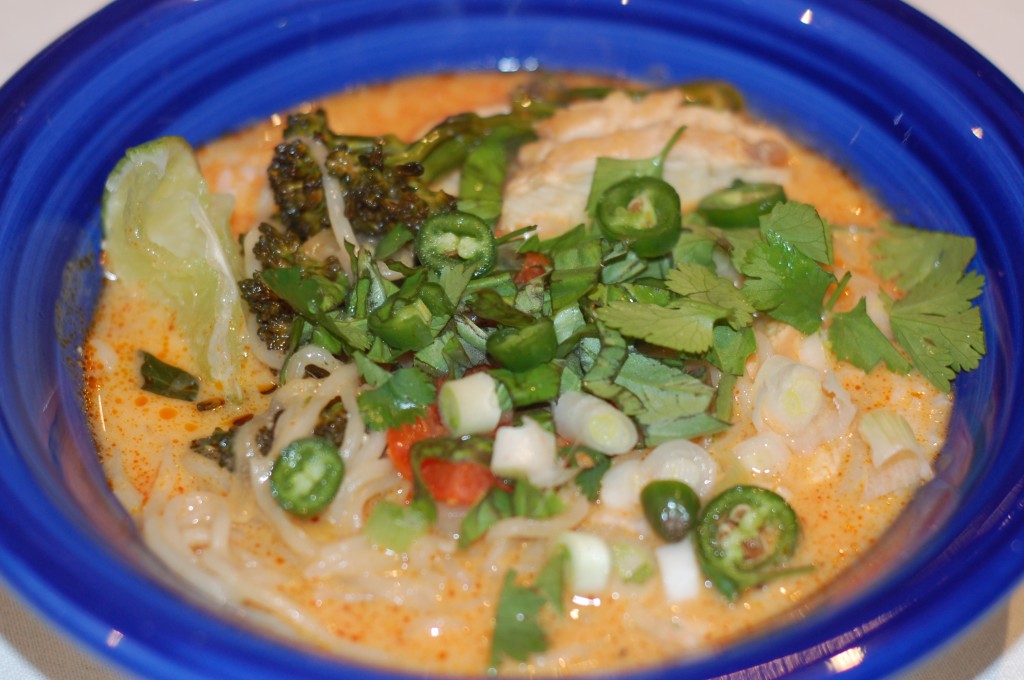 Pin It

In 2003, on a beautiful afternoon in the middle of California's Indian Summer, I married my hubby. We said our vows in blistering heat with sweat dripping down to you know where and we sealed our commitment with a kiss.
And then we partied.
We danced and drank mojitos and visited with (almost!) every single one of the 200 guests. We fed each other cake and I was a good sport when he dolloped some on my nose. We watched a dear friend of ours (who is now an ocular plastic surgeon) try to smoke a cognac dipped cigar while four inch flames leapt from it as two other friends (mere feet away) tried to relay a sincere message to us on our wedding video.
It. Was. Perfect.
The next morning after very little sleep and very little time to enjoy our amazing hotel room, we grabbed our bags and headed to LAX. We were leaving on our honeymoon! A two and a half week trip in Bali and Thailand. If I haven't mentioned yet, I LOVE Southeast Asia. I spent a month in Vietnam and Singapore when I was a junior at UCLA and I have wanted to go back ever since. After a little convincing (very little), Ry agreed to go.
We started our trip in Bali in the town of Kuta and then moved over to Jimbaran Bay for a few days. During our time in Bali, we went white water rafting in the jungle, horse back riding on black sand beaches and spent an entire day getting pampered with massages, baths, and a whole lot of cocktails. In Jimbaran Bay, the restaurant tables sit in the sand and you eat the fish that was literally just brought in off the boats. It was one of our favorite nights of our honeymoon. After sadly saying good-bye to Bali, we spent three days in Bangkok. Possibly the worst decision we ever made. After spending a week on the beautiful beaches of Bali; being thrown into a bustling city was quite the shock. But we went to the famed Bamboo bar, toured the city, went to some shows and enjoyed our beautiful hotel.
Next stop: Koh Samui, Thailand. A little island off the eastern peninsula of Thailand, Koh Samui is an undiscovered gem. Here we rented a motorbike and attempted to drive the island before getting caught in a torrential downpour. We hiked to some breathtaking waterfalls, played an epic game of Jenga, attended a Thai boxing tournament, marveled at the most breathtaking sunsets you could imagine and met a fabulous German couple who we still see and love dearly (who also caused us to have the worst hangovers ever. in our lives.)
Spending a week and a half in Thailand meant curry. And lots of it. If you don't like curry, shame on you! It's honestly to die for. Some nights we ate in some pretty shady establishments so I'm not entirely sure we were actually having chicken, but it was sooo good (curry can mask even the strangest of meat sources). Ever since we got back from Thailand, I have been trying to recreate a perfect red curry. And I have failed, time and time again. It was so bad that for Christmas, Ryan tried to find a Thai cooking class in the area for me to attend (which I would have GLADLY attended. Teach me oh wise ones)!
Until one fateful evening when I challenged myself one last damn time. Guess what? I nailed it. Ryan had three helpings. I'm fairly certain when I wasn't looking, he licked the bowl clean. So here it is, eight years in the making, my homage to Thailand!
om swastiastu!
Hubby's Note: The preceding anecdotes and stories from our wedding and honeymoon are true. The names have been withheld to protect the innocent. I'm sure you can understand. And we left out some of the more unsavory tales. (What the what? Working the cooking lingo in? Who's your daddy?!) Regarding this Red Curry Chicken that my wife made…HOLY BANGKOK BATMAN! It is seriously amazing. She tried time and time again to nail this recipe. And she absolutely did. I would eat this dish with a fox. In a box. In a house. With a mouse. Here, there…etc. And you should too.
Ingredients
1 package of soba, mein or rice noodles (You can also substitute steamed white rice or use both!)
2 tablespoons peanut oil
Smidge more than 1/4 cup red curry paste
2 cans coconut milk
1-2 cups chicken broth
Lime Basil Chicken (recipe below!)
Chinese Broccoli (optional)
Red and yellow peppers (optional)
Onion (optional)
For Garnish:
Fresh Basil, chopped
Fresh cilantro, chopped,
Limes, quartered
Serrano chiles
Diced green onions
Directions:
Heat oil in a large dutch oven or large pot over medium heat. Add curry paste, stirring for a 3 minutes. Add the stock slowly, whisking all the way! and bring to a boil. In a seperate pot, boil noodles to your package directions. Once they are done, drain and toss with a teaspoon of oil. In your curry pot, slowly add the coconut milk while stirring. Add the cooked basil chicken. Cook curry until simmering. Put noodles or rice or both in a bowl and spoon the curry over it. Devour!
Lime Basil Chicken
Ingredients:
4 tablespoons fresh lime juice
2 tablespoons peanut oil
2 teaspoons soy sauce
2 cloves garlic, diced
1 cup basil leaves, diced (or if you have Trader Joe's nearby, they have those frozen cubes of basil – I use those)
Directions:
Stir together all of the ingredients in a bowl. Place chicken in an 8 inch square baking dish. Pour marinade over the chicken; toss to coat. Let refrigerate for at least 3 hours. Remove chicken from the refrigerator and let stand for 30 minutes. In the meantime, pour yourself a glass of chardonnay and heat the broiler. Place chicken in the oven for about 10 minutes. Turn the chicken over and cook for another 5-7 minutes. Remove from oven and slice into strips. Add the chicken to your curry!
Comments