Spicy Dr. Pepper Pork Tacos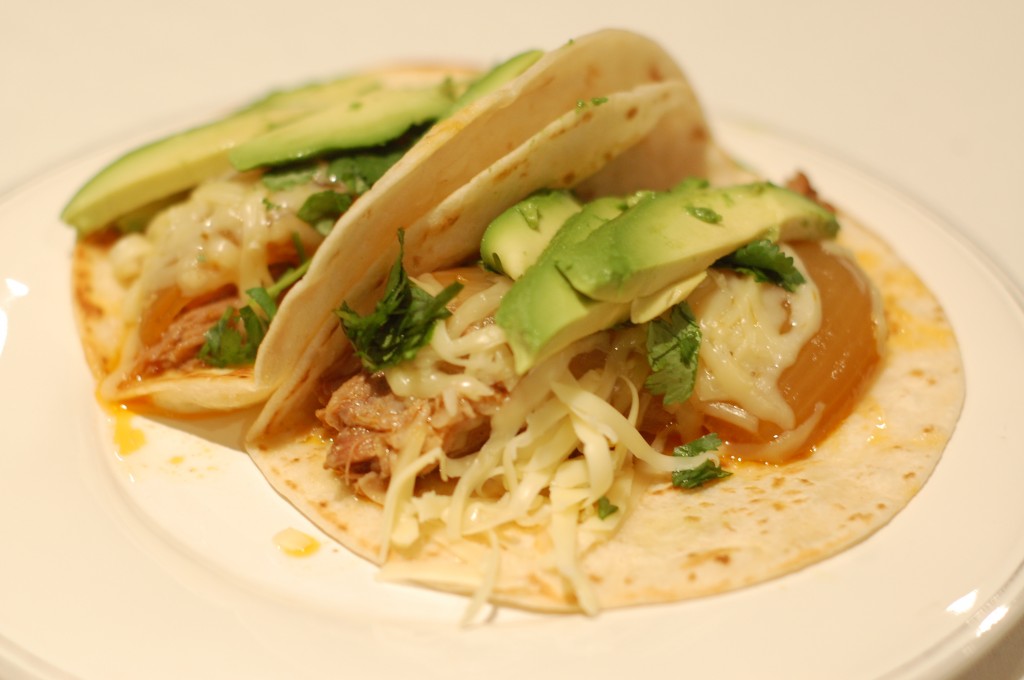 Obviously I was having a rough week last week. Buggies had pushed me over the edge of sanity and right into the Grand Canyon. Come to find out, poor little miss needed some antibiotics and is doing much, MUCH better. I, of course, feel like "parent of the year" for allowing myself to get so frustrated with her. So, after hugging and kissing her a million times, we packed up our trailer and headed to the beach to do some beach camping. Thanks to global warming, Los Angeles has been 75 degrees for the last week. So, an impromptu camping trip sounded like a great idea. And it was! Three families, six kids and the beach? How could we go wrong! We sat by the campfire, had s'mores and the kids played and played and played. They came home covered in splinters, dirty as could be and totally exhausted. Which means it was a damn good trip.
Totally unrelated to camping…..I've been on a taco kick. First there were the Chicken Chutney Tacos, now the Dr. Pepper Pork Tacos and next will be Chipotle Cornish Game Hen Tacos with Avocado Relish. With Super Bowl just a few days away, these would be perfect for your crowd. Confession: I'm not a huge sports fan. Okay…I'm not a sports fan AT ALL. But I do LOVE the camaraderie that goes along with a sporting event. Tailgating, spending time with friends, BBQ-ing, great food and having a few cocktails. Kind of perfect, right? And these tacos will ensure that you win "Best Super Bowl Party". Or at the very least, "Best Food at a Super Bowl Party".
HUBBY'S NOTE: "Not a huge sports fan" just might be the understatement of the year. I don't think my wife has ever sat down and watched an entire sporting event from start to finish. Even AT a game. Thankfully, she has two saving graces. First off, she's cute. And second, she can cook. And these tacos? Wow! Sweet, and spicy at the same time. The mini tacos she made were amazing. I also plan on trying this pork on a Panini. Oh, yeah. Panini it! But for Super Bowl Sunday…chips and salsa/guac are nice. But Dr. Pepper Pork Tacos? Game over.
I adapted this pork recipe from Ree Drummond. Just a little extra somethin' for you.
Ingredients
2 onions, peeled and quartered
1 whole pork butt (pork shoulder roast)
Salt and freshly ground black pepper
One 11-ounce can chipotle peppers in adobo sauce
2 cans Dr Pepper
4 packed tablespoons brown sugar
3 garlic cloves minced
1 teaspoon ground cumin
6-8 flour tortillas
3 tablespoons minced cilantro
Shredded gouda cheese
Sliced Avocado
Directions
Start by placing the onion quarters in the bottom of your crock pot. Generously season the pork with salt and pepper, and then place on top of the onions. Pour the chipotle peppers over the top, and then open the cans of Dr. Pepper and pour them over the whole thing. Add the brown sugar, garlic and cumin to the liquid and stir.
Cover the crock pot, and cook for at 6-8 hours, flipping the roast twice during the cooking process. When it's done, the pork will be fork-tender.
Remove the meat from the pot. Remove the chipotle peppers and discard. Shred the pork completely. Then return the meat to the pot and keep in the juice until you need it.
Fry some tortillas in a tablespoon of butter. Then put some pork and onion mixture inside of it. Top with gouda cheese, cilantro and avocado. Dig in!
Comments
Mommy Bistro » Blog Archive » Mixologist Molly: The Hand Shaken Margie - [...] thanks to Molly, I'm always in luck with a delicious margarita. I highly recommend serving my Spicy Dr. Pepper…