Chipotle Cornish Game Hen Chicken Tacos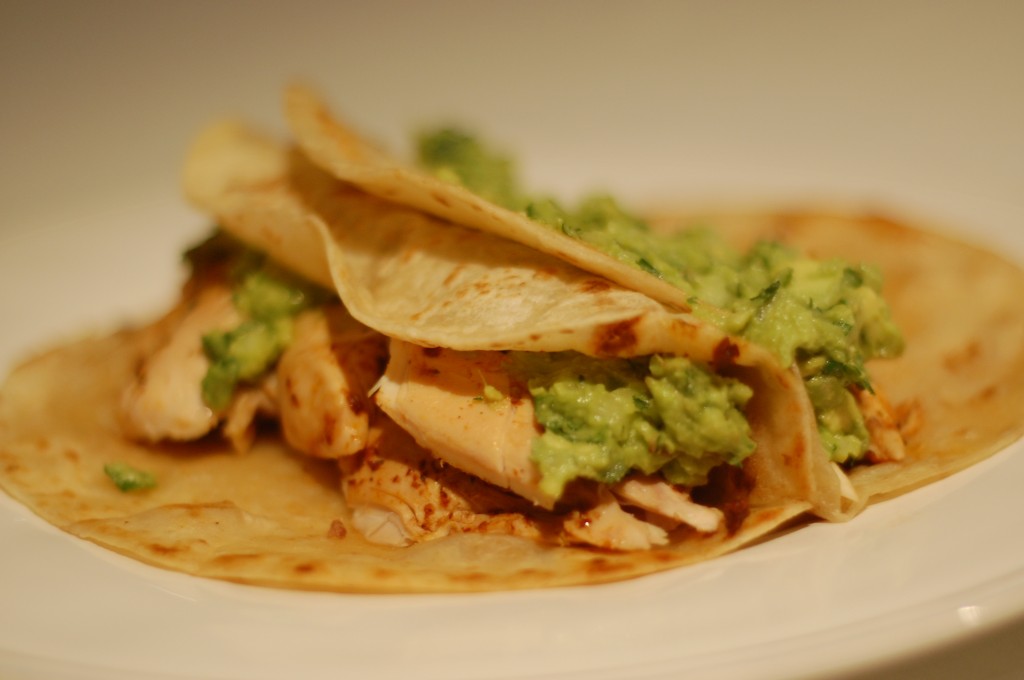 Wednesday is our busiest day here at the household. Pixie has school and Buggies and I go to a Mommy and Me class. But today, being February 1st, also means that enrollment for the next school year has begun. Here in California, our school systems have decided to align the age/start date for school with the rest of the country (it's about time!). But rather than change that date from December 1st to September 1st in one fellow swoop, they have decided to pull the band-aid off one arm hair at a time. Starting the 2012-2013 school year, the new cut-off for starting Kindergarten is age 5 by November 1st. My sweet little Pixie turns 5 on November 2nd. Awesome. The district then announced that they would have a "transitional kindergarten" just for the little monkeys who fall between November 2nd and December 1st. I'm sure you see where I'm going with this….
After rushing Pixie to school, I call the school where this program is offered to find out about a meeting being held tomorrow night only to find out that the transitional kindergarten is "on hold" due to "funding problems." In other words, we're BROKE kids! So my immediate thought (and question) to this nice administrator on the phone is, "well then the junior kindergarten will be offered to the children who fall in the new age cut-off gap….right?" Yeaaaahhhhh….about that….The junior kindergarten is only available to kids who turn five between July 1st and November 1st. ("Yeah…I'm gonna need you to go ahead and come in on Saturday…and why don't you go ahead and make that an early day.")
So the little monkeys who fall into the group between November 2nd and December 1st are S.O.L. Spread the word people – this new law is awesome IF and only IF you offer alternate options to the families of your fine state. Don't get me wrong I LOVE LOVE LOVE the school she is at now for Pre-K but it's…ahem…pricey.
So, there you have it. That's been my day. I'm obviously fired up and trying to tell everyone about this full of bologna law.
Now let's get down to business. Another taco recipe for Super Bowl weekend…..I was going to make a big ol' batch of chili to post but since it is going to be 80 degrees here this weekend, I just can't get into the chili mode.
For the last week, the hubby and I have had this air of smokiness coming from us. We were doing yoga the other night and I thought I was smelling our leftover ashes from our fireplace when in fact I was smelling the chipotle peppers gently oozing from my pores. Apparently I've been craving some heat cause we have had a LOT of chipotle lately.
Hubby's Note: As mentioned in previous notes, my wife is not a sports fan. And I have absolutely no idea why she equates Super Bowl with Tacos. But who am I to question her, when I get to eat amazing tacos like these??!! Three taco recipes in the last few days. But all three are VASTLY different taste-wise. And amazing. Oh, yes! Hubby approved!
Ingredients:
1/2 cup canned chipotle chiles
3 tablespoons olive oil
3 garlic cloves
1/2 onion
4 tablespoons chopped fresh cilantro
1/2 teaspoon dried oregano
1 tablespoon paprika
2 teaspoons ground cumin
2 teaspoons kosher salt
2 teaspoons fresh ground black pepper
2 cornish game hens
1 large cooking bag
6 small flour tortillas
Avocado Relish:
2 avocados
1/2 cup minced cilantro
1/4 cup minced white or red onion
Salt and pepper to taste
Directions:
Place all of the ingredients (except for the cornish game hens, silly) into the bowl of a food processor and run for about a minute. Add the hens to a large ziploc bag or into a large tupperware. Pour the marinade over, toss to coat and then place in the refrigerator overnight.
Heat oven to 350. Place hens inside of the cooking bag and pour the marinade over then hens. Seal the bag and cut a few slits across the top. Bake for 1 1/2 hours. Remove and let sit for 10 minutes. While the chicken is resting, you can make the avocado relish. Mix all of the ingredients together and set aside. Remove the chicken from the bag and place on a large cutting board. It should be falling off the bone so you can easily remove the pieces. Fry up some tortillas on the stove and then place some chicken inside, followed by a heap of avocado relish.
Break out some Modelo Especial and dig in. 😉
Comments