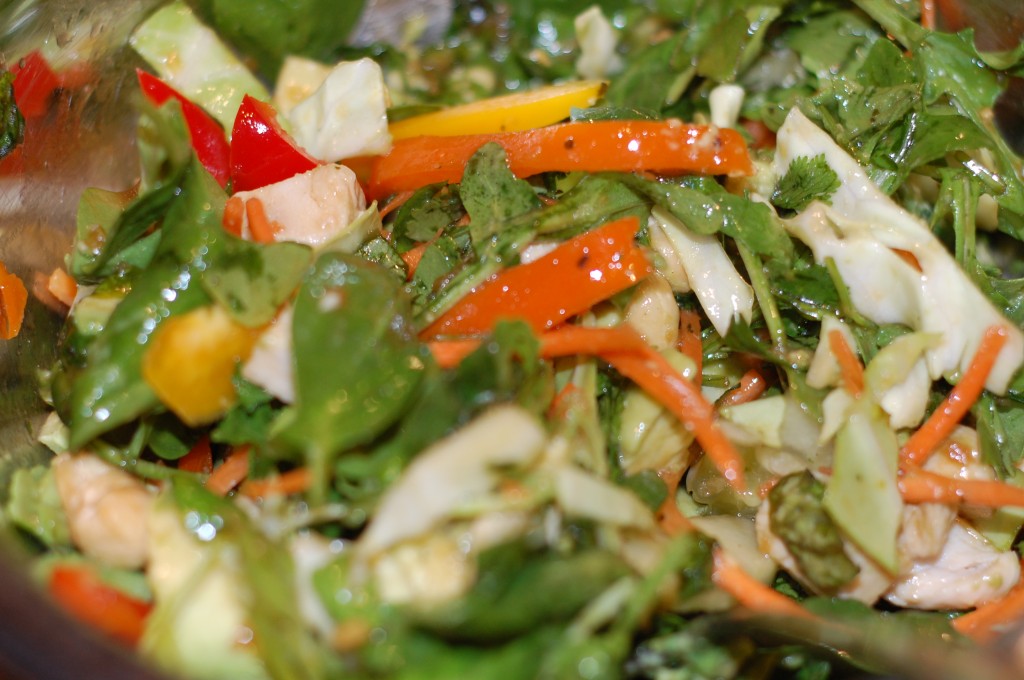 There is seriously no reason other than my own love for Southeast Asia that this salad has its name. For our honeymoon, we went to Bali, Bangkok, and Koh Samui. Before I met my husband I spent a month with my dad in Vietnam and Singapore. I am completely in love with that part of the world. Two things I have on my bucket list are to go to Australia and back to Bali. The culture, the kindness of the people and the pure calm and peacefulness is enthralling. So this salad reminds me of Asia and it is so ridiculously good, you will eat the whole bowl. So make sure you're under adult supervision and share so that others can enjoy it with you. A HUGE shout out to my Molly for turning me onto this salad during our recent Mommies & Babies gone wild trip to Catalina. I know, we're a wild bunch people! 3 moms, 1 auntie, 1 grandma and EIGHT KIDS for a week in Catalina. Every year.

Hubby's note: The idea for this recipe was not the only thing we brought back from Southeast Asia. A prescription helped the second thing go away though.

Ingredients
SALAD INGREDIENTS:
½ head Sliced Napa Cabbage
1 bag Baby Spinach
1 whole Red Bell Pepper, Thinly Sliced
1 whole Yellow Bell Pepper, Thinly Sliced
1 whole Orange Bell Pepper, Thinly Sliced
Chopped Cilantro, 3/4 bunch
6 Scallions, Sliced
1 bunch basil, julienned
2 cooked chicken breasts, diced
2 Cucumbers Peeled And Sliced
1 can (about 10 Oz.) Whole Cashews, Lightly Toasted In Skillet
FOR THE DRESSING:
1 Lime, Juiced
3 ounces Olive Oil
3 ounces Soy Sauce
2 Tablespoons Sesame Oil
3 Tablespoons Fresh Ginger, minced
4 Garlic cloves, minced
2 whole Jalapenos, minced
⅓ cups Brown Sugar
1/2 bunch Chopped Cilantro
Directions:
Throw all of the salad ingredients in a bowl and toss. Whisk dressing ingredients together and pour over salad. Or if you have one of those cool measuring cups that has a lid on it – use that. I LIVE for mine. Mix this big ol' yummy salad with your (clean) hands and serve it up!
2 Comments to