Smoked Gouda and Drunk Onion Quesadillas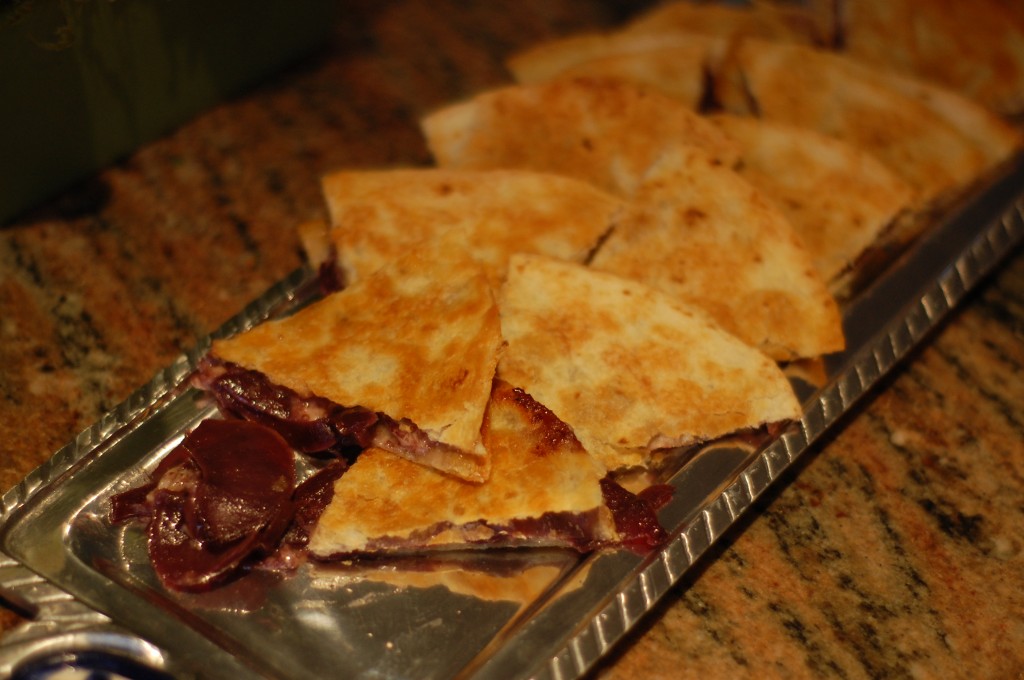 These quesadillas were another huge hit at every party we catered. They are so easy and so, so, so good. People would ask, "how do you get the onions to taste so sweet yet savory." Our answer? Get 'em good and drunk! Add half a bottle of wine and boil the hell out of 'em.
Fabulous for a tapas dinner party, an appetizer or a weekend lunch.
I've got bills to pay and laundry to fold so I've gotta run – but! Make these. You will love them.
Hubby's note: Tests show that if you give your wife a half bottle of wine and soak her in the tub and/or a jacuzzi, you will acheive the same results. Savory and sweet. I'm just sayin'.
Ingredients
8 flour tortillas
1 onion, sliced into rings and then cut in half
1/2 pound gouda, grated
1/2 stick butter, melted
Seasoned salt (like Lawry's)
1/2 bottle of red wine (the rest is for you…you deserve it!)
Directions
Add wine and onions to a small pot and cook at medium flame until all of the wine has been reduced and absorbed by the onions. Heat oven to 350. Place two tortillas on a baking sheet (if you have two baking sheets, you can knock these out at once). Place a layer of gouda on the tortilla followed by a generous helping of drunk onions. A little more gouda on top and then place another tortilla on top. Brush with butter and sprinkle with seasoned salt. Place in oven for 3 minutes, then using a spatula, flip the quesadillas over. Bake for an additional 3 minutes. Remove from oven and let cool for a few minutes. Then slice and serve!
Comments