Mixologist Molly: Birthday Cake Martini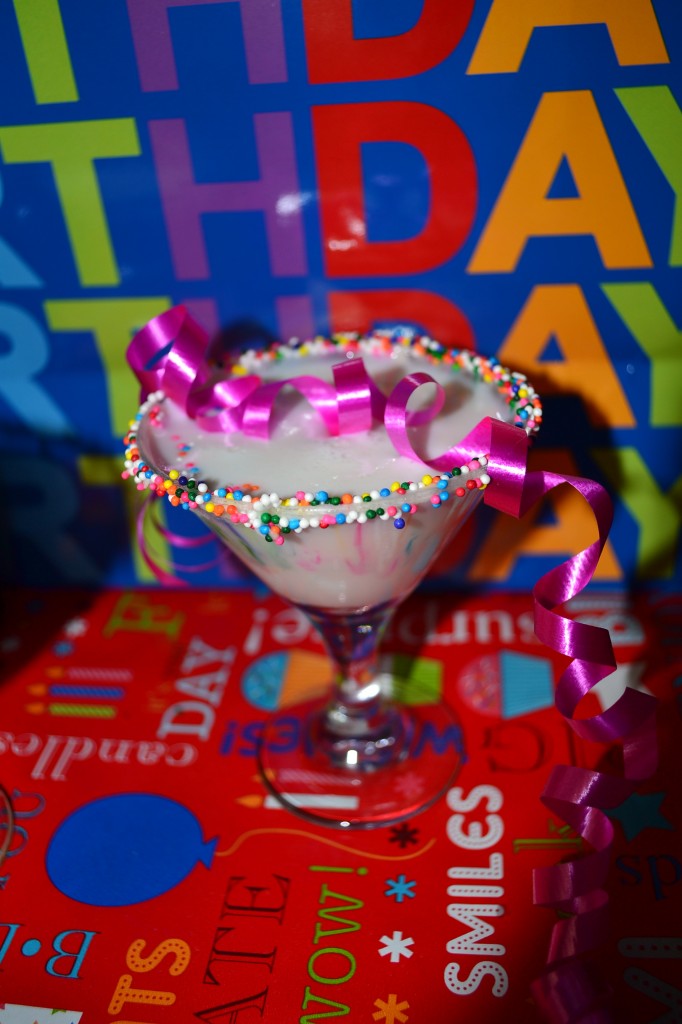 First, it is very important to use store bought vanilla frosting, it really make the CAKEy-ness (is that even a word??) of this drink. I tried chocolate syrup and cream cheese frosting and neither really did it for me. The sugary store bought vanilla frosting really brought it all together. We also tried serving these straight up in a martini glass…still wasn't quite right…so we blended them and served them in the martini glass (which maybe makes it not a martini, but the glasses look cool). Now we have it…soooooo YUMMMY!!!
Mommy Bistro Note: The hubby is turning THIRTY-FOUR this week. I cannot believe it. I've known this amazing man for eleven years. And he would hate this martini. We actually made these in honor of Mixologist Molly's birthday in February but it wasn't perfected until now. It's super duper delicious!
adapted from www.howsweeteats.com
Ingredients:
1 ounce amaretto
1 1/2 ounces Cake Vodka
1 1/2 ounces creme de cacao
1/2 ounce Godiva white chocolate liqueur (pricey, but soooo worth it!)
1 ounce heavy cream (try with fat-free half and half too)
rainbow sprinkles (nonpareils, the teeny round ones)
Frosting (vanilla, not homemade)
Directions:
First just put the rim of the glass right in the top of the frosting container. Having placed the round sprinkles on a plate, roll the frosted rim in the sprinkles.
Now make the yummy drink: Add the amaretto, cake vodka, creme de cacao, Godiva liqueur, heavy cream and ice to a blender.
I usually at least double this recipe. But just put all ingredients in the blender with a little bit of ice (not to make a slushy margarita, but just enough to chill it). Blend until ice is broken, but not smooth. Poor in prepared glasses and serve 🙂
Note: if you cannot find Cake vodka, whipped cream or vanilla will work.
Comments