Raspberry and Goat Cheese Salad with Cilantro Vinaigrette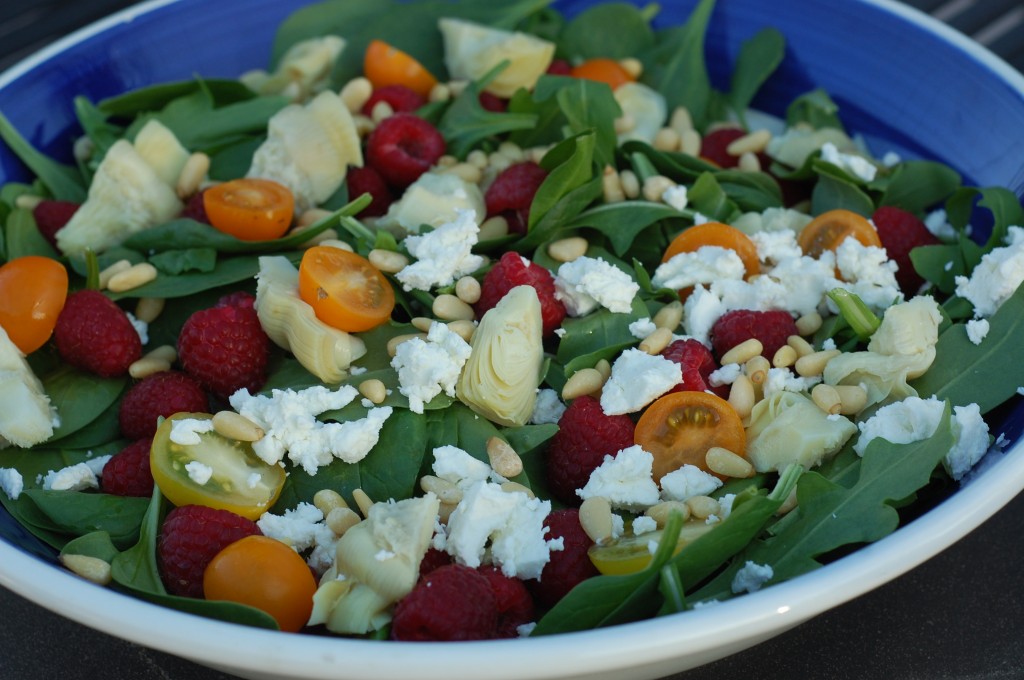 My hubby is awesome. Sometimes, he really plans out thoughtful and fun presents for me. My absolute favorite musical instrument is the cello. I love the deep, passionate, resonating sound it makes. When we got married, I walked down the aisle to Jeux D'eau which is a song from the Cirque de Soleil show, "O." About thirty seconds in, a cello starts and it's one of the most beautiful songs I've ever heard.
Back when we still lived in Sherman Oaks, he rented a cello for me and got me private cello lessons. I LOVED IT! It was so much fun to learn – it was a LOT of work. I never realized how difficult it was. The funny part is, I guessed what he had planned for me. I wrote it down, brought it with us and showed it to him when we pulled up at my first cello lesson. He was gobbsmacked. Totally speechless. Honestly could not believe that I had guessed it.
For Valentine's Day this year, I assumed we were having a quiet evening at home since finding a babysitter on V-Day is pretty much impossible. But then Ryan told me we were going out! My turn to be shocked! I had no idea. So, I of course started spinning my wheels trying to guess what tricks he had up his sleeve. And then it came to me. I knew exactly what we were doing!! I wrote it down on my notepad on the fridge and didn't tell anyone it was there.
We left and started driving towards Thousand Oaks. For a while, I thought I was wrong and dismissed my idea. But then the turn signal flipped on and we exited the freeway. And as we headed towards a certain fancy grocery store in Thousand Oaks, I knew I had guessed it. And I told the hubby all about my secret note on the fridge to which he replied, "there is no way on the planet you guessed this."
We pulled into the Whole Foods parking lot and I just started laughing. I had totally guessed it. He had collaborated with my best girlfriend's hubbies about an Iron Chef challenge. We were given three secret ingredients. One of each of them had to be featured in the appetizer, cocktail, main course, and dessert. We had 20 minutes to shop, $120 to spend, and then we were to head back to one of our homes to cook up an amazing meal in under an hour. The three secret ingredients were:
Raspberries
Bacon
Sage
I'm sure you're all thinking – wait a second! You're husband got you to shop and cook for him on Valentine's Day, while he drank wine and watched, and he convinced you that this was not only a great idea, but a special treat for you—for which your gratitude and appreciation should be shown to him in the latter more private portion of the evening?
Yes. Yes, to all of that. It was a great idea! We had so much fun cooking and drinking and cooking and drinking some more. The final menu we served was:
Warm Brie with Caramelized Walnuts, Toasted Sage and Fresh Crostini
Raspberry and Goat Cheese Salad with Cilantro Vinaigrette
Bacon Wrapped Scallops served over a Sage Risotto
Smoked Sage & Cumin Salmon Filet
Bavarian Cream White Cake with Fresh Raspberries
And our signature drink was a lavender and raspberry infused martini. We didn't eat until 9:30 but we had a great night with great friends and really enjoyed a thoughtful and sweet Valentines Day.
The salad was such a huge hit that I thought I would share it with all of you!
Hubby's note: Warning, if your wife is not addicted to food blogging, food eating, and cooking, this may not be the best idea to surprise her with. Now if I can only find a way to convince her that my playing golf every weekend is fun for her. Hmmm. Food for thought.
Ingredients:
1 bag of arugula salad, washed and drained
1 clamshell raspberries
1 small log goat cheese
1 clamshell cherry or grape tomatoes
1/2 cup artichoke hearts
1/4 cup pinenuts
Directions
Add arugula to a large bowl and top with remaining ingredients. I know, that was really hard. Serve with Cilantro Vinaigrette.
Cilantro Vinaigrette
1/4 cup fresh lime juice
2 tablespoons red wine vinegar
2 tablespoons honey
2 cups cilantro
2 garlic cloves
3 tablespoons red onion
Salt and freshly ground pepper
1/2 cup canola or olive oil
Directions
Add everything but the olive oil to a food processor. Run for about 30 seconds then stream the olive oil into the mixture. Reseason with salt and pepper, if necessary. Serve alongside this delicious salad or honestly, any darn salad you want!
This vinaigrette is adapted from da man himself…Bobby Flay.
Comments