Roasted Vegetable Salad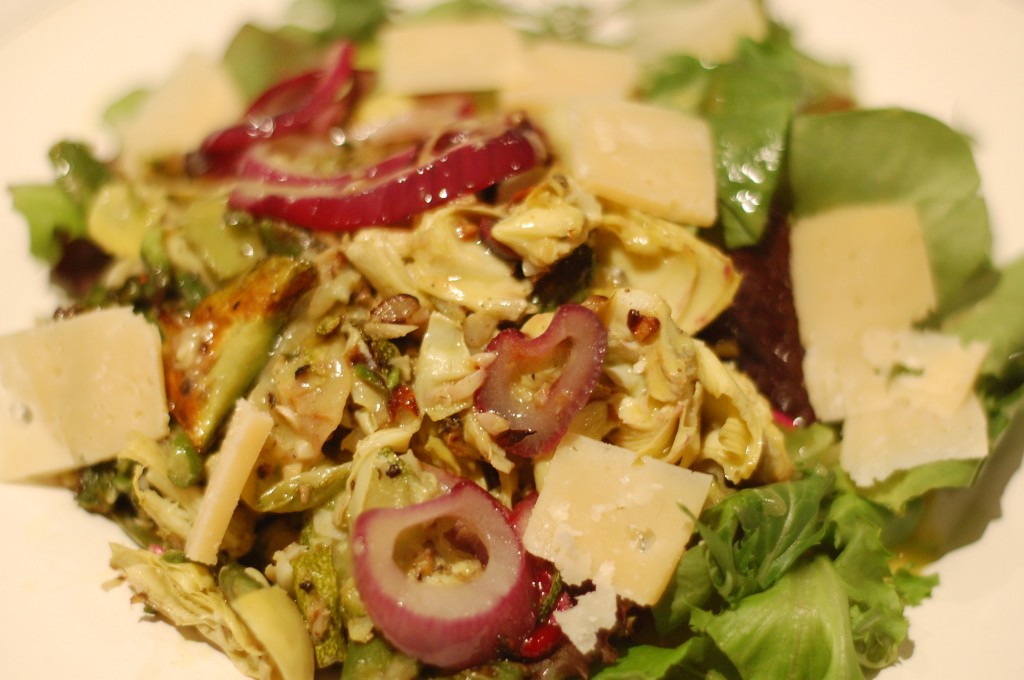 The hubby had this crazy idea to eat a raw diet for one week. No bacon. No meat of any kind. Shit, nothing COOKED. I thought he was insane. I mean, really. This is the man who physically CANNOT go without protein for breakfast on the weekends. And now he wants to eat raw fruits and vegetables for a WEEK? And this is the girl who loves to cook heart warming, gloriously comforting food. With butter, and cream and all things delicious. But, alas! We are on day three and doing great.
Last night I did cave and roast the vegetables for this salad. Just under the broiler for a few minutes to bring out the nuttiness in the asparagus, and to give these vegetables a wilted delicious texture.
Ingredients
1 pound asparagus tips
1 can artichoke hearts, quartered
1/2 zucchini
1/4 cup sliced red onion
2 cloves garlic, diced
2 cups baby spinach
Freshly shaved pecorino or parmesan cheese
1/4 cup olive oil
1 lemon, juiced
1/2 teaspoon dijon
Salt and Pepper
Directions
Turn your broiler on and put one rack as close to the broiler as possible. Using a vegetable peeler, slice the zucchini into thin ribbons. Place zucchini, artichoke hearts, asparagus, red onion and garlic in a bowl. Drizzle two tablespoons of the olive oil over the vegetables and sprinkle with fresh ground black pepper and kosher salt. Toss gently. Pour contents onto a baking sheet and spread out as evenly as you can. Place under broiler for 5 minutes. Toss the vegetables and broil for another three minutes.
While the veggies are doing their thing, put the olive oil, lemon juice, and dijon into a bowl and whisk to combine. Season with salt and pepper. Add spinach to a large bowl. Top with roasted vegetables and cheese. Drizzle lemon vinaigrette over top. Serve!
Comments