Silpat Giveaway!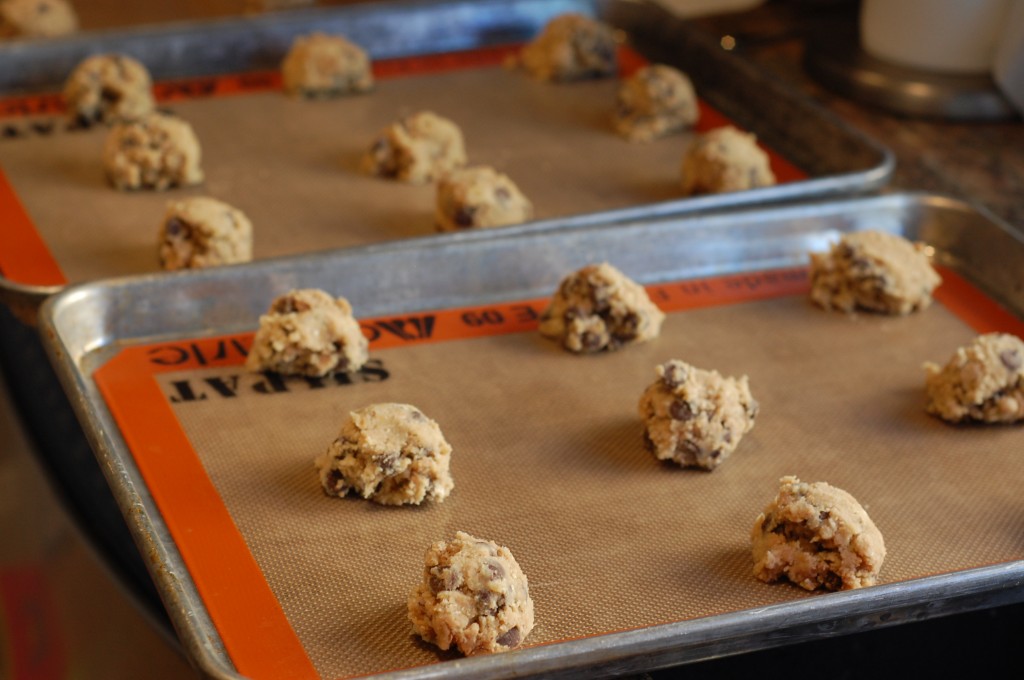 Well, it's here. My mommy/cooking blog! Oh my gosh. I'm nervous. What if no one likes it? What if people think my recipes are junk?! What if I spent all these hours pouring my recipes and rants online and no one will ever look at them? EVER!?! It's too much pressure!
So, I'm resorting to the last true tool a mommy has to guarantee her kids listen. Bribery.
That's right, I'm gonna reel you in. Here's my bait, people. I'm giving away 3 silpat baking sheets in honor of my new site being all grown up and out there for the world to see!
First off, if you don't know what "silpats" are, then you are more in need of my blog than ever. They will change your life…for baking. You can do a million things with them. Make cookies, bake veggies, make cinnamon rolls, use them as a blanket. Ok, that last one I only tried once after a long night of baking and I was just going to close my eyes on the kitchen floor for five minutes, so stop judging me Ryan—-sorry.
I'm just saying these baking mats are a must for your kitchen. Which is why I am giving them away.
Here's how it works. You add a comment below in response to this question:
"What is the biggest kitchen disaster/mistake you've ever made?"

Three winners will be selected from the comments, utilizing the "true random number generator" at random.org and announced Sunday afternoon.
And now, I'll get the ball rolling with my biggest kitchen disaster story ever. Enjoy:
The year was 2005….it was our first year in our house. If you know me, you'll know that I host Thanksgiving for our families. Well, this was my VERY first Thanksgiving and I wanted it to be perfect. I had carefully selected all of my recipes, the table was set, I had worked out a timeline so I could make my one oven cook everything I needed. But with one oven I thought, I can't cook this turkey and all of my side dishes so I said…."LET'S.DEEP.FRY.THE.TURKEY." Words that I will NEVER, ever say in my house. Ever. Again.
I borrowed a giant pot and propane burner from a friend because they were not using it that year. I had the oil. I had the propane. Seems easy, right? Oh no, my friend….disaster ahead!
We were "scheduled" to eat at 4:00 PM. The turkey was only supposed to take an hour to fry. So, it needed to go in by 2:30 ish. I told Ryan he was in charge of the turkey (this was very early in his adult life and he hadn't yet gotten his "man-card" for outdoor cooking). He added the oil, turned the burner on and went back to watching football while it heated. About 5 minutes later he sees all of this oil on our patio and finds a hole in the bottom of the pot.
Hubby's Note: For those of you not schooled in the art of flammability, things you don't want leaking onto an open flame in your backyard??? Oil.
Well, my engineer father and my artistic husband decided they would pour the oil out and take a screw and screw it into the pot to block the hole. They took the oil out and even tested the pot with water to see if the screw would hold. It did. Twenty minutes later, they've got the oil back in and have it heating. But as the oil starts to heat, the pot starts to expand and apparently whatever kind of metal the screw was made of wasn't expanding at the same rate as the pot, which was a different metal. Things an engineer should know?
So, oil is dumping from the bottom of the pot. Again. I'm starting to freak out. Cause a turkey in the oven takes hours and I just don't have the time. My mom remembers that their best friends, have a turkey deep fryer. After a quick phone call, we find out they are not using their fryer. My mom rushes over, picks it up and brings it back to my quickly disintegrating Thanksgiving. We take it outside and open it up and find that it's electric. Awesome. We plug it in outside, pour the oil in and the directions say it will take 45 minutes to heat up. Grrrrrrr.
I'm red faced in the kitchen trying not to panic. It's 3:30 PM. My turkey is supposed to be DONE right now and it's still chillin' on my counter. As I'm cooking away in the kitchen, my power goes out. Seriously? It's November in Southern California. It gets dark at 4:30pm. This is a cruel joke. I'm on Punked. Ashton is about to jump out and be like "Ha! Gotcha!"
Oh no, there's no power outage. It turns out that the deep fryer is using so much power that I can't have any lights on in my kitchen or dining room or plug anything in or the fuse will blow again. So the turkey is finally in and cooking. I can't risk the fryer stopping. I pull out my candles, Ryan runs an extension cord from our bedroom (a different circuit) to a floor lamp and puts it in the kitchen, and I open a bottle of Tobin James Zinfandel to help calm me down by this point.
All of our family is here watching this freaking circus going on over a stupid deep fried bird. After an hour, we check the temperature of the damn bird (as I'm calling it by now) and it's not even close to being done. It's 5:30. I'm seconds away from hysterics. From dissolving into a pool of Jessica in the middle of my kitchen. Ryan says, let's just sit down and eat without the damn bird. By candlelight. And floor lamps. I had Prime Rib and all of my side dishes which were overcooked and cold or mush by now on the table. Mercifully, no one could really see how bad it all looked because it was so dark in there.
When we were done eating we took the damn bird out and it still wasn't done. We cut into the cooked portions to try some of it and I swear, it tasted boring. I heard that deep fried turkeys were supposed to be amazing! BULL$#@&. We threw it back in to fry till it was done, I served up apple pie with ice cream, Peanut Butter Pie, and a pumpkin pie…and finished that bottle of Zin by myself.
I've never deep fried the bird since then. It's oven only in this house. Cause my mental breakdown over another deep fried turkey might send me into the fetal position.
Comments
Mommy Bistro » Blog Archive » Pumpkin Bread Pudding with Vanilla Custard - [...] of my Thanksgiving disaster trying to deep fry a turkey. In case you missed it, you can read it…