Pumpkin Spice Cake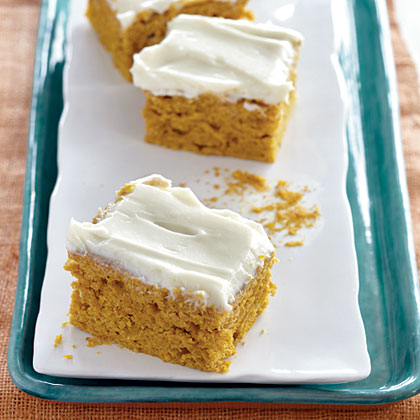 I love this cake. It's the same pumpkin bread recipe that you can find in my Pumpkin Bread Pudding recipe. I love the cozy autumn feeling this cake gives me. Especially when you add in the honey frosting on top. Actually, now that I'm sitting here writing about this, and it's such a gloomy yucky rainy day, I think I'll whip this up. I'm having some friends over for a Stella & Dot jewelry party this afternoon and I only have a few days left before I have to put the pumpkin away and break out the peppermint and Christmas music. Have I mentioned how crazy obsessed my hubby is with Christmas music? He has 198 Christmas songs in our itunes library. That 8.2 hours of Christmas music. God help me for the next month.
Ingredients
For The Cake
1 stick unsalted butter, melted, plus more for pan
2 1/2 cups all-purpose flour
2 teaspoons baking soda
1/2 teaspoon salt
1 tablespoon pumpkin-pie spice
2 large eggs
1 1/2 cups sugar
1 can (15 ounces) solid-pack pumpkin puree
For The Frosting
1 stick unsalted butter, very soft
8 ounces regular cream cheese, room temp
1/4 cup honey
Directions
Preheat oven to 350 degrees. Butter a square baking pan.
In a medium bowl, whisk flour, baking soda, salt, and pumpkin-pie spice. In a large bowl, whisk eggs, sugar, butter, and pumpkin puree until combined. Add dry ingredients to pumpkin mixture, and mix gently until smooth. Turn batter into prepared pan, and smooth top. Bake until a toothpick inserted in center of cake comes out with just a few moist crumbs attached, 45 to 50 minutes. Cool cake 10 minutes in pan, then turn out of pan, and cool completely, right side up, on a rack.
Make Honey Frosting: In a medium bowl, whisk butter, cream cheese, and honey until smooth.
Spread top of cooled cake with honey frosting. Cut cake into squares to serve.
Comments