Kitchen Sink Salad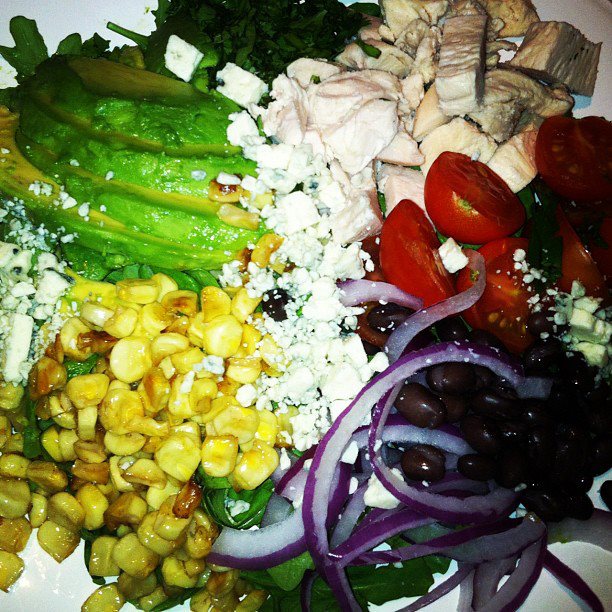 My last five posts have all been salads. I'm feeling proud of that and ashamed of that at the same time. On my Mommy Bistro Facebook page I asked what you wanted to see and the answer still, is… salads! I had three ears of corn that I had to use up so I kinda threw a ton of stuff at some arugula and it turned out pretty darned good. The hubby thinks it should be called fiesta salad but I thought this could be the yang to my Kitchen Sink Soup.
In other news, we just got back from another fabulous trip to the Kern River. The first time I went, I was about a year old. My parents, aunt, uncle and cousins were trying to go camping at Lake Isabella but all of the campgrounds were full. Someone suggested to them that they should check out this neat little town called Kernville. Sure enough, there were spots available and a lifetime tradition was created. That very first night in Kernville, I slept in a little portacrib (known to us as a pack n play!) with each of my parents holding on to one of my hands as we slept under the stars. You see, it was my parents first time ever camping with a baby and their tent did not fit my crib inside of it. But with each of them holding my hand tightly, we slept under the stars to the sound of the river.
Ever since that first year, we have gone back every single summer. And now, I will be celebrating my 33rd birthday next week and just finished taking my Pixie and Buggies for the 5th and 4th time respectively. I already have such amazing memories with my sweet girls and they are still so little. Pixie suggested we go back for my birthday and together we threw quite the toddler tantrum about leaving to come home. Buggies first year at the river she was only ten weeks old…and rolled over for the first time on the sandy beach of the River Kern. The place is magical to me and to share it with my daughters takes on a whole new meaning. And the fact that they too love the Kern, makes me all sappy, gooey and misty.
Facebookers, here is salad number six….I need a tissue.
****All ingredients can be bought at Trader Joe's. If they are out of fresh corn, canned or frozen can be substituted)
Ingredients:
3 tablespoons butter
2 ears of corn, husked, silked, washed and cut off the cob! Phew!
1 large avocado, pitted and sliced
1/2 medium red onion, sliced into thin circles then cut in half
1 cup black beans
1 cup cherry tomatoes, sliced in half
1 cup chicken (TJ's just chicken)
1/2 cup crumbled gorgonzola (At TJ's it is in a green and blue tupperware container)
1/2 cup chopped cilantro
3 cups arugula
Directions
Melt butter in a medium saute pan. Add corn and cook until a light brown color comes from all sides of the corn. Split arugula between two plates. Top each plate with half of the above ingredients. Drizzle garlic vinaigrette over the top and enjoy.
** For the garlic vinaigrette, I use TJ's frozen garlic cubes. They are made by Dobos and come in a red and white package**
Comments