Chipotle Skirt Steak Salad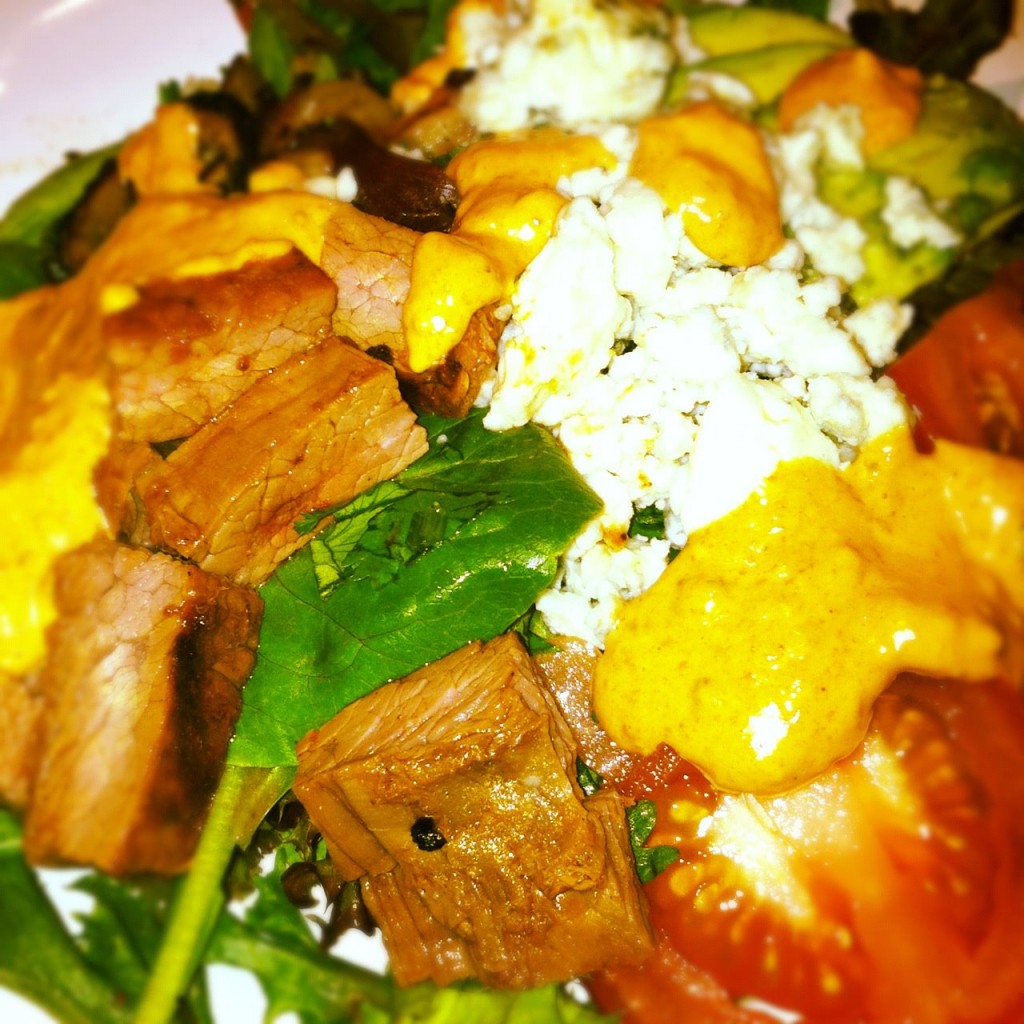 Holy Macarons. What a busy week!
I had my best friend's little boy for a few days and we had such a great time. Going to the beach, a birthday party, eating way too many sweets and being spoiled rotten by his auntie (me) because that is what aunties DO. Which of course means my house looked like a bomb had gone off. There were toys everywhere, dishes piled up, laundry overflowing, sand everywhere. I love the beach but how is it possible that every time I go, I end up bringing home a good eight gallons with me? Between the wagon, sand toys, and baby buttcracks; the sand took OVER.
Of course this morning I did a house overhaul. Laundry? DONE. Dishes? DONE. Mopped, Vacuumed, Tidied, Wiped Down and Polished? You bet your ass. Which also means I am ready for a date night with my hubby and that my "chores" are done and don't need to be messed with over the weekend.
Now if a magical fairy would just get the grocery shopping done for me, I would be set….
Onto steak! This salad will kick it up a notch in spice in your life but it's well worth it. The hubby LOVED it…
Ingredients:
2 cups mayonnaise
2 cans chipotle peppers in adobo
1 whole Flank Steak (about two pounds)
3 cups spring mix or spinach salad
4 whole Roma Tomatoes, Sliced
1/2 Cucumber, Sliced
1/2 cup Red Onion, sliced
1/2 cup gorgonzola or blue cheese
1 avocado, sliced
Directions
Dressing: In a food processor or blender, combine mayonnaise with 1/2 can of chipotles. Blend until totally combined. Transfer to a separate container and store in the fridge. The dressing will be thick.
Marinade: Place skirt steak in a large plastic bag or in a marinating tupperware. Add one full can and the remaining other half of chipotle peppers to the steak. Toss to coat. Cover and marinate in refrigerator for at least three to four hours.
Remove flank steak from fridge and let sit at room temperature for 30 minutes. Grill over high heat, to desired temperature (I recommend medium). Remove from heat and allow meat to rest a few minutes. Slice steak against the grain into thin strips.
Place salad greens on a each plate. Place strips of steak down the sides of the greens. Lay tomato, cucumber and avocado slices on one side of the plate, place red onion slices on top. Crumble cheese on top. Drizzle the whole salad with chipotle dressing.
Comments