Kelli's Vegetable Panini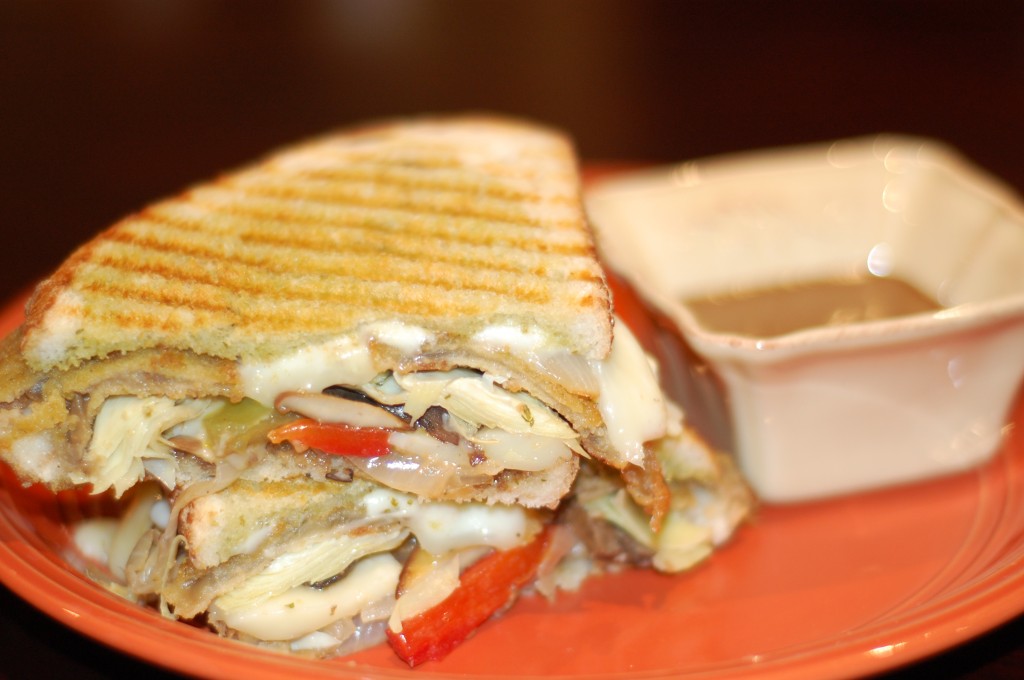 This summer I had a dear friend, Kelli, come visit me from Arizona for a few days. We met our senior year at UCLA and ended up taking some Sociology classes together.
We were in a class at UCLA taught by Dr. Rabow. It was called Race, Gender and Sexuality. I remembered her from our class before we were introduced by our kick-ass teacher's assistant, Trang, (if you can even call her that. It was more like she was the professor and Dr. Rabow was a clueless….well you get the picture…) Anyways, back in 2000 there was a great bar "on campus" called Maloney's. Any (ahem) older UCLA alumni would remember this place. Or at least vaguely remember it since you most likely pre-partied at your apartment or a frat house or on some occasions your car. Yes, I was a sorority girl and hey – you only go to college once! Well, night out on the UCLA campus was always Thursday night. One Thursday night, I'm heading into Maloney's when I see Kelli stumbling out of the bar. We haven't met yet but I'm thinking – I know her.
Of course the next day in our class we get paired up as group facilitators. When Trang introduced us, the first thing I said to Kelli was, "Hey! I saw you coming out of Maloney's last night!!" She was mortified and I felt mortified for making her feel mortified. So that was how we met.
She became a very important person in my life and was the Matron of Honor in my wedding (she got married 6 weeks before I did). Eleven years later we are still close friends and I was so happy to have a few days with her and ready to make her something yummy to eat! We ended up beach camping at Leo Carrillo with Buggies and Pixie for a few days. Now, I LOVE Kelli, but…she's a Vegetarian. And I love bacon. She even dabbled with veganism which sounds like a bad religion if you ask me. What to cook? What can I make her?!? The night before we left for the beach, I made her this panini. It was filled with grilled vegetables, thick cut mozzarella cheese, pesto and balsamic vinaigrette. She's been dreaming about it ever since. Here we go!
Hubby's Note: If you do not own a sandwich press or panini press or even an iron and a cast iron skillet, you must run to the store now and get one. EVERYTHING tastes better when pressed between to slices of sourdough or ciabatta bread. I am of the opinion that I can Panini everything. Yes, the word "panini" is now a verb. Oatmeal panini? Where there's a will, there's a way. All that being said, if you're going to all the trouble of panini'ing something, I am a firm believer that you should at least have some kind of MEAT in it. Throw some bacon and turkey or chicken in this puppy and THEN you're talking feast!
Ingredients
1/4 cup olive oil
Trader Joe's frozen eggplant cutlets (they're breaded…shhh don't tell!)
2 zucchini, cut crosswise into 1/2-inch-thick slices
1 small red onion, cut into 1/2-inch-thick slices
Salt and freshly ground black pepper
Panini rolls from Trader Joe's or Sourdough bread
1/2 cup Basil Pesto, recipe is at the end!
8 ounces fresh mozzarella cheese, drained n' sliced
1/2 cup roasted red, green and/or yellow peppers
1/2 cup sliced cremini mushrooms
Directions
Turn your panini grill on or! You can use your grill pan after cooking the vegetables to grill your paninis.
Heat a grill pan over medium-high heat. Drizzle the oil over the zucchini and onion slices, then sprinkle with salt and pepper. Working in batches, grill the zucchini, and onions until they are tender and grill marks appear, about 4 minutes per side. Set aside to cool. In another saute pan, heat over medium heat and add 2 tablespoons olive oil. Cook eggplant cutlets for 3-4 minutes per side, until golden brown.
Cut each panini roll in half. Spread both sides with the pesto. Working with the bottom slice of the roll, stack 1 slice of mozzarella, 2 slices of eggplant, 2 slices zucchini, 1 slice onion, 3 slices mushrooms, 1 slice mozzarella, and 1 slice of roasted pepper. Sprinkle with salt and pepper. Place top half of baguette on top and drizzle the bread with olive oil. Then place your sandwich in your panini grill until the cheese has melted and the bread is golden brown. Or, if using a grill pan, heat the grill pan over medium-high heat and place your panini in it. You can use another pan that's heavy or a pan with a rock/brick in it to press down on top of the panini to "panini it". I serve it alongside my balsamic vinaigrette which you can find here. Dip your sandwich in and enjoy!
Basil Pesto:
2 cups fresh basil leaves
1/4 cup toasted pine nuts
2 garlic cloves, peeled
1/2 teaspoon salt
1/4 teaspoon freshly ground black pepper
1/3 cup (about) extra-virgin olive oil
1/2 cup grated Parmesan
In a food processor or blender, pulse the basil, pine nuts, garlic, 1/2 teaspoon of salt, and 1/4 teaspoon of pepper until finely chopped. With the blender still running, gradually add enough oil to form a smooth and thick consistency. Transfer the pesto to a medium bowl and stir in 1/2 cup of parmesan. Season the pesto with more salt and pepper, to taste.
Comments