Salted Caramel Butterscotch Buddino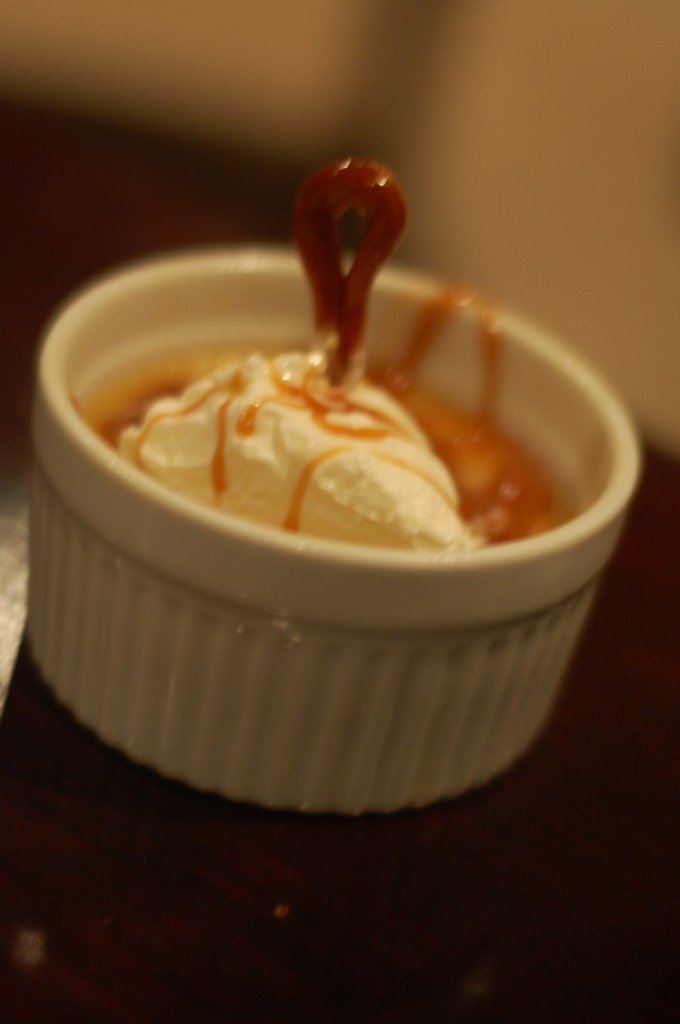 The first time I ever had salted-caramel-butterscotch-pudding-buddino-pots de creme-out of this world-amazing-dessert was at Gjelina's on Abbot Kinney. Buggies was about 3 weeks old and this was Mommy's 1st night out (yahoooo!) for Kim's birthday. Molly and I had been celebrating Kim with champagne (as we tend to do) and by the time dessert came, our entire table needed about 8 more of this magical little gems of heaven. After having them at Gjelina's, I recreated them for a foodie dinner party that I was hosting. Our friend, Karen, took all of the leftovers home with her and enjoyed every last bite.  I made these again recently and my caramel seized up on me. So don't think I'm fancy with the little added caramel garnishment. That was a total freak accident. I had to start from scratch with a new dish of caramel for the topping and this little do-dad really made it look faaaa-ncccccy!
This dessert takes time, focus and concentration. Multitasking with kids means you really need to use your whole brain to make this one. DO NOT be intimidated. Anyone can make this it's just kind of has a lot of steps.
Ingredients:
9 egg yolks
1 1/2 sticks plus 6 tablespoons butter
1 1/2 cups packed brown sugar
1/2 vanilla bean
4 1/2 cups heavy cream
2 cups granulated sugar
1/2 cup water
1 cup crème fraîche
Flaky sea salt for garnish
Directions:
Heat the oven to 325 degrees. In a large mixing bowl, whisk the egg yolks until smooth and set aside. In a large heavy-bottom saucepan, melt 6 tablespoons butter over medium heat. Once melted, whisk in the brown sugar and salt. Scrape the vanilla bean seeds into the pot and drop in the pod. Cook over medium heat until the sugar begins to darken slightly and takes on a nutty, caramel fragrance, about 5 minutes. Turn heat to medium-low and whisk in 3 1/2 cups cream, pouring slowly. Cook and continue whisking until all of the sugar is dissolved and the mixture just begins to boil. Remove from heat. Add about a cup of the cream-sugar mixture into the egg yolks and whisk, then slowly add the remaining cream, whisking constantly. You should have about 5 cups of the custard base, which will be divided into 7 (3/4 cup) servings.
Place filled ramekins in a large baking or roasting pan, leaving at least 1 inch of space between each. Gently pour simmering water into the pan, coming 3/4 the way up the sides of the cups. Cover the pan with aluminum foil. Bake the custards until set; about 50 minutes (check after 40 minutes to see how they are setting up; total baking time can vary from about 35 to 50 minutes, depending on the shape of the cups). Gently remove the pan from the oven, and remove the cups from the pan. Set aside until cool.
While the custards are baking, make the caramel. In a large, heavy-bottom saucepan, combine 2 cups granulated sugar with the water. Heat over medium heat until the sugar turns a deep amber (dark, reddish brown) color and is fragrantly nutty, about 15 minutes. Add the remaining 1 1/2 sticks butter and stir until it melts and is thoroughly incorporated. Add a little of the remaining 1 cup cream and stir, then add a little more and stir. Stir in the rest of the cream until incorporated; remove from heat and set aside.
In the bowl of a mixer, or in a large bowl using a hand-held mixer, whip the crème fraîche. Serve this delicious bundle of joy at room temperature. Garnish each serving with a large dollop of whipped crème fraîche, a couple generous teaspoons of caramel and a pinch of flaky sea salt.
Comments