Dederich Family Spaghetti Carbonara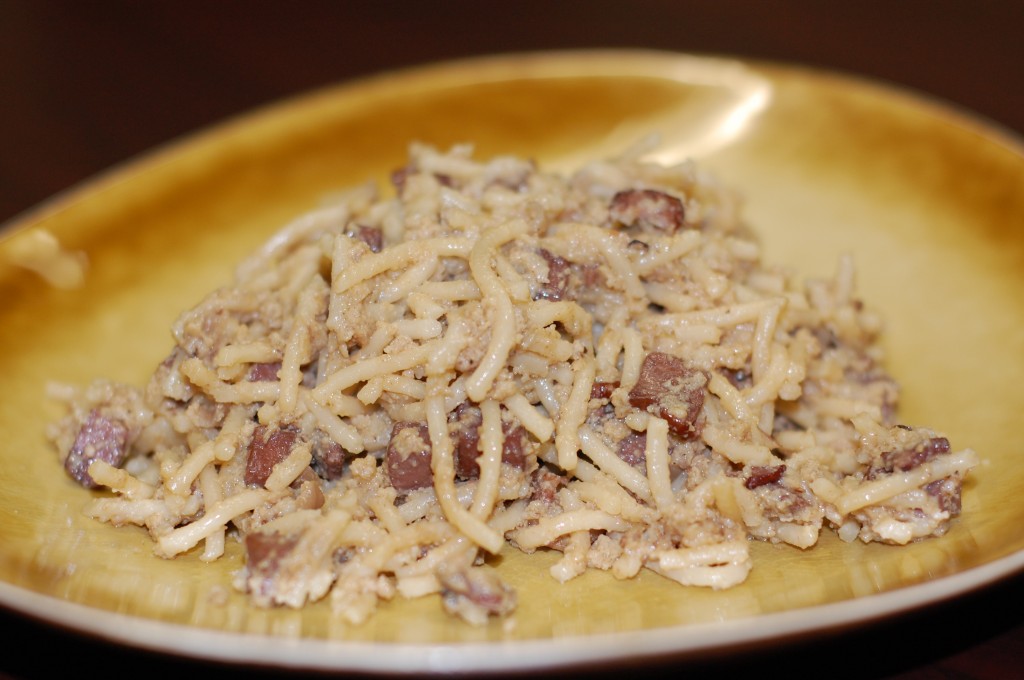 In the kitchen, my husband is amazing at making exactly two things: Sicilian Chicken Marsala and Spaghetti Carbonara. As I talked about in our marsala recipe, Ryan's grandparents were stationed in Sicily for a few years. Their house was situated over this fabulous little Italian restaurant and while Jerry was out being a Master Chief Signalman, Doris made friends with her landlady. Doris spoke zero Italian and the landlady spoke zero English but they would sit and talk all day long and understood one another perfectly. If you were to ever meet Doris, you would understand how anyone could sit and talk with her all day long. She's the sweetest little southern lady to have ever lived. And Jerry would tell you, "it looks like he's gonna make it another day." We are so very excited to not only share this recipe but to also know that Jerry and Doris and a whole slew of family will be here in 3 short weeks for the wedding of my brother-in-law to this kick-ass girl, Annie. I take zero credit for this recipe or the execution of it. It really should be written by Ryan but I bet there will be quite the Hubby's Note on this one!
Hubby's Note: There's one other thing that I make really well in the kitchen. And that's love. BAM! Ok, she's right. I rock this recipe big time. And it's ridiculously good. When we were traveling in '06 around Southern France and Italy, all I ate was Spaghetti Carbonara. And every recipe was different. I prefer this one because it's less creamy than most. And I know this may sound crazy, but it's actually BETTER the next day. All the flavors have muddled together and it just tastes a little bit better. Better than the amazing way it tastes fresh. So, maybe you make this in the kitchen, and then you make love in the kitchen. Why must we choose one or the other? Honey? Where'd you go?
Ingredients
1 pound spaghetti
2 tablespoon olive oil
8 slices bacon, diced
1 slab thick cut ham, diced
1 onion, chopped
4 cloves garlic, minced
1 cup red wine
4 eggs
3/4 cup grated Parmesan cheese
1 pinch salt and black pepper to taste
Directions
In a large skillet, cook chopped bacon until slightly crisp; remove and drain onto paper towels. Reserve 2 tablespoons of bacon fat; add remaining 1 tablespoon olive oil, and heat in the same large skillet. Add chopped onion, and cook over medium heat until onion is translucent. Add ham and minced garlic, and cook 1 minute more. Add wine and simmer on low for 20 minutes. In a large pot of boiling salted water, cook spaghetti pasta until al dente. Drain well. Return cooked bacon to pan. Add ham mixture to spaghetti pot and toss to coat. Beat the eggs with the parmesan cheese and then quickly mix it in ti the spaghetti and ham mixture. Season with salt and pepper to taste
Serve immediately with extra Parmesan cheese at table.
Comments