Caprese Salad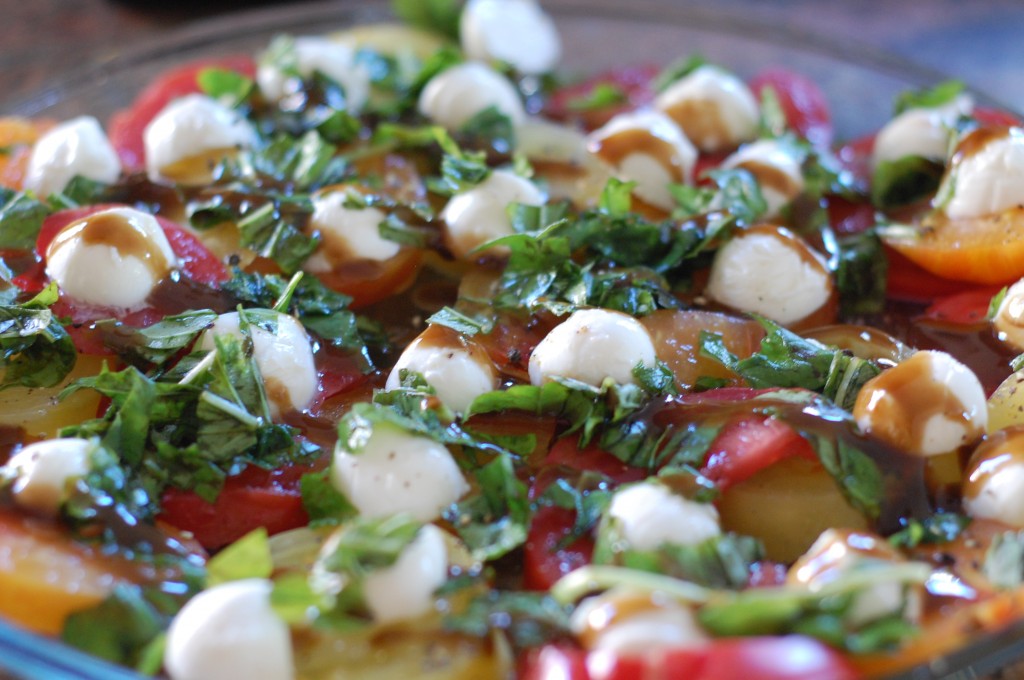 Everyone has made or probably has a Caprese Salad recipe, right? So, I'm not going to say this is the end all be all recipe on my site. But it's so tasty. And perfect for summer. If you have a farmer's market in your town, go there. Get fresh locally grown tomatoes. Or even better heirloom tomatoes (my favorite!). But if you can't get to a farmer's market, I get the Trader Joe's pack of mini heirloom tomatoes. They're fabulous. 😉
Ingredients:
2 cups tomatoes (heirloom or on the vine)
1 cup mozzarella (Get the ciliegine mozzarella)
1 good handful of basil, chopped
Balsamic Vinaigrette (recipe to follow)
Directions:
Cut the tomatoes in half if they are the little ones, or if you get larger tomatoes, slice them about 1/4 inch thick. Same goes for the mozzarella. If you get the ciliegine mozzarella, cut them in half or if its the log, cut it about a 1/4 inch thick. Layer on a platter and sprinkle the basil leaves on top. Drizzle the vinaigrette over the top, cover and refrigerate until dinner!
Balsamic Vinaigrette:
4 tablespoons balsamic vinaigrette
3 teaspoons light brown sugar
1 tablespoon dijon mustard
1/4 teaspoon kosher salt
1/8 teaspoon fresh ground pepper
1/2 cup Extra Virgin Olive Oil (EVOO)
Directions:
Combine all the ingredients in that fabulous dressing shaker I'm always raving about. Here's a link if you want you're very own:
http://www.amazon.com/Zyliss-Shake-n-Go-Shaker-Bottle-Frost/dp/B00008TAE4
Shake for one minute. I know it's an arm workout but seriously? It's a minute. I know you can do it. I give extra credit though so if you want, do it for one minute on each arm. Evens 'em out a bit. You can keep this dressing refrigerated for about 3 days.
Comments
Mommy Bistro » Blog Archive » Kelli's Vegetable Panini - [...] panini to "panini it". I serve it alongside my balsamic vinaigrette which you can find here. Dip your sandwich…