Italian Quesadillas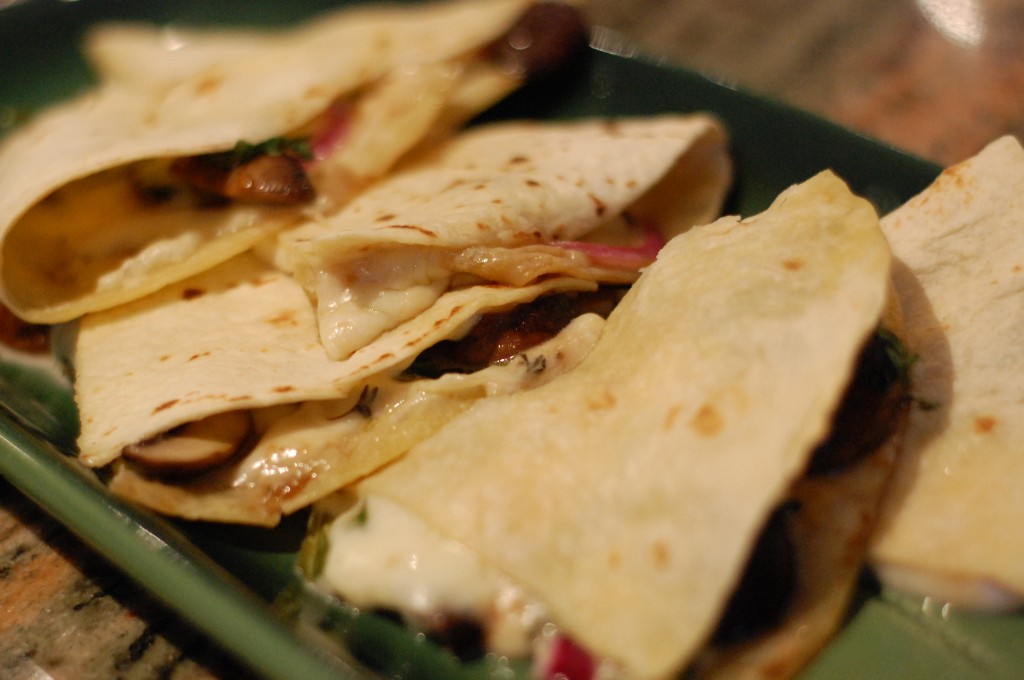 I'm not gonna lie. It takes some planning to keep new recipes coming every few days. And my past two weeks have been crazy so my posts have dwindled for just a moment. But I'm proud to say that I've been stockpiling. I've got some ammunition that I'm ready to release people! That being said, I had a very ambitious night where I decided to make six (SIX!!!) new recipes for a casual dinner party. And of course because I hadn't spent a few days in my kitchen and I'm pretty sure my Kitchenaid hummed to life on its own, I needed to cook. I was also craving mushrooms and because Ryan won't eat mushrooms, I thought I could add them to an appetizer and get my fix. That's one of my favorite things about entertaining friends, we outnumber my picky husband so I can make some really yummy dishes!
Oh! And these are vegetarian  😉
Hubby's Note: Yes. I'm picky. But I'm really cute. So…I've got that going for me…which is nice.
Ingredients:
1 pound cremini mushrooms
6 tablespoons olive oil
1 tablespoon chopped fresh thyme
3 cloves garlic, finely chopped
Salt and freshly ground black pepper
8 6-inch flour tortillas
1 pound fontina cheese, grated
1 red onion, halved and thinly sliced
4 ounces baby arugula leaves
Directions:
Place the mushroom caps in an oven proof pan, add 3 tablespoons of the oil, the thyme and garlic and toss to combine. Let sit at room temperature for 30 minutes. Heat your oven to 375. Season the mushrooms with salt and pepper, toss to combine and place in oven. Bake until golden brown, about 15 minutes. Remove from oven, let cool slightly and thinly slice.
Lay the tortillas on a flat surface and place some of the cheese on one side of the tortilla. Top the cheese with some of the mushrooms, then onions and several arugula leaves. Place a little more of the cheese over the arugula and fold in half. Brush the tops of the tortillas with some of the remaining oil and place on a cookie sheet, oil-side down. Grill until golden brown and crisp, 3-5 minutes. Brush the tortilla with more of the oil, flip over and continue baking until golden brown and the cheese has melted, 1 to 2 minutes longer.
Comments