Burrata Cheese Crostini with Basil Oil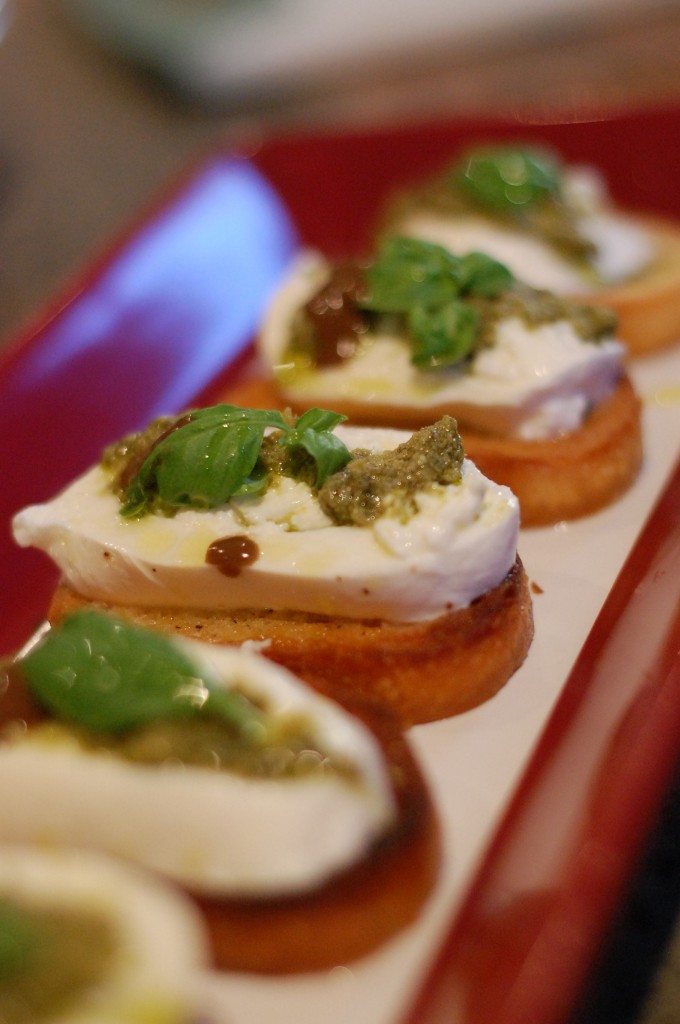 Have you had it? Have you cried from happiness of eating this cheese? The first time I had it was before the Sex in the City 2 movie. My girlfriends and I met in our party dresses for cocktails and appetizers before heading over to see the SITC girls head to Abu Dhabi. We went to Farfalla in Westlake Village. I LOVE eating out with my girls because we usually order a ton of different things and share. And they like all of the things that my sweet hubby doesn't. We ordered burrata cheese over a crostini drizzled with a basil oil. GASP! It was delicious. The cheese was creamy, the bread was warm and soaked in butter and the basil oil gave the perfect punch of flavor. Of course I had to recreate it. And it was kinda super easy.
Ingredients:
Burrata Cheese sliced into 1/4 inch thick cuts
4 tablespoons basil
4 tablespoons olive oil
1 teaspoon balsamic vinegar
6 slices good, crusty bread, toasted
Flaky sea salt and fresh ground black pepper
Directions:
Slice the burrata and place on top of the crostini. Drizzle it with half of the olive oil and season with flaky sea salt and freshly cracked pepper. Add the basil, vinegar, and remainder of olive oil into a food processor. Drizzle over the burrata cheese crostini and garnish with fresh basil leaves.
Comments