Apricot and Ricotta Cheese Crepes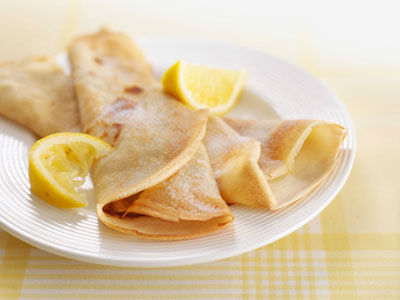 As I've told you, in my previous life I worked for a pretty fabulous international restaurant chain. I was their Director of Human Resources. It was a job that evolved over the years and I was self taught for. I almost felt like Superman leading a double life though. By day: HR. By Night! Cooking. My fabulous Molly came up with the perfect idea of me and Jessica, one of the 4 partners in crime, to start a catering business. And we did. And we were busy. I would spend my entire day processing payroll, dealing with health benefits, employee complaints and what not. By night, Jessica and I would come up with menus and marketing, recipes and recruits. A few months into the business we catered a baby shower at this gorgeous ocean view mansion in Santa Barbara. I'm going to get off topic for a sec. They had these walls in their house with zero texture to them. Smooth as a baby's…. And then they acid washed them. These walls made this house look like it was floating in the clouds. If I ever hit those 6 little Super Lotto numbers, my house must have those walls. Back to the crepes. One of the menu items for the shower was these crepes. We seriously could not whip them up fast enough before the platters were empty again. After catering that event, I was talking with my sweet (strawberries!) co-worker Alisha who fell in love with these crepes. This is another recipe she's been asking for and I've slacked on. YIKES!
Here is my thought. It's Labor Day weekend. Four years ago it was 120 degrees and I was close to going into labor. So let's celebrate and have brunch Sunday. Make these with my Green Chile Breakfast Casserole, serve up a bottle of champagne and let's call this a relaxing weekend.
Ingredients
CREPES:
1/ cup flour
2 eggs
1 cup milk
1 tblsp. melted butter
pinch of salt
FILLING:
16 ounces ricotta cheese
1 tablespoon melted butter
1/2 teaspoon cinnamon
4 tablespoons sugar
1 pound dried apricots, chopped
1/4 teaspoon ground nutmeg
Directions
Mix flour, eggs, milk and melted better with a whisk. The batter should be the consistency of heavy cream. If too thick, thin with a little bit of milk.
Melt 1 teaspoon of butter in an 8-inch crepe pan. Heat over moderate heat until hot. Remove the pan from the heat and pour in 3 to 4 tablespoons of the batter. Very quickly tilt the pan to cover the bottom of the pan with a thin layer of batter. Return the skillet to the heat for about a minute until the edges start to curl away from the sides. Flip the crepe over and lightly brown the other side.
Slide the finished crepe onto a plate. Continue making crepes until the batter is finished and stack them on the plate. Cover the finished crepes with aluminum foil.
Mix the cheese, butter, sugar, cinnamon, nutmeg and chopped apricots in a bowl. Place 2 tablespoons in the center of each crepe and roll. Crepes may be filled in advance and kept in the refrigerator until ready to serve. Just before serving, bake in a 300 degree oven for 15 minutes. Serve crepes warm.
Comments