Mango Chicken Salad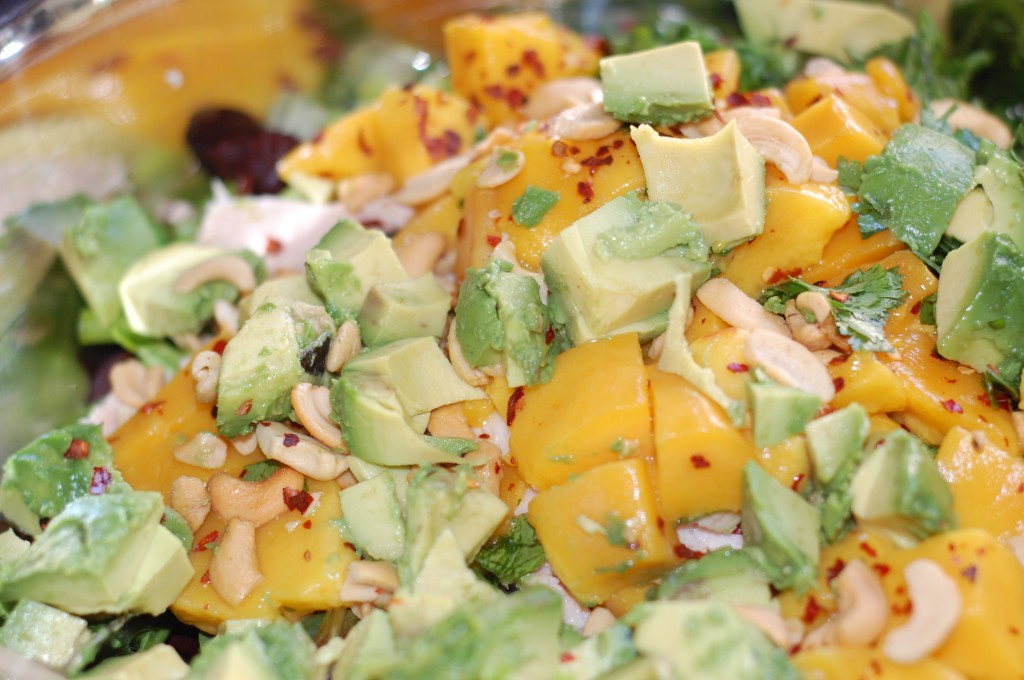 Because I love her and she asked for this recipe to be released next and because she's carrying baby Jane in her tummy and because she's all around fabulous, this recipe is for Jessica Waters (and Alisha cause this will always remind me of her!)
I started making this salad about 8 years ago. One of my coworkers, Alisha, was obsessed with it. We always joked about eating S#!& salad that we brought from home for lunch because if we ate the food at our restaurant everyday, we'd be large and in charge. My office was the first office as you came into the corporate offices and everyday, Alisha would peek in to see what I brought or, more importantly, to see if I brought this ridiculously yummy salad. I'm not sure if I ever gave this recipe to Alisha but I know she will be on here printing this one out! Shout out to S. S.!!
Hubby's note: We're doing shout outs now? Is this a morning radio show? If I were to shout something it would be…I LOVE THIS SALAD…AND I LOVE USING ELLIPSES! Seriously, this salad is so light and so good at the same time. I'm a man (I'm relatively sure about this). We generally don't eat salad. But this one is amazing. It actually feels substantial. Like I'm eating a meal, instead of grazing on foliage. Peace out dog, word to ya mutha.
Ingredients
1 1/2 mangos, cut into 1/2-inch cubes (feed the remaining half of mango to your kids with their dinner. Now they're eating a serving of fruit…gotta make sure those kiddos get their nutrition!)
1 bunch scallions, finely chopped
Red pepper flakes (to taste)
Juice of 2 limes
1 cooked whole chicken breast, cut into chunks
1/2 Bag of Arugula (you're surprised, aren't you!) or Mixed Baby Greens
1 bunch fresh cilantro, chopped
1/2 cup chopped peanuts
1 avocado, pitted and cut into chunks
1 teaspoon peanut oil
1 teaspoon toasted sesame oil
Directions:
Place the mango cubes into a bowl and mix in the chopped scallions and red pepper flakes and squeeze over the lime juice.
Into a larger bowl add the lettuce, chunked chicken, peanuts, avocado, and most of the cilantro and toss to combine. Add the mango mixture and toss to combine. Add the oils and toss again and sprinkle the remaining cilantro on top.
Comments
Mommy Bistro » Blog Archive » Fried Chicken - [...] all salads and smoothies here at at the homestead. I need to keep cooking. Tonight we are having Mango…