Chipotle Crusted Pork Roast with Sage Butter and Mashed Sweet Potatoes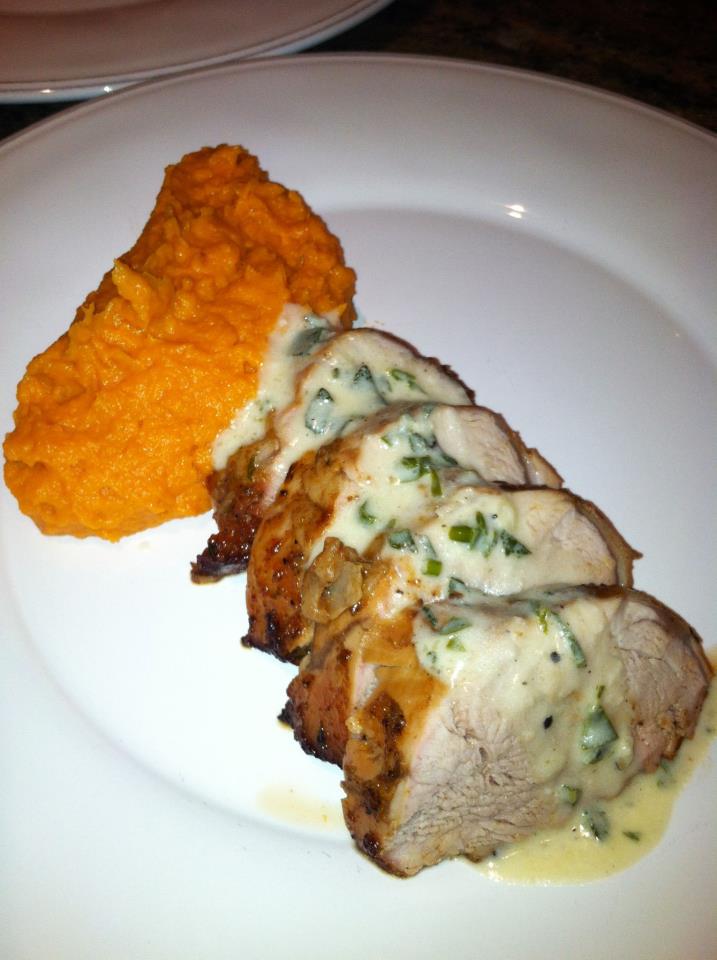 I did it. I survived the first day of school!
Pixie had a great day playing with old friends and making new ones. Buggies had a great time clinging to me so that no other little kids would try to infringe on her territory. I really feel like I get put through the ringer on Wednesdays because it is my work day in the classroom with Buggies. So I have to take advantage of my two hour kid free window on Mondays and get some blog posts out. But instead, I'm sitting here yawning, glassy eyed, desperately trying to think of witty things to say about pork. Or my life.
I do have a huge announcement coming. Like amazing and fun and awesome. So I tell you what… Because its back to school. I will send the first 5 people to comment on this post with their back to school woes or successes a little present in the mail. In the meantime, make pork.
Hubby's Note: If daddy had two hours of kid free time during the day at home…he'd probably be taking a nap. So, my hat's off to you. Regarding this pork, I have to admit that I was intimidated when I saw the chipotle peppers. But this was soooo good. And mashed sweet potatoes? Thank you sir, may I have another? Happy cows may come from California, but happy tummies come from my house.
Ingredients
2 pounds pork roast
1 can chipotle peppers
2 tablespoons brown sugar
1 tablespoon honey
3 garlic cloves minced
Kosher salt and freshly ground black pepper; to taste
1 stick unsalted butter plus 2 tablespoons
2 medium sized sweet potatoes, peeled and quartered
Directions
Place pork roasts in a large freezer bag. Add 3/4 of the can of chipotle peppers and all of the other ingredients. Seal the bag and knead with your fingers to spread the marinade. You can marinade it overnight but at least make sure it marinades for 2-3 hours.
Preheat oven to 375. Heat an oven proof skillet or dutch oven and add the butter. Heat until your butter browns. Add the pork roast and sear it on all sides until golden brown. Place in oven and bake for about 35 minutes. You want an internal temperature of 145.
Meanwhile, boil your sweet potatoes until fork tender. Drain and beat with a hand mixer. Add butter, cream, remaining chipotle peppers and beat with hand mixer for about two minutes. Season with salt and pepper to taste. Remove pork from oven and let rest for 5 minutes. Slice into medallions and serve over mashed sweet potatoes.
Sage Butter
1/4 cup heavy cream
4 tablespoons butter
8 sage leaves, chopped
1 minced garlic clove
Salt and pepper
Directions
Melt butter until golden brown. Add heavy cream, garlic and sage leaves. Simmer for two minutes and then season with salt and pepper. Serve immediately.
Comments