Bacon Crisps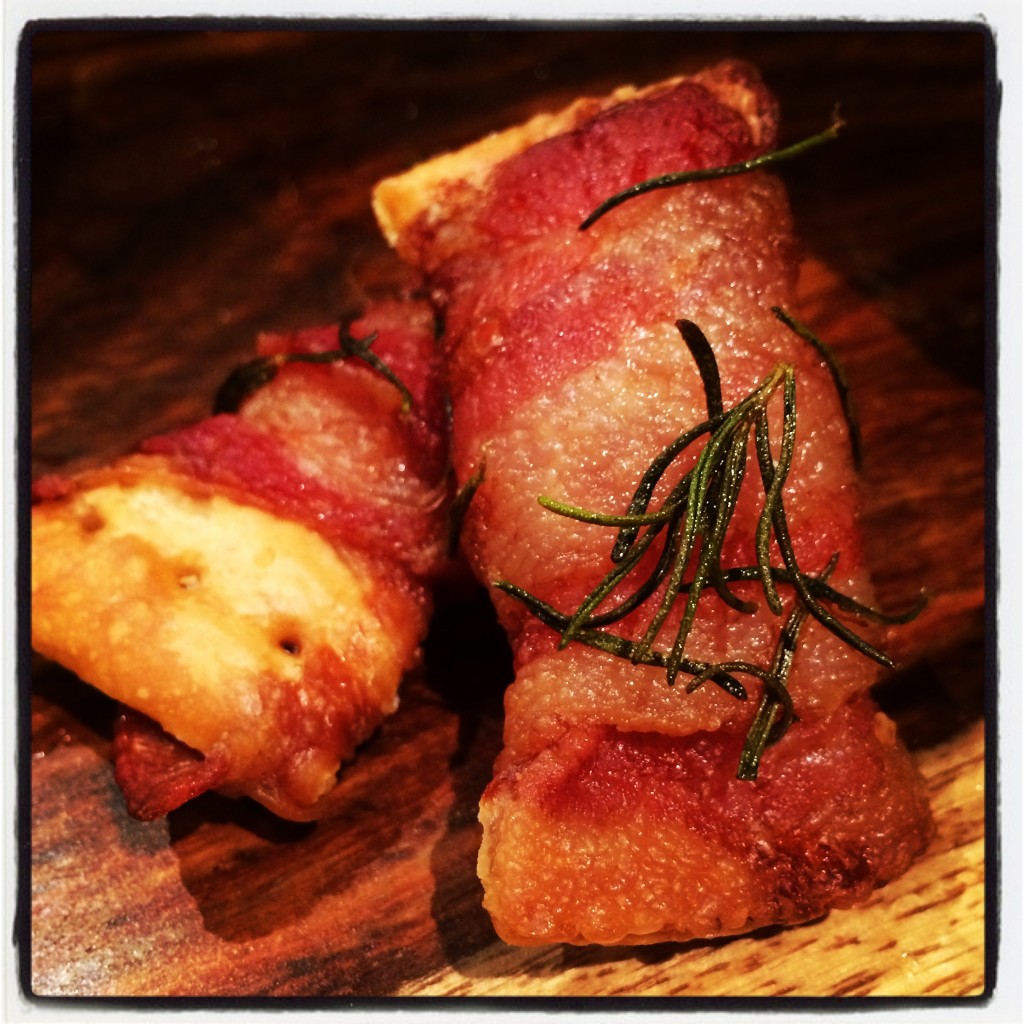 It's official. Thanksgiving is over. It is usually my favorite holiday. I love having my house full of people, making lots of delicious food and keeping busy in the kitchen. I don't know if it is because school has been so busy with the kids or I was having some kitchen burn out but this year I was the scrooge of Turkey Day. I think we will be taking a little break next year. This was my NINTH year hosting…and I deserve a break! See? I'm STILL grumpy!
I made these little morsels for Thanksgiving and I literally watched a pound of bacon disappear within minutes. I mean, we only had seven men here and the platter was GONE. I went very retro on Thanksgiving this year; creamed pearl onions, green bean casserole with crunchy fried onions, and these sneaky little devils.
A few days later we had friends over for my FAVORITE leftover turkey recipe, Turkey Milanese, and I made these as an appetizer as we watched UCLA annihilate that other team that cannot be mentioned.
There are two versions of this recipe: With Rosemary or with Jalapeno.
Enjoy!
Ingredients
1 pound of bacon, cut in half
Box of Club brand crackers
Fresh Rosemary and/or fresh jalapeno
Directions
If you are doing the rosemary version:
Take a slice of bacon and wrap it around the cracker. Place on a baking sheet that has been fitted with a wire rack insert. Keep wrapping until all bacon has been used. Remove rosemary from stem and toss with a teaspoon of olive oil and place on a small oven proof pan (I just used a cake pan).
The jalapeno version:
Slice the jalapeno into thin rounds. Place two slices on the club cracker. Wrap bacon around the cracker and jalapeno. Keep wrapping until all bacon is used.
Preheat oven to 250 and bake for about an hour and fifteen minutes or until bacon is super crispy. For the rosemary version, sprinkle rosemary over crisps before serving. Watch your hands as you place these on a table cause ya might lose 'em.
Comments