Thai Peanut Noodles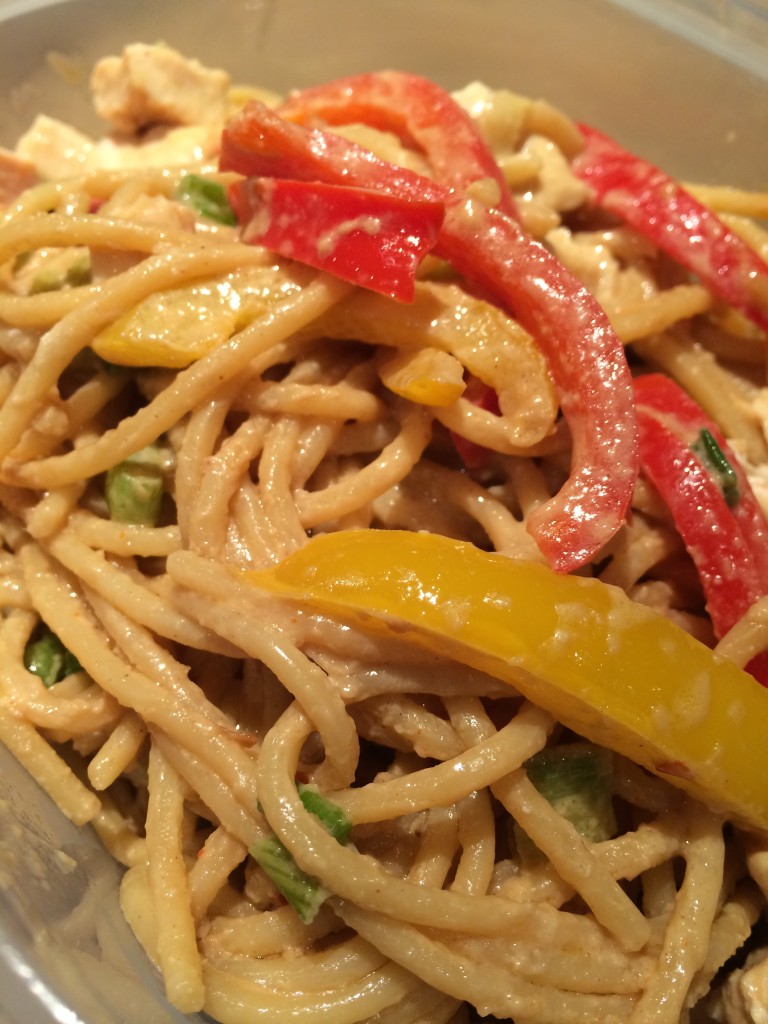 Global Warming. My dad's favorite subject these days.
"Just look at California! 80 degrees in January! Our planet was not meant for 7 billion people!"
"It's just going to get worse. Soon, Southern California will be under water because the polar ice caps are melting!"
And it goes on…and on….
I would honestly LOVE some rain because that means our lakes would be full this summer. It would mean actually using the boat for the river this year. It would mean we aren't in a drought.
I've tried all of the rain dances I can (much to my neighbors horror) and it just isn't working.
While I consult with the rain gods…make some damn good pasta.
Ingredients
6 garlic cloves
1/4 cup fresh ginger, peeled and chopped (I like to use fresh pureed ginger. Look for it near the fresh herbs)
1/2 cup peanut oil
1/2 cup tahini (Trader Joe's carries it in the refrigerated aisle near the dips)
1/2 cup smooth peanut butter
1/2 cup good soy sauce
1/4 cup honey
1/2 teaspoon hot chili oil
2 tablespoons dark sesame oil
1/2 teaspoon freshly ground black pepper
1/8 teaspoon crushed red pepper
1 pound spaghetti
1 red bell pepper, julienned
1 yellow bell pepper, julienned
4 scallions, sliced diagonally (white and green parts)
2 chicken breasts, cooked and diced (optional)
Directions
Place the garlic, ginger, peanut oil, tahini, peanut butter, soy sauce, honey, chili oil, sesame oil, and crushed red pepper into a food processor. Puree the sauce.
Add a splash of oil to a large pot of boiling salted water and cook the spaghetti until al dente. Drain the pasta then add back to pot. While the pasta is still warm, toss with 3/4 of the sauce. Add the bell peppers, scallions and chicken; toss well. Serve warm! The remaining sauce may be added, as needed, to moisten the pasta.
Comments