Vietnamese Pork Chops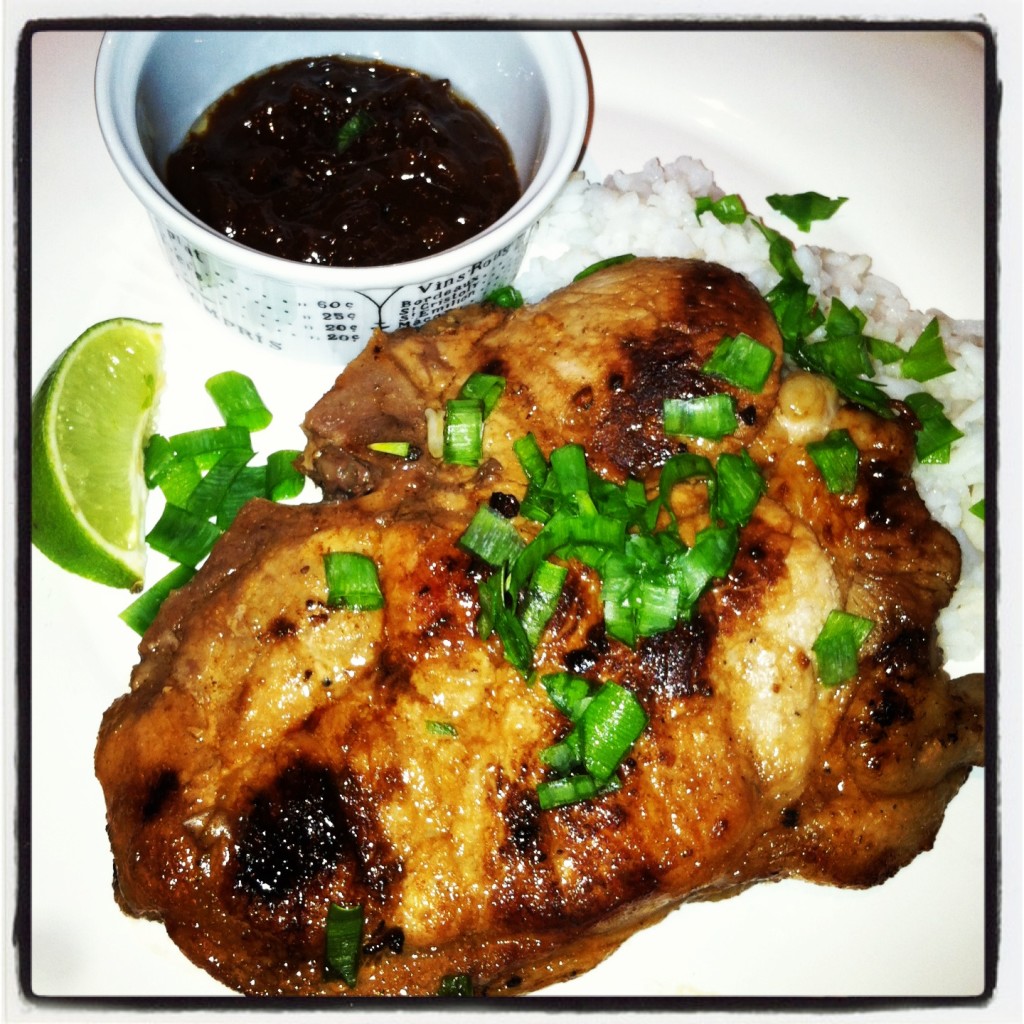 Don't tell anyone but I spent a month in Vietnam competing in an International beauty pageant as Miss USA. I was only 20 years old so my dad went with me. We spent time in Singapore as well and I fell in LOVE with Southeast Asia. I ended up going back for my honeymoon to Bali and Thailand. I love the people, the food, culture, country, history – all of it.

I saw this recipe in Bon Appetit and had to make it immediately. I doubled the sauce mixture and added some soy sauce and sriracha. It was so delicious and reminded me so much of my time in Vietnam.
Ingredients
2 small shallots, finely chopped
1/3 cup (packed) light brown sugar
1/2 cup fish sauce (such as nam pla or nuoc nam)
4 tablespoons unseasoned rice vinegar
2 tablespoons soy sauce
1 healthy squirt of sriracha
1 teaspoon freshly ground black pepper
4 1-inch thick-cut bone-in pork chops (about 2 1/2 pounds total)
1 tablespoon vegetable oil
Kosher salt
Lime halves (for serving)
Green onions, diced (for serving)
Directions
Whisk shallot, brown sugar, fish sauce, vinegar, and pepper in a shallow dish. Using a fork, pierce pork chops all over (to allow marinade to penetrate faster) and add to marinade in dish. Turn to coat. Cover and let pork chops marinate at room temperature, turning occasionally, 20 minutes. Or marinate overnight in the refrigerator.
Remove pork chops from marinade, scraping off excess (reserve marinade for sauce). Heat oil in a large skillet over medium-high heat. Lightly season pork chops with salt. Cook until browned and cooked through, about 4 minutes per side. Let pork chops rest 10 minutes before serving.
Meanwhile, bring marinade to a boil in a small saucepan and cook until reduced to 1/4 cup, about 4 minutes.
Serve pork chops over sticky white rice with reduced marinade, lime halves and green onions.
Comments